Pope Francis calls on South Sudanese churches not to stay neutral when witness to acts of injustice
Catholics walk 9 days to meet the pontiff in Juba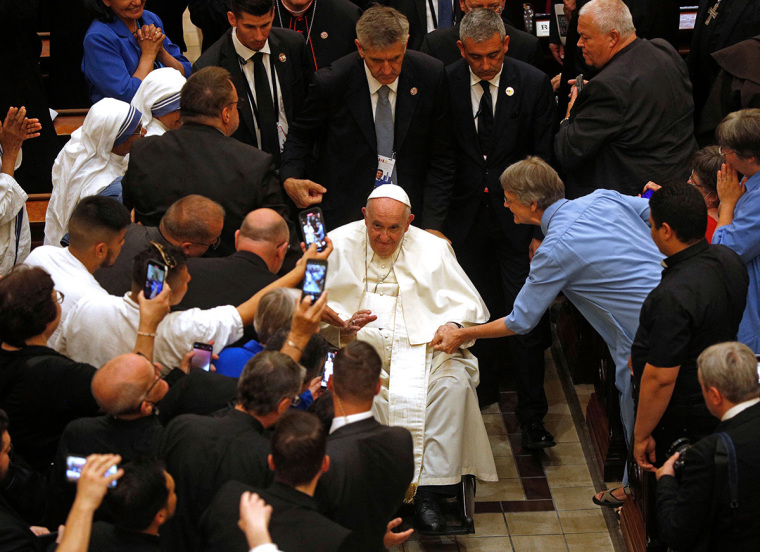 Pope Francis, who is on a three-day peace mission in South Sudan, met with the Catholic leadership, urging churches in the war-torn country not to remain neutral but to speak out against injustice and the abuse of power, as dozens of pilgrims spent nine days walking to reach the capital city of Juba to meet the pontiff.
On his first full day in South Sudan on Saturday, Francis addressed Catholic bishops, priests, and nuns in Juba's St. Theresa Cathedral.
"Brothers and sisters, we, too, are called to intercede for our people, to raise our voices against the injustice and the abuses of power that oppress and use violence to suit their own ends," The Guardian quoted Francis as saying.
He said religious leaders "cannot remain neutral before the pain caused by acts of injustice."
South Sudan has experienced civil war resulting from ethnic conflicts since 2013, two years after gaining independence from Sudan. Despite a 2018 peace agreement, the situation has not improved.
"Let us ask ourselves what it means for us to be ministers of God in a land scarred by war, hatred, violence and poverty," the pope said. "How can we exercise our ministry in this land, along the banks of a river (White Nile) bathed in so much innocent blood?"
Many citizens of South Sudan see the church as a source of hope as it plays a prominent role in social welfare and in providing a sense of community.
According to the United Nations, there are 2.2 million internally displaced people in South Sudan, with another 2.3 million who have fled the country as refugees.
Francis also met with internally displaced people (IDPs) at Freedom Hall in Juba, Catholic News Agency reported.
"You, from all your different ethnic groups, you who have suffered and are still suffering, you who do not want to respond to evil with more evil. You, who choose fraternity and forgiveness, are even now cultivating a better tomorrow," he was quoted as saying. "Be seeds of hope, which make it possible for us already to glimpse the tree that one day, hopefully in the near future, will bear fruit."
Sara Beysolow Nyanti, a representative of the United Nations Mission in South Sudan, also spoke at the event. She said an estimated 8 million people in the country are expected to experience food insecurity this year.
About 60 Catholic pilgrims completed a nine-day journey on foot to seek the Pope's blessings in Juba, BBC reported.
Some women in the group said their faith and love for their country sustained them during their long journey to see the pope. NightRose Falea, a pilgrim, was quoted as saying, "When the spirit is with you, you do not get tired."
They spent several hours each day walking and spent the nights at parishes along the way. "It was tiring but worth it," another pilgrim, Faith Biel, was quoted as saying.
Archbishop of Canterbury Justin Welby and the head of the Church of Scotland, Iain Greenshields, are accompanying the pope in South Sudan.