Artificial womb technology treats human life like a 'commodity,' bioethicist warns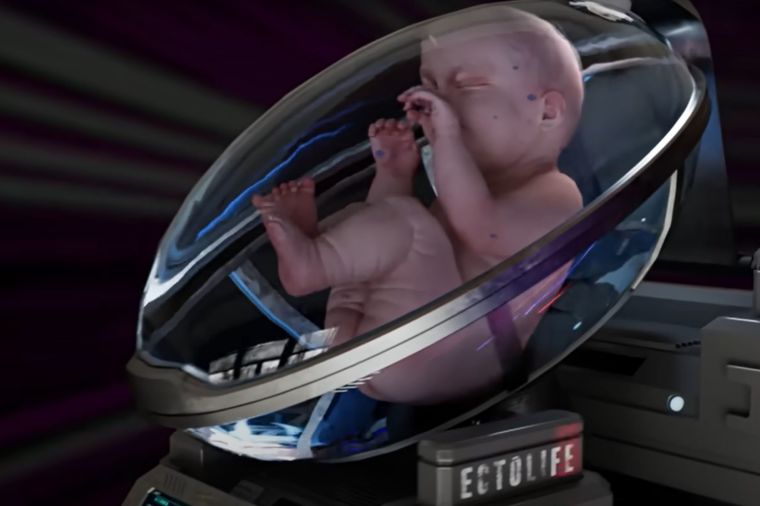 A viral video promoting the potential future of artificial womb technology that would allow parents to gene edit their babies as they grow inside a portable incubator is cause for concern, according to bioethicists. 
Jennifer Lahl, founder and president of the Center for Bioethics and Culture, believes the best conditions for a preborn baby to grow and develop is in his or her mother's womb, where the parent-child bonding takes place.
"When a baby is born, they instinctively know their mother from those nine months in her womb," she told The Christian Post. "They know her voice, her movements, and her smell.  One can easily imagine taking the most human intimate natural bond away will have harmful consequences to both mother and child."
A video released by filmmaker and "science communicator" Hashem Al-Ghaili, titled "EctoLife: The World's First Artificial Womb Facility," which has been viewed more than 2 million times since December, depicts what a mass artificial womb facility capable of growing 30,000 babies annually might look like. Babies created via IVF would grow inside pods that are designed to replicate the conditions of a mother's womb with artificial amniotic fluid and an artificial umbilical cord.
Bioreactors installed in the facility would also purportedly recycle the babies' waste by turning it into "useful nutrients." 
Parents can also play music for the baby and monitor its condition in the pod. 
Those who are financially able can purchase an "elite package" that would enable parents to "genetically engineer" their child before implanting it in the artificial womb, selecting traits such as height, strength, intelligence, skin, eye and hair color, and attempt to remove inherited genetic diseases. 
Al-Ghaili's video presents artificial wombs as a solution for parents struggling with infertility or for women who desire a child but want to avoid the exhaustion of pregnancy and childbirth. The video boasts that delivery of the child can be done with just the "push of a button" to drain the amniotic fluid and allow parents to remove the baby. 
The fertility industry, which rakes in billions of dollars annually in the United States alone, doesn't have much oversight, and according to a 2019 report from the Journal of Assisted Reproduction and Genetics, nearly 73% of U.S. fertility clinics provide gender selection and offer services to couples who have no fertility issues and use it for sex selection, to get a boy or a girl, or other desirable traits.  
David Prentice, vice president and research director for the pro-life Charlotte Lozier Institute and advisory board member for the Center for Bioethics and Human Dignity, doesn't believe that such technology as EctoLife, if feasible, would address complex arguments about a preborn baby's humanity that often emerge in debates about ethics.
"What we really have to do is help people understand that these are real human beings, real lives, valuable lives," the adjunct professor of molecular genetics at the John Paul II Institute, The Catholic University of America, told CP. "And we need to come up with better ways to address this in terms of personal responsibility and valuing every human life."
As Prentice noted, the video is designed as a "marketing ploy" to attract interest from investors who might fund a lab housing artificial womb pods. Prentice cited research published in 2021 about a team of Israeli scientists who grew synthetic mouse embryos in artificial wombs as proof the technology is not impossible. 
He further cited a 2017 study published in Nature that showed artificial wombs had successfully sustained premature lambs and enabled them to develop essential organs. But it remains to be seen whether this technology can be used to save the lives of premature infants, he added.
Prentice stressed, however, that the baby-growing labs Al-Ghaili describes are "nowhere near reality at this point," and the video is "pure science fiction."
The technology treats "human life like a commodity," and that's an ethical problem, Prentice insisted. 
"Because he's talking not just about the possibilities of gestating completely in an artificial environment, but using things like gene editing, even cloning technology to make the kind of baby that you want," he added, calling the idea "macabre." 
"It turns human life and having a baby into a circus," Prentice lamented. 
Another ethical issue raised by artificial wombs is that it could encourage parents to create their "ideal" baby, one that does not have disabilities. Prentice believes this trend is already present with many prenatal tests. For example, parents that receive a diagnosis of Down syndrome might decide to abort the child.
"The idea is not to try and create the baby that you want or to screen out babies that you don't want," Prentice said. "But to change our attitude where we value every human life."
Last year, CP reported on an article from The New York Times that found 85% of prenatal screenings that detect a rare disorder end up being wrong, raising questions about the test's accuracy.