Church leaders establish goal to train over 100K new European pastors in next decade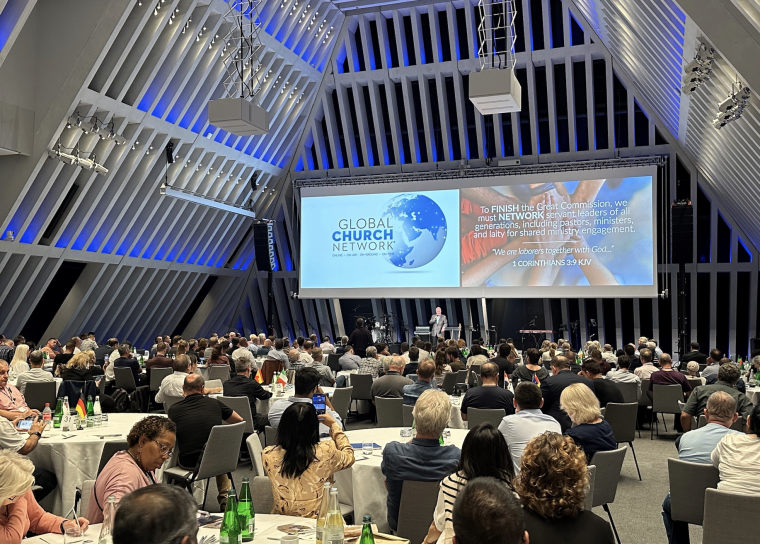 Nearly 400 ministry leaders and pastors convened last week for the FINISH Europe Summit in Zurich, Switzerland, where attendees established a collective goal of targeting and equipping over 100,000 new pastors in the next decade amid joint efforts to fulfill the Great Commission.
The summit, held Sept. 4-6, was organized by the Global Church Network, which has worked collaboratively with countless organizations and upwards of 700,000 churches from all denominations globally for over two decades.
In 2017, the organization launched FINISH 2030 at Martin Luther's graveside in Castle Church, Wittenburg, Germany. At the time, over 600 leaders from all Christian sects and global regions pledged to jointly complete the Great Commission.
The acronym FINISH stands for Find, Intercede, Network, Invest, Send and Harvest.
At this year's summit, GCN founder James O. Davis highlighted the importance of setting a deadline to realize a vision.
"One of the reasons the Great Commission hasn't been fulfilled yet is because we never established a deadline," he said. "FINISH 2030 offers a new overarching strategy — one that is synergistic, global in scope and capable of getting the Church to the finish line sooner than we ever dreamed possible."
GCN has 159 global hubs of Christianity focusing on relationship-building, training and outreach. GCN plans to introduce 39 hubs in Europe in 2024.
At the FINISH Europe Summit, Davis proposed a plan to expand the European hubs to 640 and train over 100,000 pastors in under nine years.
"The European nations represent some of the most difficult places to plant churches, to network leaders and to equip pastors," he said. "Meanwhile, the long-established models of training and preparation for full-time ministry cannot keep pace with the unprecedented growth of the global Christian Church, resulting in a significant shortage of trained pastors and ministers."
The summit featured six plenary sessions led by 19 leaders, each presenting a portion of the FINISH acronym.
Attendees established a collective goal of targeting and equipping 110,000 new ministers to be trained at the global hubs of Christianity and online through Global Church Divinity School.
Author and professor Leonard Sweet, the E. Stanley Jones Professor Emeritus at Drew Theological School at Drew University, reminded attendees of their duty to spread the Gospel.
"It seems that tens of thousands of churches updated their mission statements because they did not like the mission statement the Lord Jesus Christ gave them," he said. "We are called to go into the world and preach the Gospel." 
Davis stressed that "so many Christian leaders today doubt their beliefs and believe their doubts."
"It is time for us to doubt our doubts and believe our beliefs," Davis urged. "We will claim, climb and conquer our Mount Everest, the Great Commission."
Davis announced the Jerusalem 2030 Summit, scheduled for June 9-11, 2030, to celebrate the 2000th birthday of the Church. GCN will invite 3,000 key leaders worldwide to honor the 3,000 saved during the first Pentecost.

"The level of our pain tolerance will determine how far we will go in the fulfillment of the Great Commission," Dave Roever, founder of the Dave Roever Evangelistic Association, told attendees. "There will be people who will hurt you and life circumstances that will try to crush you. Yet, we must be willing to bear the scars of suffering for our Savior, Jesus Christ."
According to the Joshua Project, there are nearly 7,400 unreached people groups in the world today. However, a 2018 report from Barna found that 51% of church attendees in the United States were unfamiliar with the term "Great Commission." Similarly, an American Culture & Faith Institute study in 2017 suggests that American churches are not emphasizing evangelism.
In an op-ed for The Christian Post, Oscar Amaechina, the president of Afri-Mission and Evangelism Network in Abuja, Nigeria, stressed that world evangelization should be a collective responsibility of all Christians.
"It is not designed for some hyperactive Christians in the Church; it is the very purpose of the Church," he wrote. "Before Christ gave this mandate, he knew that it is possible for us to accomplish it and has also assured us that he was not going to forsake us (Mathew 20:20). Delayed obedience is far better than absolute disobedience. We can still do something. A little effort from every Christian will go a long way in ensuring that everyone hears about Jesus.
This world is getting more difficult for Christians daily. The coming of Christ and His kingdom will be ushered in by the global spreading of the Gospel. How can we, therefore, remain silent?"