Andy Stanley says gay churchgoers 'have more faith than a lot of you'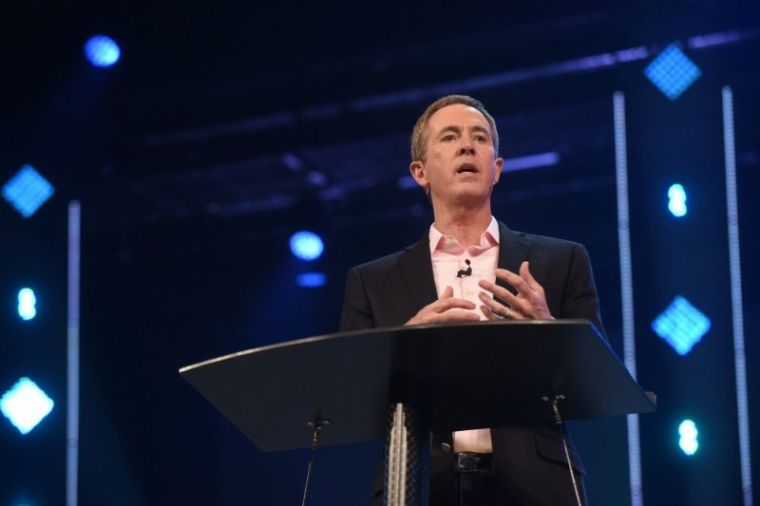 Do gay individuals who go to church have more faith than most Christians?
According to megachurch Pastor Andy Stanley, the answer, apparently, is a resounding yes.
Stanley, who leads the multi-site North Point Ministries and North Point Community Church based in Alpharetta, Georgia, said in a now-viral sermon clip that any LGBT individual who continues to go to church has "more faith than a lot of you."
"A gay person who still wants to attend church after the way they've been treated, I'm telling you, they have more faith than I do," Stanley said in the clip, which had over 1.2 million views on Twitter alone as of Thursday. "They have more faith than a lot of you."
He also noted the courage it takes for LGBT individuals to continually attend churches that don't accept their lifestyle. 
"A gay person who knows, 'You know what? I might not be accepted, but I'm going to try it anyway,' and as a straight person, have you ever, where do you go that you're not sure you're going to be accepted over and over and over?" asked Stanley.
The message — which reportedly came during North Point's Drive Conference in May 2022 — also spoke directly to the "gay men and women who grew up in church and the gay men and women who've come to faith in Christ as adults, who want to participate in our church."
After acknowledging the multiple passages of Scripture that condemn homosexuality as sin, Stanley appeared to suggest that rather than a failure to repent on behalf of LGBT individuals who go to church, it was God who didn't change their hearts.
"I know 1 Corinthians 6, and I know Leviticus, and I know Romans 1, so interesting to talk about all that stuff," Stanley said. "But just, oh my goodness, a gay man or woman who wants to worship their heavenly Father, who did not answer the cry of their heart when they were 12 and 13 and 14 and 15. God said, 'No,' and they still love God?
"We have some things to learn from a group of men and women who love Jesus that much and who want to worship with us," he continued. "I know the verses; I know the clobber passages, right? We got to figure this out. And you know what? I think you are."
Stanley's North Point Ministries did not return a request for comment from The Christian Post as of Thursday afternoon.
The son of Charles Stanley, famed pastor emeritus of the First Baptist Church, Atlanta, Andy Stanley has courted controversy over his comments about the LGBT community in the past. 
In 2015, Stanley said local congregations should be the "safest place on the planet for students to talk about anything, including same-sex attraction."
During a message delivered at a two-day church leadership summit in Southern California, he said: "We just need to decide, regardless of what you think about this topic — no more students are going to feel like they have to leave the local church because they're same-sex attracted or because they're gay. That ends with us."
In 2018, he also told his congregation they should "unhitch" their theology from the Old Testament. 
In the final part of his "Aftermath" series, Stanley said that while he believes that the Old Testament is "divinely inspired," it should not be "the go-to source regarding any behavior in the church."
"[First century] Church leaders unhitched the church from the worldview, value system, and regulations of the Jewish scriptures," said Stanley.
"Peter, James, Paul elected to unhitch the Christian faith from their Jewish scriptures, and my friends, we must as well."
Stanley argued that it had to be done for the same reason the Church in Acts 15 did so, which was so that "we must not make it difficult for those Gentiles who are turning to God."