Black pro-life group slams MLB's decision to pull All-Star Game out of Georgia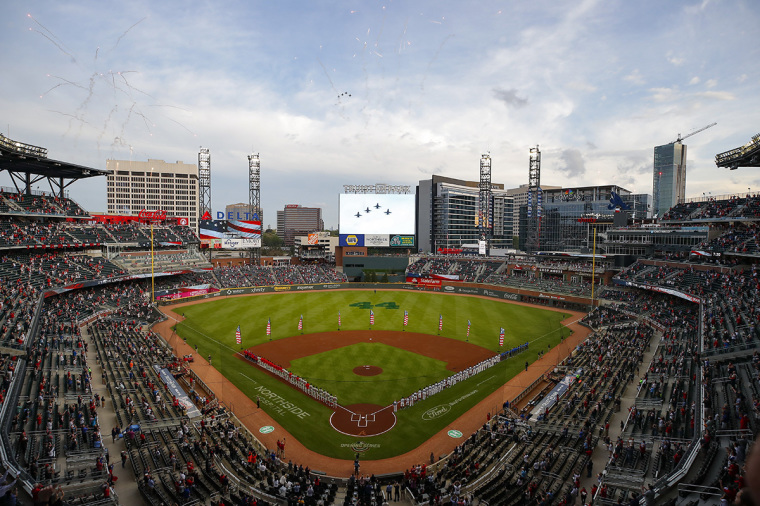 The leaders of a black pro-life group have written a letter to Major League Baseball slamming the sports franchise for pulling its annual All-Star Game out of Atlanta in the wake of backlash against an election reform bill recently passed in Georgia.
Kevin McGary and Neil Mammen, the co-founders of Every Black Life Matters, an organization that works to "protect black life from conception to death," wrote an open letter to the MLB asking, "Where is the same courage as Branch Rickey?" They were referring to the late Branch Rickey, who signed Jackie Robinson as the first African American MLB player in 1947.
"In a few days from now on April 15 it will have been 74 years ago that the MLB began to unravel segregation in sports," they wrote. "Jackie Robinson and Branch Rickey made a small step for man, but a huge step for this country. Where has that courage gone?"
McGary and Mammen slammed the MLB for "moving venues and threatening Georgians," calling on the organization to "redouble efforts to expand services in Georgia." He noted that the All-Star Game, originally scheduled to take place in Georgia in July, was "destined to bring over $190 million in commerce during the MLB All-Star festivities." 
Since that figure "represents tens of thousands of employment options in Georgia" and the state's employment segment is majority-minority, they concluded that blacks will be "disproportionately harmed by MLB and other companies who think it's more important to socially preem about being 'woke.'" Although it was not mentioned in the letter, the MLB decided to move the All-Star Game from Atlanta to Denver, Colorado, to protest the newly passed Election Integrity Act of 2021, which critics argue amounts to voter suppression. 
McGary and Mammen rejected that premise: "If MLB were truly concerned about helping and supporting black lives, they would applaud the changes in Georgia voting laws that ensure every legal vote's accuracy." The Election Integrity Act's passage comes after concerns about voter fraud led former President Donald Trump and his supporters to cast doubt on the legitimacy of the 2020 presidential election results in a handful of contested swing states, including Georgia. 
The law includes strengthened voter ID requirements for mail-in ballots and expands early voting in most counties. Additionally, it forbids political operatives from handing out water or any other item of value while people are waiting in line to vote but permits poll workers to do so.
"With Georgia's notable vote irregularities of the past, there's little doubt many blacks saw nullification of their collective will," McGary and Mammen asserted. "The surprising truth is: any illegal vote creates voter disenfranchisement (generally), but due to ratio as a percentage of the population, vote fraud imposes a disproportionally negative effect on black life (especially black life in urbanized, poor communities)."
"It is incredibly disheartening that the historical stance against segregation taken by Major League Baseball is going to be sullied by this cowardly move to withdraw from Georgia. The same organization that fought its way against national sentiment against black people, has turned their back on supporting civil rights."
"Why would the MLB lose its courage?" McGary asked. "Because the MLB has aligned themselves with the same people who decried voter disenfranchisement in past elections (and) now not only tolerate but applaud apparent irregularities and a lack of transparency that took place in past Georgia elections. While Georgia voters were seemly disenfranchised, many of those same people want to ensure 'irregular' voting schemes continue perpetually." 
"MLB, we ask you to reconsider your decision," he concluded. "The example you are setting does not benefit the disenfranchised communities you have worked so hard to engage and empower. Personally we think both of these men would be disappointed if you didn't."
A form allowing people to add their name and a comment to the MLB accompanies the letter. The letter will continue accepting signatures through Wednesday at 11:59 p.m. The availability to submit signatures is set to expire on Thursday, which marks the 74th anniversary of Jackie Robinson breaking the color barrier in the MLB.
Prior to co-writing the open letter to the MLB, McGary wrote an article asserting that "Assuring free & fair elections is not racist … But allowing illegal voting/schemes IS racist!" The article includes many of the points mentioned in the letter to the MLB and described the idea that "blacks are somehow too inept and need special consideration to use the internet to take actions like registering for vaccinations and/or to vote" as "racist and insulting."
"Look at the total contradictions where so many people recognize ID cards are necessary to get a job, get into Govt offices, get prescriptions, get healthcare, drive a car, go on an airplane or train, buy alcohol, get a bank account, cash a check, buy cigarettes, buy a house or rent an apartment, get a cell phone, graduate from college, apply for a loan, travel or to do almost ANYTHING — but then they claim blacks are too inept (or stupid) to accommodate getting identification to vote," he added.
"These propagandist talking points are insulting and manifestly racist! People who imply blacks lack the common sense to do what it takes to vote are the confirmed racists pushing diabolical deeds designed to silence and nullify legitimate votes of black Americans. It is time to hold all accountable for these inaccurate, insulting, and quite degrading tropes directed at the black community! It is time we insist that the most effective way to become an 'anti-racist' in this regard is to ensure timely and accurate accounting for all legal votes. All legal votes matter!"