Church to Drop 50,000 Easter Eggs by Helicopter on Saturday

A new Saginaw, Mich., church targeting the under 40 demographic will be hosting a massive drop of 50,000 plastic Easter Eggs filled with candy and miniature toys on Saturday.
Founding Pastor of Life Church Michigan Jonathan Herron told The Christian Post the drop will be hosted on the campus of the Saginaw Valley State University where his new church has been meeting for services since March 17.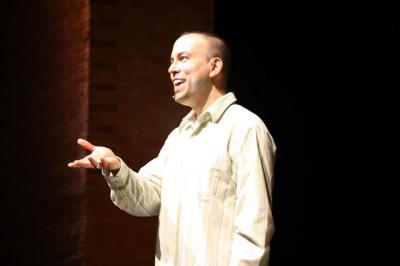 "Things are going fantastic. The whole idea was we are a new church and we love children, we love families, so we are throwing a free party because Jesus loved to connect with people at parties," said Herron.
"We are expecting thousands of people from the Great Lakes Bay Region to descend on the campus this Saturday. We're having fantastic word of mouth. Facebook is buzzing in our community because people are looking for something fun for their kids and joy, particularly in Michigan where we've been hit hard by the recession," he added.
The Egg Drop event, which will start at 11 AM, is free for families and is designed for 2-12-year-old children, according to the church's website, where people can now go to pre-register. Parking will, however, cost $5 per vehicle.
"We're just getting volunteers left and right," said Herron of the event's planning. "We have balloon animal twisters coming in; Coca Cola is donating a whole bunch of refreshments; we've got bouncers for the kids. We want to have a positive first impression of our church," he said. "We're not gonna preach or make anybody feel weird."
Herron, who studied theatre in the 1990s under 30 Rock star Tina Fey, has a background in comedy and which is reflected in the Life Church ministry.
"Years later I'm able to weave comedy into our messages and our approach to ministry. We believe if you can get people laughing, they will unfold their arms and lean in and be open to the Gospel," said Herron.
He was inspired to get into ministry, he explains, after spending years as the rebellious child of a pastor who grew up in Iowa.
"In 1997, I ended up at a party with Chris Farley who was doing drugs and drinking. I hung out with him…and two days later he dies from a drug overdose.
"And so I realized Wow! Life is short. Being famous doesn't save you from anything," said Herron. After his epiphany, he went to seminary school and began pursuing a serious relationship with God.
Now, he plans on bringing that experience to bear on his ministry by filling gap that he sees in ministering to the under 40 demographic in his community.
"There are a lot of great churches in the Great Lakes Michigan Bay area but none of them seem to be tapping into the under 40 demographic and 50 percent of our population is under 40 and my heart is broken for our friends and neighbors here," he said.