Hillsong Church announces changes in financial stewardship following whistleblower's report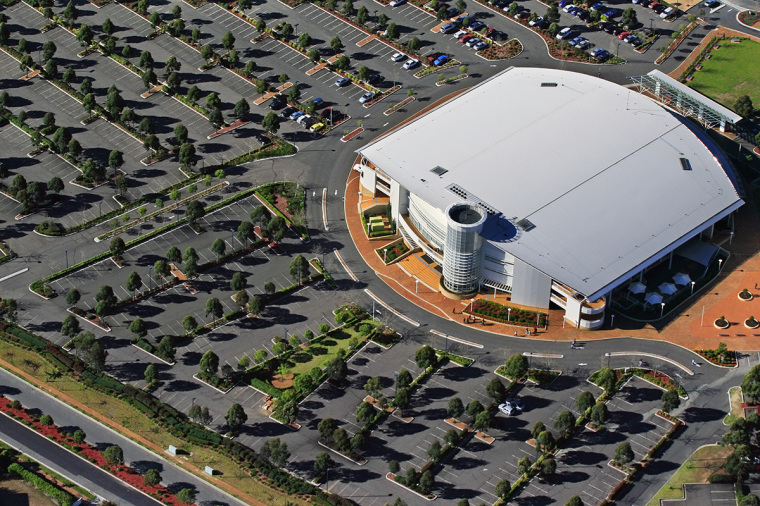 Hillsong Church announced a raft of changes in how it manages its finances on Sunday, following a whistleblower's report alleging that the church's founder Brian Houston and other leaders, including the newly appointed Global Senior Pastor Phil Dooley, engaged in money laundering, tax evasion and shopping sprees that would "embarrass a Kardashian."
Along with Dooley, chair of Hillsong Church's global board, Stephen Crouch, announced that the church is undergoing a forensic audit by accounting firm Grant Thornton, which began in August 2022.
The Australia-based Evangelical global church network also trimmed its staff by 153 through "voluntary resignations" to save $9.47 million annually, implemented a new gifts and honorarium policy, adopted a new culture focused on more effective mission-focused ministry and launched a third-party evaluation of the church's financial structure and processes.
"As a church, we will make changes as we work through with regulators on areas that need adjustment. We will reshape how we do things financially going forward," Crouch told congregants in an update at the Hillsong Convention Centre in Sydney, Australia.
The global megachurch has been reeling since Andrew Wilkie, an independent member of the Australian Parliament, used parliamentary privilege on March 9 to accuse Hillsong Church of engaging in financial excess, citing reams of financial records and genuine Hillsong Church board documents he received from a whistleblower.
A 44-page summary of the whistleblower's report reviewed by The Christian Post shows that the church's previous honorarium was structured so that "mega-church celebrity pastors can earn over one million dollars per year" in additional income through a sophisticated scheme facilitated by Hillsong Church through its network of churches. It also points to instances of pastors making expensive foreign trips on the church's dime.
Wilkie pointed to evidence in his March 9 announcement that in 2021, as the world grappled with the impact of the COVID-19 pandemic, four members of the Houston family jetted off with friends to Cancun, Mexico, for a luxury retreat lasting three days and billed the church $150,000 for it.
Wilkie alleged that Dooley, who was anointed as Hillsong's new global senior pastor last month with high praise from the church, allegedly splurged along with the church's embattled founder.
"The new head of Hillsong, Phil Dooley, has told church followers he only flies economy, but these documents show him clocking up $58,000 in business-class flights for him and his daughter to Guatemala, $42,000 in business-class flights to Mexico and $32,000 in business-class flights from Cape Town to Sydney via the U.S.," Wilkie said. "Hillsong followers believe that the money they put in the poor box goes to the poor, but these documents show how that money is actually used to do the kind of shopping that would embarrass a Kardashian."
Dooley, who addressed the report more extensively than Crouch, targeted specific criticism in the report about the travel expenses racked up by him and his family in 2022.
"As a long-term board member, the current Hillsong Global Senior Pastor, and Brian Houston's replacement, Phil Dooley has been party to all of this misconduct. He has also been involved in this self-indulgent spending and private benefit — and still is," the whistleblower's report alleges.
"Not only does Lucinda Dooley also fly around the world business class but Hillsong additionally pays to fly Phil and Lucinda's children around the world — and not in economy class," it adds, pointing to a Dooley's list of travel expenses.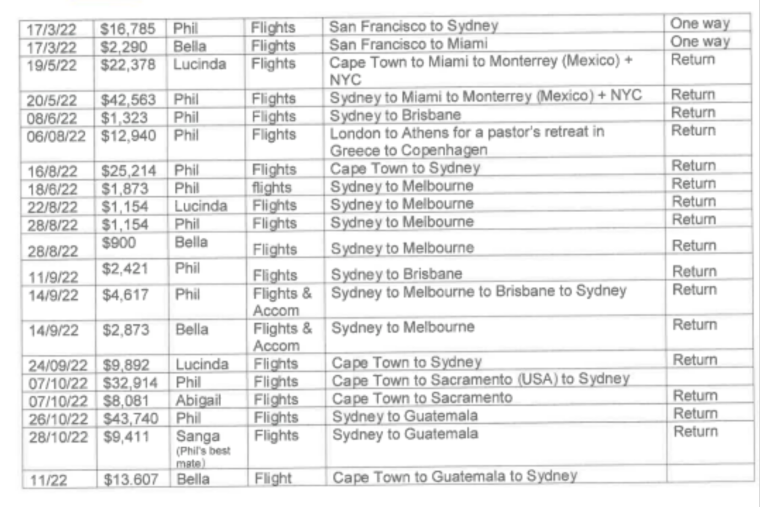 "Phil Dooley is flying to Guatemala at an airfare cost of $44k, to speak at the church (Casa De Dios) of his good friend and spiritual mentor Cash Luna. Considering that Hillsong does not have a church in Guatemala, and spiritual mentoring can be performed over Zoom, it would be surprising if these $44k flights were not being used solely for Phil to earn a personal benefit honorarium for preaching at two church services — likely to be around at least $20-30k. It is unfathomable why Hillsong is also paying an additional $23k for Phil's daughter Bella and his best mate 'Sanga' Scott Samways to accompany him to Guatemala."
In addressing the report, Dooley noted that in the 12 months following Brian Houston's resignation from Hillsong Church in March 2022, the church has been in a transition that has sometimes felt like being in a "haunted house."
"Sometimes I've called it the haunted house for I'd literally just don't know what's around the next corner," said Dooley, who was pulled from ministry in South Africa to take on the new role as Hillsong Church's global senior pastor.
He asserted that the criticism about his travel expenses was unfair. Dooley explained that as he was trying to maintain a healthy marriage during his transition from South Africa to Australia, he and his wife, Lucinda, established some clear guidelines for living, including that he should not travel alone.
"It's just not a healthy way to do things," he said.
He said Hillsong's board approved his travel schedule, and he travels business class because he is traveling for work.
"If I travel internationally, I travel business class simply because I'm going somewhere to work. And I have limited time. My ministry leave to preach at other churches is approved by our chairman. Last year, Lucinda and I did travel regularly to South Africa because we are endeavoring to manage both the responsibilities of this role and the needs of our family and our church in South Africa," he said.
"There were extra travel costs associated with that. We've now consolidated our family in Sydney. And so that level of travel between here and South Africa has reduced," he said.
Dooley also noted that the only church he traveled to outside the Hillsong network last year was in Guatemala, and the host church paid 60% of the cost of his flight.
"I have also paid a portion of that [bill] myself to cover costs of my daughter flying with me. The rest was covered by our global church budget as I went to do ministry in both our church in Sao Paulo and Buenos Aires. In fact, that trip involved nine different flights. And not all of them were business class. I spoke and engaged in ministry work every day except one. And anyone who has done any kind of travel knows that this is tough on your body, and it's unsustainable."
He mentioned that while his travel costs might seem extravagant in the report, post-COVID-19 inflation was also a factor.
"The harsh reality is that post-COVID world travel costs have been really high," he said.
Crouch acknowledged how "confusing and hurtful" the disclosures by Wilkie were to congregants and promised they would make amends.
"Some of these disclosures have been confusing and hurtful to you. Some of the conversations and questions friends and family are asking are really difficult and upsetting," Crouch said. "I understand some people will assume the worst. For this, I, together with our board, wish to express how deeply sorry we are for any distress this is causing you. As a board, we are choosing to believe that these challenges are a way for us to create a new platform and for making any required changes we need."
While he didn't mention her by name, Crouch noted that Wilkie's disclosure stems from a lawsuit filed in Australia in August 2022 on behalf of Hillsong employee Natalie Moses as part of a Fair Work Act case against the church.
The lawsuit alleged that the Australian Charities and Not-for-Profits Commission had been investigating the church since March 2022 to verify if the organization had been complying with Australian regulations governing the operation of charities. Around this time, Moses, who works in the church's financial department, was asked to prepare internal responses for the ACNC investigation.
In her lawsuit, Moses alleges the church engaged in many questionable financial practices in what her attorney, Josh Bornstein, calls a "cowboy culture." The allegations against the Hillsong Church headquarters include that leaders illegally disguised international transfers by making payments through its United States-based entities.
Among Moses' responsibilities was ensuring the "Hillsong Global Corporate Group" — entities overseeing religious and business activities across Australia, the U.S. and the United Kingdom — complied with the Australian Charities Not-for-Profit Act.
The lawsuit alleges that internal audits conducted by Moses uncovered questionable financial records that were unlikely to comply with Australian legislation. Along with claims that church leaders made "significant" gifts to church directors and their family and friends, Moses said they used church credit cards to pay for international travel and designer products.
Wilkie's recent disclosures using parliamentary privilege appear to support Moses' allegations, but Crouch argued on Sunday that the Hillsong Church believes the claims in the report are "incorrect."
"In Australia, employees have the right to test certain claims about employment matters in the federal courts. We believe those claims are incorrect, and the church has a right to defend those claims. In our legal defense, we have explained to the court that this employee privately downloaded thousands and thousands of documents from Hillsong without consent," Crouch said.
"The documents, if published, may violate privacy principles in Australia. And we're taking advice to see how we will now have to act to meet all of our privacy obligations. The board wasn't satisfied in August last year just to respond to the employment claim. It immediately commenced the process of engaging a forensic accounting firm, Grant Thornton, to investigate the claims made by the employee. We ensured that the scope of the work that they completed was broad enough so they could have unlimited access to all transactions covered by the allegations," he insisted.
He explained that the church was in mediation with Moses and thought they were close to a resolution until March 9, when Wilkie's disclosure blindsided them.
"As part of the court process, the court ordered Hillsong and the employee to try and resolve the claims through mediation. Hillsong entered the mediation in good faith. And until last week, our view was the mediation was in its final stages," Crouch said, noting that the details of the mediation are supposed to be kept confidential. "As soon as our mediation obligations are over, we will provide you with an update, and we will detail the findings of the forensic report from Grant Thornton."
He argued that Wilkie's disclosures were intentionally made knowing that the church wouldn't have an opportunity to respond.
"Andrew Wilkie, a member of the Australian Parliament, used parliamentary privilege to make public thousands of Hillsong documents. This would have been undertaken knowing that Hillsong has no real opportunity of reply, a right which would be afforded to any other member in the Parliament, and it denied Hillsong procedural justice," Crouch argued.
"Mr. Wilkie did not contact our church to inform us that he was in possession of the documents. Nor did he attempt to clarify any of the information that is in the documents that he had in his possession, which he chose then to make public."
"Parliamentary privilege protects those who participate in the proceedings of Parliament from outside interference or lawsuit, meaning that the freedom of speech and debates or proceedings in Parliament cannot be questioned in any court or any place out of Parliament," he added. "What is disappointing is that we were unable to ask that he not produce documents that may have information about individual people. And we were denied an opportunity to provide any clarity or context for information that had been made public."