LGBT gear at Kohl's: 'Little kids' T-shirt with transgender flag, 'proud' rainbow baby bib
Retail store partners with group supporting drag queens at libraries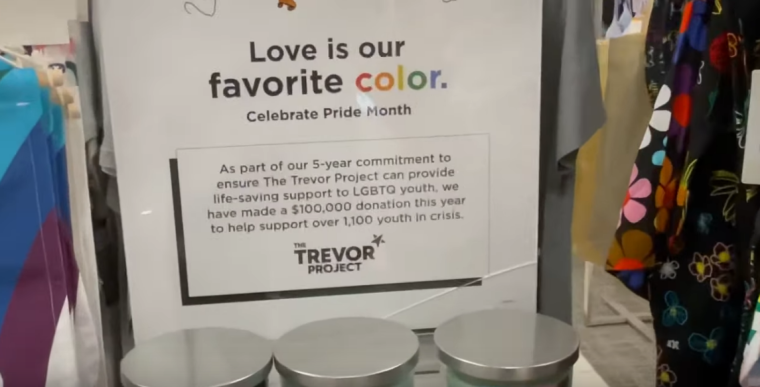 "Why is Kohl's selling pride clothing for babies?"
That's the question being asked by some conservative activists on social media as the chain has become the latest retail outlet to face scrutiny over its LGBT merchandise for young children.
The Kohl's website has a dedicated pride page with rainbow iconography with the heading "Love is our favorite color: Celebrate Pride Month" and a statement reading, "We are committed to amplifying and affirming the voices of the [LGBT] community, celebrating the joy that comes from living authentically and unapologetically not just this month, but all year long."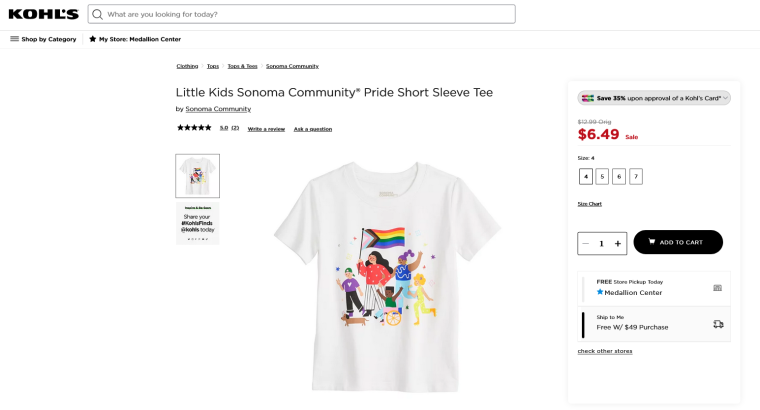 The website features a number of pride-themed clothing for kids and toddlers, including a "little kids" T-shirt featuring the transgender pride flag and a pride "baby bib" emblazoned with a rainbow and the words "PROUD OF MY FAMILY."
With images of same-sex couples, the Kohl's pride page also has T-shirts with rainbow hearts and the phrases "I ♥️ MY MOMS" and "I ♥️ MY DADS."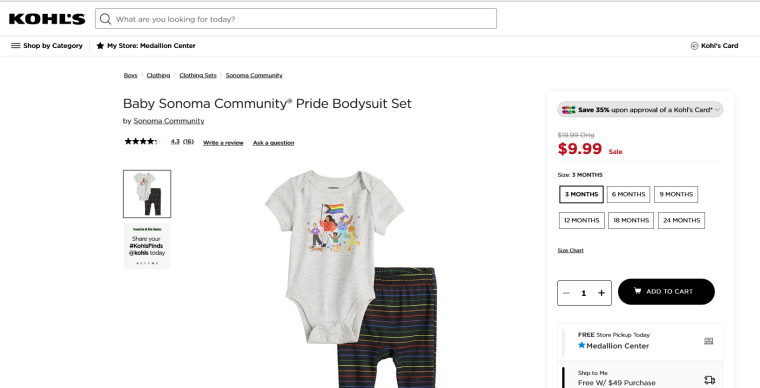 Along with a number of Disney-themed products — including a T-shirt with the iconic Mickey Mouse ears and the words "BELONG BELIEVE BE PROUD" — the store's pride page also has links to Kohl's partners, such as the Phluid Project, an LGBT-owned "gender-free fashion brand."
According to its website, the Phluid Project's Phluid Foundation raises money for a number of LGBT initiatives, including the LA LGBT Center, which earlier this month removed itself from an LA Dodgers pride event over the initial of a blasphemous drag troupe.
The Phluid Project also supports Drag Story Hour NYC (formerly Drag Queen Story Hour), a controversial nationwide initiative that features men dressed as women reading books to small children at local libraries.
As part of its pride month celebration, Kohl's is also donating $100,000 to The Trevor Project, an LGBT activist group that claims its research briefs correlate religious beliefs with higher rates of suicide among LGBT-identified people, a claim that has been widely challenged.
Since 2019, Kohl's has donated $325,000 to The Trevor Project, according to the Kohl's website.
Another brand on Kohl's pride page is TomboyX, which sells a number of "tucking" bikini bottoms on its website for men who want to identify as women. The brand, however, does not appear to sell any such products on Kohl's website.
Several conservative commentators on social media reacted to the Kohl's page by asking why such products are being marketed to children, even as "#BoycottKohls" began trending Monday on Twitter.
"Why is Kohl's selling "Pride Merch" for 3-month-old babies?" Turning Point USA commentator Benny Johnson asked on Twitter.
The Kohl's controversy comes as a number of popular retailers have seen their popularity, and in some cases, their share prices, plunge following social media coverage of its pride-themed merchandise.
Target's stock value has taken a hit amid controversy over a collection the company unveiled ahead of so-called Pride month that has ties to a British designer whose brand promotes satanic imagery. 
The retail chain lost $9.3 billion in market value and the corporation's shares have dropped by more than 12.6% since the consumer backlash began in mid-May.
Other companies like Starbucks and Bud Light are also facing economic headwinds over their LGBT advocacy. 
Adidas used a male model to advertise a women's swimsuit as part of its "Pride 2023" collection. The unidentified male model wearing a product intended for women had stubble and hair on his chest, as well as a noticeable bulge in the crotch area.
South African designer Rich Mnisi and Adidas collaborated to release a "Let Love Be Your Legacy" collection, Fox News reported. According to Adidas, its campaign with Mnisi is intended to "encourage allyship and freedom of expression without bias, in all spaces of sport and culture."