Megachurch pastor tells Congress, president to 'pray for wisdom,' humble themselves
'We need to see prayer instituted back in America in a new way'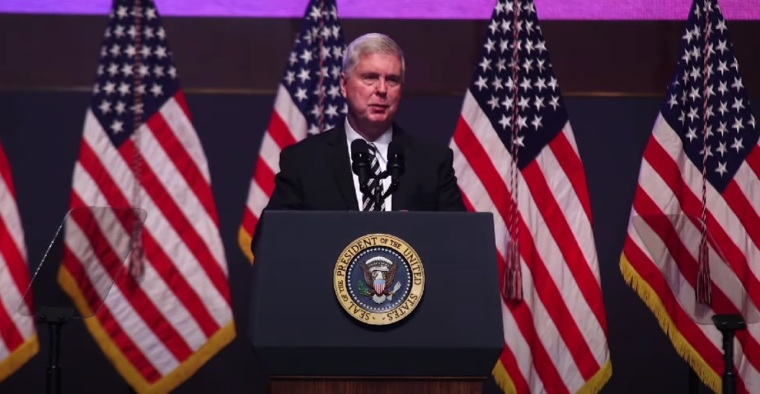 A megachurch pastor based in New York City implored President Joe Biden and members of Congress to "pray for wisdom" and humble themselves as they make major decisions.
Pastor Jim Cymbala of the Brooklyn Tabernacle was a guest speaker at the National Prayer Breakfast, held Thursday morning on Capitol Hill in Washington, D.C.
During his speech, Cymbala told elected officials that, like everyone else in the world, "you need mercy and you need grace," adding, "we need daily mercy."
Cymbala went on to note that "everyone who humbles themself and comes to God and says, 'God help me,' God has given in His Word 'I will never, ever turn you away.'"
The pastor went on to address the federal elected officials directly, telling them that "you make decisions every day that have the most immense effect on other people's lives."
"The Bible says this: 'If anyone lacks wisdom, let him ask of God, Who gives liberally and will never turn anyone away,'" Cymbala said, quoting from James 1:5. "If anyone needed to pray for wisdom, isn't it you folks every single day?"
"But let him ask in faith. You have to humble yourself, because if you think you have all the wisdom you need, you'll never know God's wisdom. He'll let you go on your own."
Cymbala went on to declare that "we need to see prayer instituted back in America in a new way," calling for "sincere prayer, heart prayer" and receiving applause in response.
Cymbala also talked about Genesis 4, a chapter that concludes with, "At that time people began to call on the name of the Lord," which Cymbala referred to as "when religion began."
"This was more important than the discovery of fire, the invention of the wheel, the splitting of the atom," he said. "Some instinct hit them. 'We're not alone. We can talk to the One Who put us here.' And that changed everything."
"So, the first people that belonged to God were not Jews, Hebrews, they were not Christians. There were no priests, there were not preachers, there were no buildings, there was nothing. But God had a people and they were known for just one thing: they looked to God and called upon Him."
Cymbala's remarks came as part of the National Prayer Breakfast, a gathering of elected officials and others that has been observed every first Thursday of February since 1953, when President Dwight Eisenhower presided over the event.
In addition to Cymbala, The Brooklyn Tabernacle's Grammy award-winning choir sang at the event and performed a few praise songs for those gathered at the Capitol building.
For decades, the event was organized by a nondenominational Christian ministry and was held at a local hotel, with some years having around 3,500 attendees in person from many countries.
Last month, however, it was announced that a new organization, known as the National Prayer Breakfast Foundation, would oversee the event, with attendance being reduced to just federal government officials, their families, and some constituents.
Former Sen. Mark Pryor, head of the new Foundation, told The Christian Post in an earlier interview that the changes were made to "return" the event "back to its origins."
"Back with President Eisenhower [the event] was just the president and members of Congress, House and Senate. And so, that's what they wanted to get back to," Pryor explained.
Pryor described this year's breakfast as being "smaller," "more intimate," with this "following the wishes of the House and Senate to restore it back to what it used to be."
The group that used to host it, which is sometimes called "the Family" or "the Fellowship," will be holding their own events over the span of the next couple of days.
In addition to Cymbala, other speakers included President Joe Biden and Bishop Vashti Murphy McKenzie of the African Methodist Episcopal Church, who spoke about the needs for those in power to show mercy and love to others.
"There is enough power in this room to make it happen. What a powerful message it would be to the world if we walked together with compassion over callousness, cooperation over competition, and at the end of it, go and do likewise," said McKenzie.
"Love makes a difference in how we see ourselves; created an image of God. God's love makes a difference in how we deal with suffering."