Mother of girl killed by MS-13 gang member in the US illegally urges Congress to secure border: 'This is not political, it's a safety issue'
CPS placed 16-year-old murderer and rapist in unsecured youth home with other children before his arrest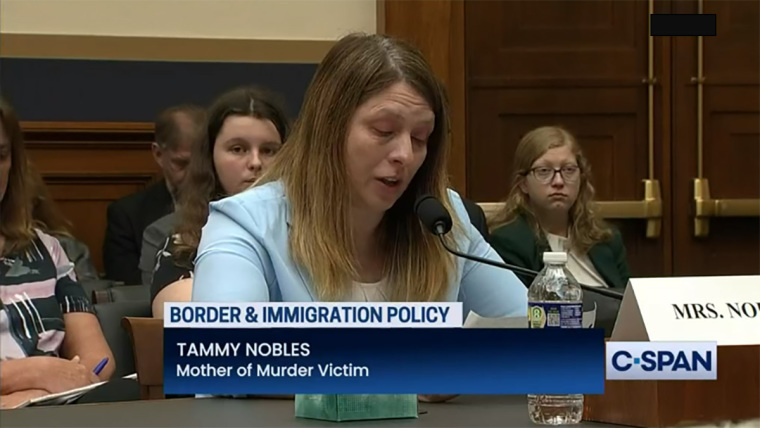 The mother of a 20-year-old girl murdered by an alleged MS-13 gang member called on the government to enact stronger border policies to protect other parents from the pain of having a child murdered by someone who never should have been allowed to enter the country. 
Speaking before the United States House Judiciary Subcommittee on Immigration Integrity, Security, and Enforcement Tuesday, Tammy Nobles questioned the protocols that allowed a teenage unaccompanied migrant with reported ties to MS-13 in El Salvador to enter the U.S. illegally and eventually murder her daughter. 
A few days after her daughter Kayla Hamilton's 20th birthday, Nobles testified that she received news on July 27, 2022, that her daughter had been murdered in her bedroom. The mother recalled that the family had little information about the murder before an arrest was made. 
Eventually, Nobles learned that her daughter's killer had entered the country illegally as a minor and was allowed to live with his aunt, who was also in the country illegally, in Frederick, Maryland. The suspect had problems living with his aunt, so he went to live with his half-brother in a trailer park located in the same area where Nobles' daughter was living.
"My questions are, what protocol was the aunt supposed to follow? If she couldn't handle him, then why not inform the proper authorities?" she asked. "The half-brother tried to get him a job and to do the right thing. But that didn't happen, so the half-brother told him that he had to leave."
The suspect's half-brother asked an illegal immigrant subletting trailers at a trailer park if she had any more rooms for rent, and she said that there was a room available in the same trailer as Kayla. Nobles explained during her testimony that Kayla lived at the trailer park with her boyfriend because she didn't have much money and she also didn't have any credit.
"She was working at a cleaning company and at a grocery store," Nobles said. "Kayla had autism, but she was determined to live independently and make her way in this world. And my baby paid the ultimate price."
Less than five days after the suspect moved in, he entered Kayla's room and strangled her with her iPod charger before sexually assaulting her. Nobles' daughter had attempted to call her boyfriend for help but the call went to voicemail, with the recording of the assault lasting over two minutes. 
Kayla's boyfriend returned home from work later that night and found the young woman dead on the floor, with the charger cord still wrapped tightly around her neck. 
In light of her daughter's death, Nobles called for proper vetting of all border crossers, noting that the U.S. government could have attempted to gain information from authorities in El Salvador about the suspect's ties to MS-13. She said her daughter would still be alive if the U.S. had stronger border policies.
"For me, this is not a political issue. This a safety issue for everyone living in the United States," Nobles said. "This could have been anyone's daughter. Kayla wasn't doing anything wrong, and she didn't deserve to be murdered." 
"I don't want any other parent to live the nightmare that I am living. I am her voice now, and I am going to fight with everything I have to get her story told and bring awareness of the issue at the border," she continued. "I will make sure her memory lives on." 
According to U.S. Customs and Border Protection, there have been more than 6 million encounters with illegal immigrants at the southern border since the beginning of the Biden administration. Additionally, since the beginning of fiscal year 2023 on Oct. 1, CBP has reported more than 1.8 million illegal immigrant encounters at the southern border. 
During an April hearing called Oversight of the Office of Refugee Resettlement's Unaccompanied Alien Children Program, lawmakers sought answers regarding reports of a high number of illegal immigrants who are unaccompanied children. 
Unaccompanied children in these circumstances are placed in the Office of Refuge Resettlement's custody until the minor is placed with a parent or sponsor. 
Robin Dunn Marcos, director of the Office of Refugee Resettlement under the Department of Health and Human Services, told lawmakers that the agency "does not monitor or track the whereabouts of children after they are released from our care." However, she maintained that her agency provides "safety and well-being calls between 30 and 37 days after release."
Several lawmakers questioned Marcos about a February New York Times report showing that the agency has been unable to reach over 85,000 children over the last two years. 
Subcommittee Chairman Glenn Grothman, R-Wis., was one of the lawmakers who questioned Marcos about the report's accuracy. In response, Marcos answered that the agency "works within the statutes and authorities and resources provided," which Grothman took as confirmation.