Over 1,000 students attend Texas A&M Corpus Christi worship event; 124 baptized
More than 120 people were reportedly baptized during a recent revival event on the Corpus Christi campus of Texas A&M University, a gathering that has spurred increased attendance in church young adult groups in recent weeks. 
New Life Church of Corpus Christi helped organize an on-campus worship event on Aug. 31 known as "One Night," an annual gathering held in the area for the past eight years and on campus for the past two.
New Life Church Young Adults Pastor Tarik Whitmore, whose church has a student organization on campus known as New Life Young Adults, told The Christian Post that their ministry outreach to Texas A&M began in 2015, saying its influence on the campus has "gradually increased over time."
Whitmore reported that while last year's One Night event had about 600 attendees and 51 baptisms, this year, they saw more than 1,000 in attendance (out of a student enrollment of around 10,800) and 124 baptisms.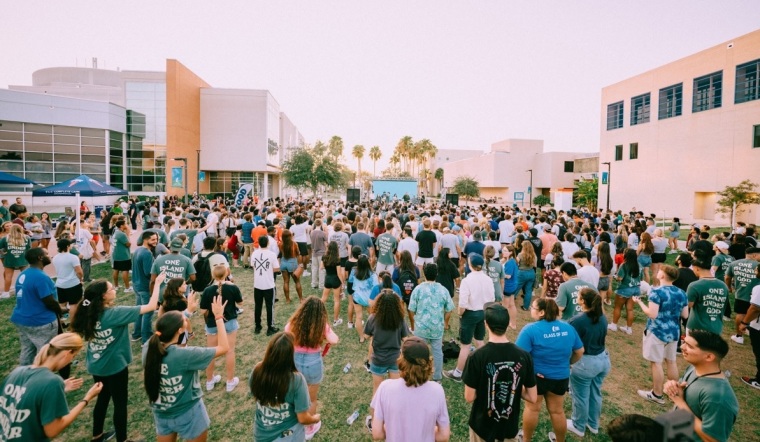 "From the very beginning of worship, it was clear that something significant was happening because it was just, it was so powerful," White said, noting that the gathering included "faces [we've] never seen [in church] before" who were "lifting up the name of Jesus."
"For young people, it's one thing for them to do that in a comfortable, familiar context like the Sunday morning; it's another thing for them to do that at their college outdoors in front of their peers."
Whitmore was amazed by how much anticipation there was for One Night. In the days leading up to the event, when he and other NLYA members spread the word, they came across many students who already knew and were planning to go.
"They already knew about it, they were already excited, they already ready to jump in," he said.
Whitmore, who preached at the campus gathering, told CP that the worship felt "so anointed" and that as he looked at the crowd of students, "their eyes were glued to me the entire time."
"And I know it's not because I'm such a great speaker," he continued. "It really did feel like we had this supernatural influence helping us."
Of those who came forward to be baptized, Whitmore saw "every kind of student" come forward, from freshmen who had just started classes at the university to seniors who were aware of NLYA but had avoided the group until then.
Since the Aug. 31 gathering, Whitmore told CP that the small groups for students his church oversees have seen growth in attendance, with one held the week after the event having about 100 attendees.
"We've never seen anything like this," said Whitmore, who noted that the crowd eventually had to move outside the 1,300-square-foot house hosting the group for space reasons.
Other life groups hosted by NLYA that met throughout the city earlier this month had sizable turnouts, ranging from at least 20 to more than 50 students, including many new people.
NLYA holds monthly worship events on campus, with the most recent being held last Thursday, where more than 200 students attended and five baptisms took place.
"Whether it is in a small group setting, or a corporate setting, or even a large event, it's very simple: we are worshipping, we are communicating the Gospel," explained Whitmore.
According to Whitmore, the university establishment and the campus community have been supportive of their efforts and have not tried to stop NLYA from gathering.
In February, Asbury University in Kentucky garnered national headlines when students held an impromptu worship service at the campus chapel that lasted 16 days and brought in tens of thousands of visitors from across the United States.
The revival service also inspired the launching of worship events at other schools, both public and private, as well as the creation of "outpouring teams" comprised of Asbury students to share their experiences with others off-campus.