Alexa PenaVega talks commitment to her 'kingdom marriage,' laments how Hollywood pulls families apart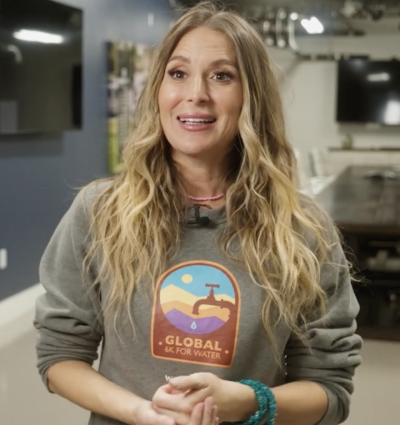 Actress Alexa PenaVega addressed the significance of setting an example of having a "kingdom marriage" in Hollywood and how advocating for causes she cares about led her to become a celebrity supporter of World Vision. 
PenaVega, best known for her role in "Spy Kids," visited the Los Angeles Dream Center earlier this week to hand out toys and meet with children as part of her work with the humanitarian nonprofit organization World Vision. This holiday season, she's featuring her eco-friendly bracelets in World Vision's gift catalog to raise funds for the organization's relief and development work around the globe. 
"I've been a part of the World Vision family for years," PenaVega told The Christian Post. "I have a friend who works with different charitable organizations and he reached out to me and said, 'Hey, World Vision is doing a gift catalog this year, would you like to be a part of it? I was like, 'Are you kidding? I've been giving to them for years. I would love to be a part of it!" 
PenaVega's family is from Bogota, Colombia, so World Vision partnered with artisans in Colombia who made the melon seed bracelets. 
"What I love about World Vision is, one, it's a Christian organization. So they have Kingdom hearts, and they're ready to serve in any way. Also, they want to help people to be self-sustaining. They don't want to just give handouts and say, 'Good luck.' It really goes back to teach a man how to fish."
Last year, the actress and singer published her book, What If Love Is the Point? And this year, she's starring in the new Hallmark movie "Never too Late to Celebrate" alongside her husband, Carlos. PenaVega said she wants to collaborate on more projects alongside her husband so they don't spend too much time apart, which frequently happens in Hollywood. 
"We realized early on — this is something I learned actually from my family growing up in the industry — is that our industry was not built for families to make it. They rip families apart constantly," she said.
PenaVega shares three children with her husband who also works in the entertainment industry as an actor and musician. While the couple is committed to each other and use their faith as their guide, PenaVega lamented that their busy schedules often pull them apart to different locations. 
"What happens is you leave for months at a time to go film a movie or a television show where your family grows further and further apart. The industry is truly not set up for marriage or for family," she said. 
"We really do feel called to be in this industry. We feel like God gave us gifts to be a part of this industry. But that doesn't mean we have to do what the industry does," she stressed. "We've taken all the Kingdom aspects that we've learned, and it's not easy, because there are plenty of opportunities that we've had to pass on or skip out on because we knew, [and pray], 'God, I really don't feel like you're in this and I don't want to be a part of it if you're not in it.'"
PenaVega told CP that she and her husband no longer accept the types of roles that they once did. 
"For us, it doesn't mean we only have to work together. But we try our best to find projects together because, how much better that I get to work with my spouse on these movies? It just makes it so much easier," she continued. "One, I don't really want to have to kiss other people if I don't have to. And two, he knows what I'm capable of; I know what he's capable of. We're able to play and riff and have fun. So we really do elevate each other when we work together." 
The actress said they prefer having their three children in one place with both parents.
"That was all God to make things work for us in this industry," she declared. "We need to show the world what a Kingdom-hearted marriage looks like."
Although PenaVega says her marriage is not perfect and they have disagreements at times like anyone else, they fight for their marriage.  
"God has been our foundation and our sustainer through all of it. That even through our lowest of lows through our marriage, which we talk about in our book, God really put an emphasis on our heart [about] marriage," PenaVega explained. 
"It's something that is holy, and it's His [God's]. Even though it's our marriage to fight for, it belongs to Him. So we are a unit and nothing can break us up," she added. 
PenaVega said her hope is that families will come together this Christmas and give back to those in need.
World Vision's gift catalog features PenaVega's bracelets which are available to purchase along with items from other celebrity supporters.