George Barna: Most Christians don't know what a disciple is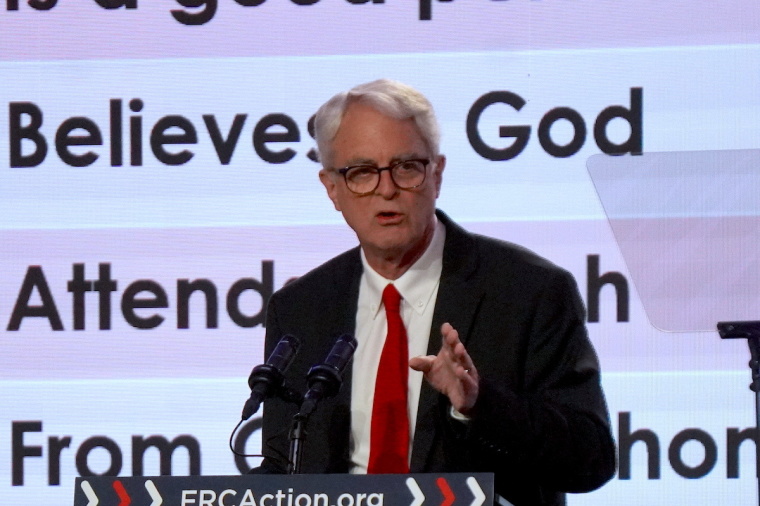 WASHINGTON — A noted researcher is attributing societal problems in the United States to a transition from a "biblical worldview to alternative philosophies."
Prominent Christian researcher George Barna spoke at the Family Research Council's Pray, Vote, Stand Summit Friday, discussing his new book Raising Spiritual Champions: Nurturing Your Child's Heart, Mind, and Soul. He began his speech by warning that the challenges facing American society stem from "our transition from the biblical worldview to alternative philosophies," identifying "our societal problems" as "the symptoms of that shift." 
"The only true social crisis is a worldview crisis. The result is a paucity of Jesus' disciples. We treat the symptoms rather than the cause of the crisis," Barna asserted, outlining statistics often used to refute the idea that there is a worldview crisis in America.
Specifically, Barna documented that there are 174 million self-identified Christians that constitute 68% of the country, 90 million theologically-defined born-again Christians that account for 35% of the population, 128 million Christians who believe in the existence of the God of Israel that make up 50% of the population, 84 million who go to a Christian church once a week that account for 33% of the population, and 46 million self-identified Christians that are deeply committed to their faith that add up to 18% of the population. 
"None of these things constitute what a disciple is," he said. Barna also rejected the definition of a disciple as a good person, noting that all people are sinners. He had a similar rebuttal to the definition of a disciple as someone who believes in God, stressing that Satan and demons believe in God as well. Reacting to the definition of a disciple as someone who attends church, he emphasized that Christians have an obligation to "be the church" rather than just go to church. 
Barna also pushed back on the idea that anyone with a Christian upbringing is a disciple, insisting that "discipleship is not inherited." He pointed to examples of Jesus directly defining the term "disciple" in the Bible, including in John 8:31, which calls on disciples to obey Jesus' teachings. Additional passages cited by Barna as illustrative of what constitutes a disciple include John 13:35, which instructs disciples to love other disciples, and John 15:8, which orders disciples to produce spiritual fruit. 
Barna also discussed demands made on disciples in the Gospel of Luke, which include orders to love God beyond all else, submit to God's authority and fully surrender to God. He ultimately defined a disciple as "someone who lives like Jesus because they think like Jesus." The researcher concluded that "most people do not act like Christ because they do not think like Him." 
"To consistently think like Jesus, you need a biblical worldview — the intellectual, emotional, and spiritual filter that enables you to consistently and confidently make the decisions that He would make," Barna added. He maintained that a lack of a biblical worldview among parents poses problems for their children, sharing statistics finding that "less than 1 percent of adolescents and teens are on track to have a biblical worldview."
Barna contended that the biggest mistakes parents make when it comes to instilling a worldview in their children include prioritizing "academic achievement, emotional happiness, and good health" over "worldview development" as well as failure to form a "plan for their child's spiritual development" or "objective measurements of their child's worldview." 
The researcher detailed how parents want their children to be "a good person" as opposed to a "disciple," adding that parents are "not leaving their faith up to God" but "leaving it up to chance."
In addition to lamenting the fact that just 2% of parents with children younger than 13 have a biblical worldview, Barna also discussed the impact of the absence of a biblical worldview among pastors.
According to Barna, "Most pastors neither have a biblical worldview nor are committed to biblical worldview development." He expressed concern that while a "large majority of Protestant pastors think they are doing an excellent or very good job of developing congregants' worldview," many "senior pastors confuse transmitting information through preaching with discipleship founded on a strategic worldview development process."
"Children's pastors confuse family satisfaction, generic Bible exposure, and habitual attendance with effective child discipleship," he warned. In addition to decrying a widespread failure of pastors to "equip parents to develop their child's worldview," he explained that "very few churches have a meaningful worldview assessment process to gauge how their people are doing." 
Throughout his remarks, Barna cited his book as an effective resource to help parents formulate a biblical worldview in their children and thereby reverse the embrace of worldviews other than a biblical worldview that have led to negative consequences for American society.