Canadian archbishop calls out lack of media interest after probe finds no remains at Catholic church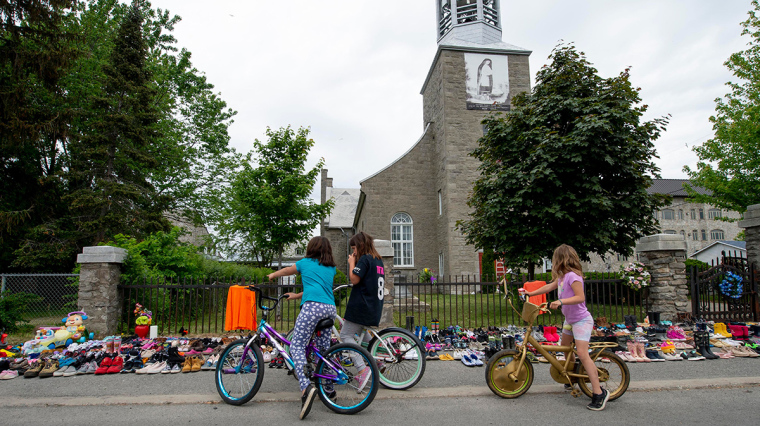 Recent investigations in Canada have found no evidence of mass graves at 14 sites previously thought to possibly contain the remains of Indigenous children, leading to a range of reactions, including comments from a Catholic archbishop.
Archbishop Richard Gagnon of the Diocese of Winnipeg, Manitoba, spoke with EWTN about the results of an independent investigation after 14 anomalies were detected in the basement of a Catholic church near a former residential school using ground-penetrating radar last year. As many as 60 people were thought to have been buried there. 
He said the church was prepared for any result and described the process as a "very careful professional investigation" into the allegations of human remains at the church school. 
"The results were negative of any human remains," he said. "It is always good to have that kind of result. Certainly, we were as curious as anybody about these possibilities under the church. It is a very large church, and the basement area is dirt. So we were prepared for any particular result." 
In May 2021, reports emerged of ground-penetrating radar technology discovering unmarked graves of hundreds of indigenous children at former Catholic-run residential schools in Canada that made international headlines and led to widespread vandalism and burning of churches after Prime Minister Justin Trudeau demanded an apology from Pope Francis.
A series of excavations at the 14 locations at the Our Lady of Seven Sorrows Catholic Church near the Pine Creek Residential School found no human remains.
An archeological team from the University of Brandon was hired by The First Nation, northwest of Winnipeg, to do a four-week excavation of the Manitoba church earlier this summer, The Canada Press reports. 
While the initial claims of potential remains drew widespread media coverage, the archbishop said that the media interest in the investigation seemed to wane once it became apparent that no remains were discovered. 
"When we began the process of this excavation, we began with an early morning pipe ceremony led by the indigenous community there. There was a lot of national attention paid to that," he said. "But at the end of the four weeks of excavation, the national news was not quite as prevalent. Some of the networks reported the results, and others didn't play it up very big at all. So it began with much more national notice than the way it ended." 
"What you have had over the past couple of years is the use of ground-penetrating radar uncovering unmarked graves," he continued. "There is no mass graves. ... It is a matter of unmarked graves in communities where there were residential schools. In this particular case in Manitoba where this excavation occurred, I'm not aware of any comment from the federal government about this particular case."
Gagnon said the archdiocese has had excellent communication and partnership with the Pine Creek reservation to embark on this investigation. 

"It's a good example of what can be done where there is openness in communication in trying to determine the historical record," he said. 
In the aftermath of the international media attention given to the reports of graves at Catholic residential schools, a study released by Statistics Canada finds that hate crimes against Catholics rose 260% in 2021.
In May 2021, the Canadian Broadcasting Corporation reported that the remains of 215 children had been found at the former Kamloops Indian Residential School in British Columbia, which had closed in 1978. The news led to significant public outcry and demands for an apology from the Vatican by Trudeau.
However, no remains or graves were discovered. Ground-penetrating radar anomalies had been detected, but no excavation had been carried out.
The news led to a series of events, including the lowering of flags to half-mast and calls to cancel Canada Day. The initial reports led to significant public and government responses. Orange Shirt Day was implemented in schools across the country. Protests and vandalism occurred, including the toppling of statues of Queen Victoria and Queen Elizabeth II.
Prime Minister Trudeau visited the Cowessess reserve in Saskatchewan and was photographed kneeling at the site of the former Marieval residential school. He stated that children died because of the policy of residential schools.
To date, no excavations at any of these sites have turned up human remains.
Jacques Rouillard, a professor emeritus in the Department of History at the Université de Montréal, told The New York Post last month that there were "too many falsehoods circulating about this issue with no real evidence."
"Too much was said and decided upon before there was ever any proof," Rouillard said. 
Rouillard wrote a January 2022 piece published in The Dorchester Review, pointing out that anthropologist Sarah Beaulieu acknowledged that they did not have confirmation that there were any remains of children at the site. Beaulieu, he explained, said that there were "probable burials" on the property.
"By never pointing out that it is only a matter of speculation or potentiality, and that no remains have yet been found, governments and the media are simply granting credence to what is really a thesis," wrote Rouillard. "And all of this is based only on soil abnormalities that could easily be caused by root movements, as the anthropologist herself cautioned in the July 15 press conference."