'Do I flush my child down the toilet?': Abby Johnson laments loss of God's vision for humanity at CPAC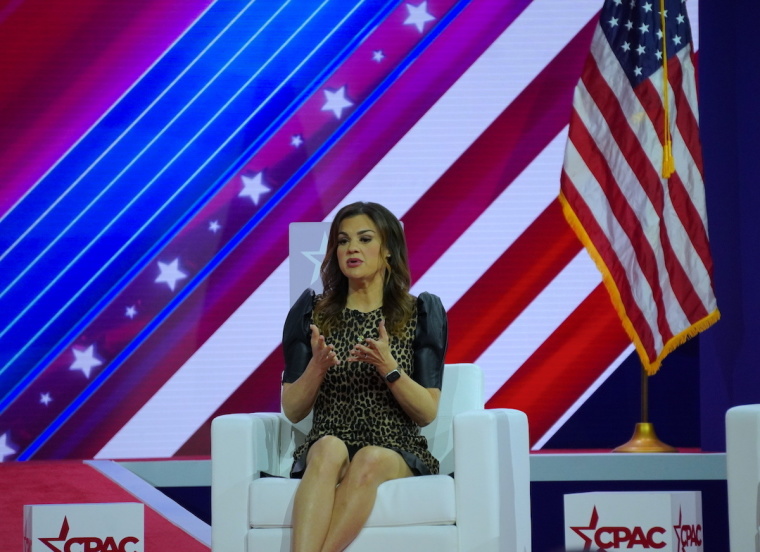 NATIONAL HARBOR, Md. — A women-centered panel at the 2023 Conservative Political Action Conference focused on defending human dignity and how the panelists believe the culture has lost sight of God's intended vision for humankind.
The panel, "Some Tuff Mutha," featured pro-life advocate Abby Johnson, founder of And Then There Were None; Penny Nance, CEO and president of the conservative group Concerned Women for America; and Kimberly Fletcher of Moms for America. Radio host Sandy Rios served as the moderator for the panel. 
One of the ways the panelists believe human dignity has been lost is through the practice of abortion, which has killed 63.5 million Americans since it was legalized in 1973. 
Johnson, a former Planned Parenthood clinic director (read more about her here and here), drew attention to the Food and Drug Administration modifying restrictions on abortion pills and enabling women to obtain prescriptions for the drugs at major retail pharmacies. Under the Biden administration, the FDA "greenlit abortion into the home of every woman across the country," she said. 
"We have created abortion facilities in every woman's home across the country," Johnson added, lamenting the risk this imposes on women.  
The former abortion clinic director noted that the full extent of the ramifications of the FDA's decision is still unknown, highlighting the lack of medical supervision surrounding at-home chemical abortions. According to a 2009 study, the complication rate for chemical abortions is four times higher than for surgical abortions.
Johnson cited several concerns she has with the modified regulations, such as women potentially hemorrhaging to death in their bathroom. She also emphasized that women will be looking into the toilet to see the remains of their "fully-formed baby." 
"And then they're going to have to make a decision," she said. "'What do I do with this fully-formed baby? What do I do with this child? Do I scoop the child out of the toilet? Do I take the child to be buried? Do I flush my child down the toilet?'" 
The pro-life advocate raised further concerns about the psychological impact of seeing their child's remains. 
Nance added that abortion is the "ultimate disrespect of human dignity," but stressed that God still loves and can redeem women who have had abortions. 
The conservative leader pointed to another loss of human dignity, criticizing the Biden administration's treatment of women. She asserted that the Administration seemingly believes "men can do everything better than women, including being women," highlighting the appointment of Rachel (Richard) Levine, a man who identifies as a woman, to the position of U.S. Assistant Secretary of Health. In 2022, USA Today listed Levine, a man who identifies as a woman, as its Woman of the Year.
Nance said CWA intends to "stand up for the unique dignity of American women" and encourages other Americans to do the same. 
"We are fearfully and wonderfully made as male and female," she said. "That is the ultimate disrespect, to deny who we are and how God created us in that unique, dignified position as American women." 
Speaking about public education, Fletcher shared how, when she talks to mothers, she tells them how "parental rights are fundamental and supreme." 
"We as parents have got to stand up," she said. "First of all, we have to know what's coming our way." 
Fletcher noted that mothers are attending school board meetings, reading the sexual content in books made accessible to their children, and being lectured for sharing such things out loud. She also pointed to incidents involving comprehensive sex education being taught to early elementary school students or schools instructing young children about changing their sex. 
The parental advocate asserted that conservative Christian women haven't been voting or paying enough attention to what's happening at their school boards. This demographic of women, she added, can "repair" what's wrong in the education system. 
In terms of fixing what they see as negatively impacting the culture, Johnson said God wants His people to participate in "daily victories," imploring those gathered to use their "voice" and "speak boldly" on these issues. 
Nance seconded Johnson's challenge, adding that the "Holy Spirit is alive and well," and whether it be at school board meetings or outside abortion facilities, she called on everyone to speak the "truth" and fulfill God's command to "care for the least of these."