Female athlete slams effort to 'fully eradicate women,' deny 'basic truths'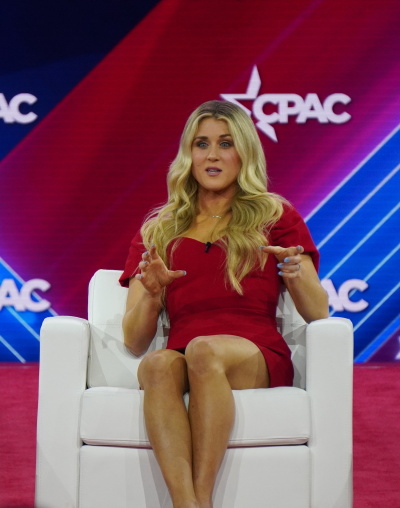 NATIONAL HARBOR, Md. — A female competitive swimmer decried how she was used and reduced to a "photo op" after she tied with a male competitor who changed his sexual identity to compete on the women's team at his university.  
At the annual Conservative Political Action Conference, former collegiate swimmer Riley Gaines Barker warned of an effort to "fully eradicate women" that goes against "basic truths."  
Barker, who graduated from the University of Kentucky last year and competed on the school's women's swimming team, gained national attention for her opposition to laws allowing men who self-identify as women to compete in women's sports.
During a panel discussion on the topic of courage Friday, she recounted her experience: "Lia Thomas is a 6'4" fully intact biological male who swam three years on the men's side at the University of Pennsylvania before switching to the women's team during his senior year. And so last year, out of nowhere, this person, who at the time I had no idea was a biological male, began posting the fastest times in the nation across multiple events. It was very bizarre. There were several red flags, one of which ... was someone I had never heard of, which is rare in swimming, especially when you're competing at that top tier."
She eventually learned that Thomas was a man after reading an article that noted his previous identity as Will Thomas. Barker ended up competing against Thomas in the National College Athletics Association championships last year, as the organization allows trans-identified males to compete on women's sports teams.
"I got to personally feel the effect that this infringement had on myself and my teammates. We sat on the side of the pool and watched Lia Thomas swim to a national title in the 500 freestyle beating out three Olympians, American record holders, the most impressive female swimmers of all time by body lengths," she said.
Barker later tied with Thomas in a 200-yard freestyle. "Upon tying, we go behind the awards podium where the NCAA officials hand you your trophy and you're marched out and you're named an all-American." One NCAA official ordered her to hold the sixth place trophy because, "for photo purposes, Lia has to have the trophy so you can pose with this one, but you go home empty-handed. Lia takes the trophy."
Stressing her experience swimming from a young age and all the effort that has gone into her athletic career, Barker lamented that she was "reduced to a photo op to validate the identity of a male."
Listen to CP's podcast Generation Indoctrination: Inside the Transgender Battle
"We have gotten to a point in society where we're denying basic truths," she added, suggesting "this is like a George Orwell dystopian novel that we're actually living in," referring to 1984.
"Man and woman is the sheer essence of humanity and these people are trying to blur that line so we can't define what it is to be a woman," she insisted. "This is a problem and this is something that translates far beyond my expertise of sports."
"There are so many realms of life where they are trying to … they're pursuing this aggressive attempt to fully eradicate women as a whole which is incredibly heartbreaking."
Referring to laws allowing men who identify as women to compete in women's sports and enter women-only private spaces like bathrooms, locker rooms and showers, Barker warned that "this opens the door to people who would fully be willing to take advantage of [the] opportunity" to "change in the locker room with women."
"That's what we're seeing, especially in regards to prisons where we see these men who are convicted of terrible, awful crimes like rape and kidnapping and just heinous things. (Read more about it here and here.) They're now identifying as women because it means they can get into women's prisons. It's more lenient, the charges are less. They're seeing this happen. And so, just in California a few weeks ago, after seeing this be successful ... over 200 males applied to be in women's prisons."
Critics of policies allowing men to compete against women in sports point to the biological differences between the sexes as the justification for their opposition to such laws.
USA Powerlifting, one sporting organization that requires athletes to participate on teams that correspond with their biological sex, identifies such differences as "increased body and muscle mass, bone density, bone structure, and connective tissue," all of which give men a competitive advantage over women in athletics.
A 2020 study published in the British Journal of Sports Medicine found that trans-identified male athletes continue to maintain their advantages over female athletes even after two years of taking excessive doses of female hormones. 
Concerns about the fairness of policies that allow men to compete against biologically female athletes have prompted 18 states to pass laws requiring athletes to compete on sports teams that correspond with their biological sex instead of their chosen sexual identity: Alabama, Arizona, Arkansas, Florida, Idaho, Indiana, Iowa, Kentucky, Louisiana, Mississippi, Montana, Oklahoma, South Carolina, South Dakota, Tennessee, Texas, Utah and West Virginia.