Football coach at center of Supreme Court prayer case resigns 1 game after reinstatement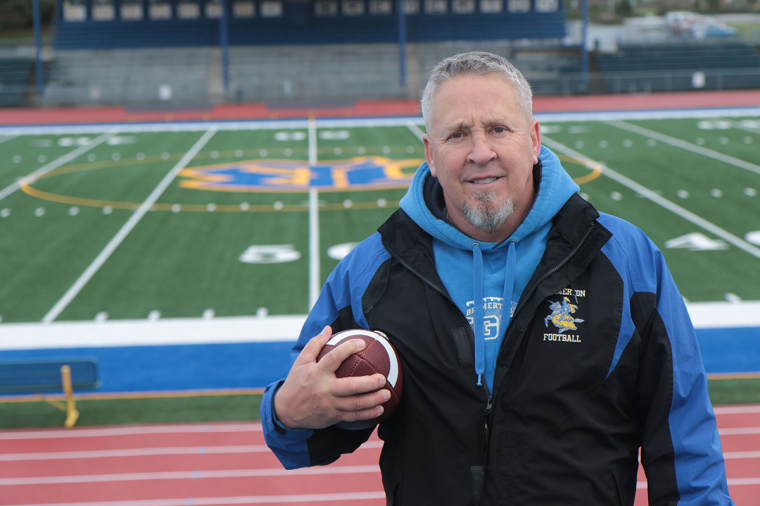 The high school football coach at the center of a U.S. Supreme Court battle over his dismissal for praying on the field has announced his resignation one game after being reinstated following his yearslong court battle as he has alleged "retaliation" against him. 
Joseph Kennedy, an assistant coach for the varsity football team at Bremerton High School in Washington State, announced his resignation Wednesday after his first game since his reinstatement. He cited multiple reasons, including a desire to care for a sick family member in Florida and a desire to advocate for religious liberty.
The resignation comes as Kennedy is slated to release his book, Average Joe: The Coach Kennedy Story, in October. Additionally, a film about Kennedy's life is in pre-production, according to a statement released by his publicity firm. 
Kennedy drew national attention in 2015 after the school district suspended and ultimately terminated him for kneeling in prayer on the field after games. After about seven years of litigation, the nation's top court eventually ruled in his favor. 
"I believe I can best continue to advocate for constitutional freedom and religious liberty by working from outside the school system, so that is what I will do," Kennedy stated. "I will continue to work to help people understand and embrace the historic ruling at the heart of our case. As a result of our case, we all have more freedom, not less. That should be celebrated and not disrespected." 
Kennedy voiced his appreciation for the Bremerton community, adding that the school would always be his "home."
In response to a Thursday inquiry from The Christian Post, a spokesperson for the Bremerton School District directed the outlet to a Wednesday statement on the district's website. 
"The District has received Mr. Kennedy's resignation, and it is pending board approval at tomorrow's regularly scheduled meeting," the statement reads. "The District does not comment on personnel matters, so we will not be issuing any further statements." 
Kennedy is an 18-year Marine veteran who began as an assistant coach at Bremerton in 2008.
Hiram Sasser, executive general counsel at First Liberty Institute, the Christian legal organization that represented Kennedy, said in a statement shared with The Daily Signal Wednesday that the legal group is investigating reports of "retaliation" against the coach for his lawsuit to determine if further legal action is necessary. 
In a resignation letter to the district, Kennedy noted that he believed it was in "everyone's best interest" for him to resign. He said he thinks the "reinstatement ordered by the Supreme Court will not be fully followed after a series of actions meant to diminish my role and single me out in what I can only believe is retaliation by the school district." 
The Supreme Court ruled in Kennedy's favor last June via a 6-3 decision. The district said it would reinstate the coach to his former position by March 15, 2023. 
Americans United for Separation of Church and State, which represented the school district in the case, had previously asked the court to dismiss the case on grounds that it was moot because Kennedy moved to Florida. However, Kennedy's legal team claimed the coach temporarily relocated to care for a sick family member.
"For years, Kennedy and his lawyers have said all he wanted was his job back. We were skeptical. And now, here we are, right where we warned the Supreme Court we would be," Americans United President Rachel Laser told The Seattle Times.