K-LOVE Fan Awards: For King & Country, Lauren Daigle, Brandon Lake take top honors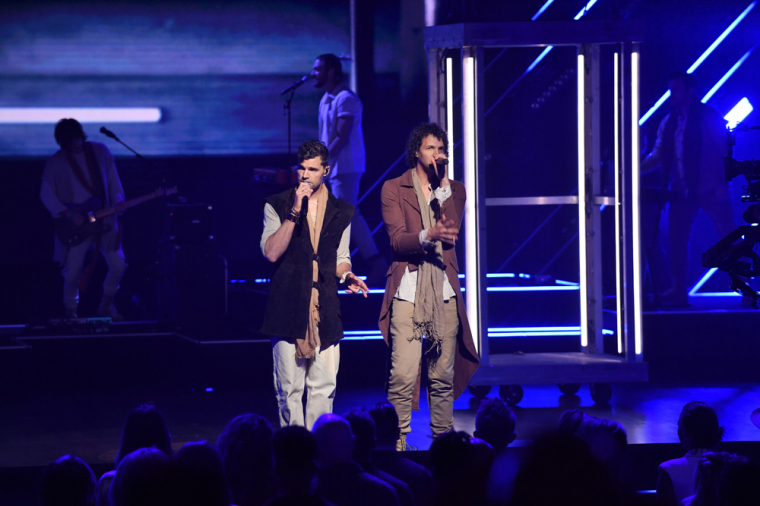 NASHVILLE — Christian rock group for King & Country took home the Artist of the Year award at the 10th annual K-LOVE Fan Awards, while Lauren Daigle and Brandon Lake took home Female Artist of the Year and Male Artist of the Year, respectively. 
For King & Country, comprised of brothers Joel and Luke Smallbone, beat out CCM artists including Matthew West, Phil Wickham, Steven Curtis Chapman and Tobymac, in taking home the night's top honor. 
Lake, a member of the Maverick City Music collective and a worship pastor at Seacoast Church in Charleston, South Carolina, took home three awards, including Male Artist of the Year and both Song of the Year and Worship Song of the Year for "Gratitude."
Lauren Daigle, a Grammy winner, took home Female Artist of the Year, beating out Anne Wilson, Brooke Ligertwood, Katy Nichole and others. "Perfectly Loved" by Rachael Lampa featuring TobyMac took home the award for Breakout Single. 
The Group of the Year Award went to MercyMe. Lead singer Bart Millard told The Christian Post that after three decades in the Christian music industry, he's both "humbled" and "honored" to have such a strong fan base. He encouraged the next generation of artists to "never treat where God has you as a stepping stone."
"This may be the very reason and moment that He called you to, and then more opportunities will be given to you," he said. 
"We see a lot of people that are like, 'I'm waiting for the next thing.' No, you're here in this moment, and you're reaching people that none of us were called to reach at this very moment. So at least we try to encourage people not to take for granted where God has you at the moment. You'll be shocked by what comes your way."
"Duck Dynasty" stars Phil and Jase Robertson took home the Podcast Impact award for their podcast, "Unashamed." Phil Robertson, who brought his well-worn Bible to the red carpet, told CP that the podcast initially started as a Bible study that turned into an influential ministry that has seen hundreds brought to Christ. 
"I was really surprised to see that there's that many good people left that we don't realize, or they're they're the silent majority, maybe," Robertson said. "But I learned through that podcast this morning, I had about 50 from 20 different states come down here for 30 minutes, and I did my lesson, and some were baptized. That's what we do all the time." 
Robertson said that through his platform, he aims to minister to those influenced by the schemes of the "evil one," such as those struggling with drugs, alcohol or gender identity issues.
"I love them all. I bring the good message to them. That's all we can do." Robertson said. "We say, 'Look, man, there's a better way, girl, there's a better way.' So we try to point them to Jesus and the One who takes our sins away. They say, 'Thank you, thank you, thank you. You saved my life.' It was really God saving them, we're just messengers."
Wickham, a worship artist, took home the Book Impact award for his devotional On Our Knees. Wickham previously told CP he wrote the book to help readers cultivate a lifelong practice of prayer.
"Writing this book helped me to remember [the power of prayer],'" Wickham said. "I would hope that this book would help people to understand the beauty of it, the joy of it, the intimacy of it. That it's not this religious act, but it's this communal act with God. There's an urgency; the world needs people to pray."
The K-LOVE Fan Awards were hosted by sibling trio CAIN and featured performances from Colton Dixon and Gabby Barrett, as well as Mac Powell and Jason Crabb, MercyMe with David Leonard, Katy Nichole and Big Daddy Weave along with others. 
Artist Blessing Offor had students from Nashville's Covenant School, which experienced a tragic school shooting earlier this year, join his performance.
TBN aired the star-studded show on June 2, with an encore to broadcast on June 10.