Franklin Graham urges prayers ahead of possible Trump indictment: 'Politically motivated'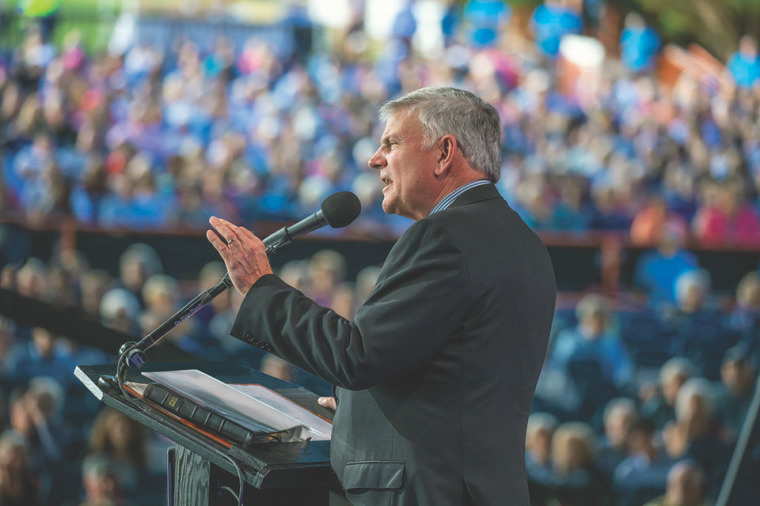 Evangelist Franklin Graham, the son of Billy Graham, is asking his followers to pray for former President Donald Trump as he faces an "onslaught," including a potential indictment.
Graham, the CEO of the Christian charity Samaritan's Purse and the Billy Graham Evangelistic Association, took to social media to react to Trump's possible indictment of Trump.
"We need to pray for our country and where it's headed," he wrote. "The left in Washington and across the country just can't get their fill of attacking Donald Trump. They are so paranoid of him. The onslaught against him is continual."
"There's no question, the media and the left manipulated the last election, and they are scared to death of Donald Trump's possible return," Graham added. "Night after night, the media runs negative stories about former President Trump. Now they're talking about the possibility of arresting him in the hopes that this would prevent him from running for president again — this would be a huge mistake. The charges against him are definitely politically motivated."
Graham pleaded with Christians across the United States to "pray" that "God's hand would be upon [Trump]" and that "God's will be done." He maintained that "we need to work together to strengthen this nation — not divide and destroy it."
Graham's social media post followed Trump's Saturday comments on Truth Social declaring that he would be arrested Tuesday. While an arrest did not take place Tuesday, the threat of legal action against the former president looms large as the Manhattan District Attorney's office is currently investigating whether or not a payment made to porn star Stormy Daniels in the weeks leading up to the 2016 presidential election constituted a violation of campaign finance law.
Daniels has claimed that she had an affair with Trump a decade earlier, which he denies. In 2019 testimony before the U.S. House of Representatives, former Trump attorney Michael Cohen, who had since turned on his former boss, told lawmakers that the then-candidate "asked me to pay off an adult film star with whom he had an affair, and to lie to his wife about it, which I did." Cohen stated that he paid Daniels $130,000 in the closing days of the 2016 campaign so she would remain quiet about her allegations. 
For his part, Trump maintains his innocence. In the Truth Social post where he spoke of "illegal leaks" that he said indicated that he would be arrested, he described the assertion at the center of the investigation as "an old & fully debunked (by numerous other prosecutors!) fairytale)."
Trump maintains frontrunner status in the battle for the Republican presidential nomination heading into the 2024 presidential election. The RealClearPolitics average of polls asking Republican voters who they want to represent their party in the 2024 presidential election, as of Wednesday, shows Trump leading with 43% of the vote, followed by Florida Gov. Ron DeSantis at 29%. All other declared and potential candidates have support registering in the single digits.
The Trump campaign elaborated on the case against the candidate in a statement posted Saturday, contending that he was the victim of an "extortion plot" and that Manhattan DA Alvin Bragg does not have the jurisdiction to prosecute the case.
"Legal scholars from both sides agree almost universally payments of this nature are not in violation of federal campaign finance laws. When these payments were made, President Trump was a candidate for federal office."
"However, the New York DA does not have jurisdiction to prosecute alleged federal campaign finance violations," the statement continued. "The allegations in question are almost seven years old. The New York DA's office is relying on a loophole to get around the statute of limitations in their unprecedented attack."
Graham is not the only public figure to deride the potential arrest of the former president as politically motivated. Former Vice President Mike Pence, who served under Trump for four years and is widely thought to be considering a 2024 White House bid of his own, decried the "politically charged" persecution of his former boss in an interview with ABC's "This Week" over the weekend.