More Republicans view Trump as 'person of faith' than his GOP rivals: poll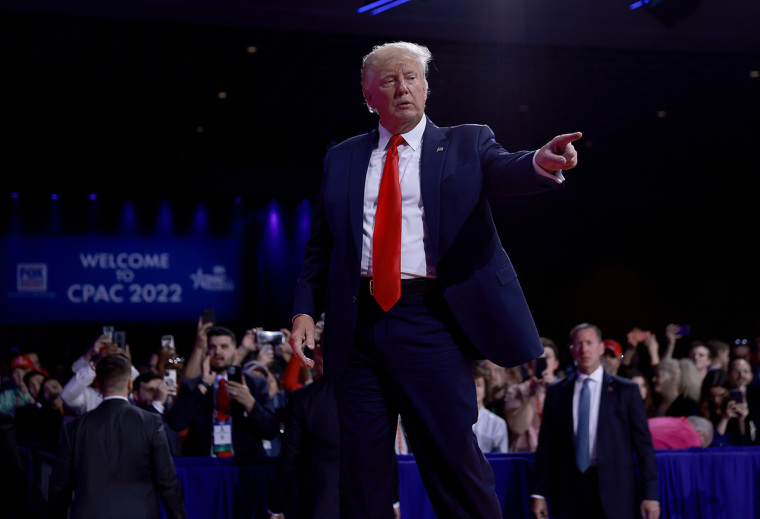 More Republican voters see former President Donald Trump as a person of faith than his top rivals for the GOP presidential nomination, some of whom have made their Christian faith a central aspect of their candidacies. 
A poll conducted by HarrisX for Deseret News asked voters whether they see the most prominent political figures as people of faith. The results of the survey are based on responses collected from 1,002 registered voters between Sept. 8-11, with a margin of error of +/-3.1 percentage points. Sixty-nine percent of those surveyed classified themselves as people of faith. 
When asked if Trump, the current frontrunner for the Republican presidential nomination, was a person of faith, 53% of Republicans answered in the affirmative. While Trump and his surrogates have often pointed to his accomplishments on behalf of people of faith as reasons why Christians should vote for him, the candidate himself does not discuss his faith as much as others do.  
Former Vice President Mike Pence, an outspoken Evangelical Christian, was also viewed as a person of faith by a majority of Republican voters (52%). Pence brought up his faith at a Florida rally in 2020 as he campaigned for Trump's re-election, declaring that "the dogma lives loudly in me." Less than half of Republicans characterized all of Trump's other rivals for the Republican nomination as people of faith. 
Just 47% of GOP voters saw Florida Gov. Ron DeSantis as a person of faith, followed by 31% for both Sen. Tim Scott, R-S.C., and former South Carolina Gov. and United States Ambassador to the United Nations Nikki Haley. DeSantis, who was raised Catholic and went to Catholic grade school, recently discussed his efforts to raise his young children in a "Christ-centered household." Haley is a convert to Christianity from Sikhism. 
Scott is a member of Seacoast Church in Charleston and was recently honored with the Christian Statesman Award by D. James Kennedy Ministries. In a recent interview with The Christian Post, D. James Kennedy Ministries CEO Rob Pacienza described Scott as an "obvious choice" for the recognition in light of his "voting record and what he stood for, standing for God's design for marriage and family, protecting the life of the unborn, and protecting religious liberty in this nation." 
Thirty percent of Republican voters believed that entrepreneur Vivek Ramaswamy, a Hindu, who is the only non-Christian among the GOP candidates, is a person of faith.
Fewer than one-quarter (23%) of Republican voters agreed that President Joe Biden is a person of faith. A practicing Catholic, Biden touts the importance of faith in his life as he faces criticism from Catholic Church leaders for supporting abortion, a concept that violates the teachings of the church. 
Even smaller percentages of Republicans categorized former New Jersey Gov. Chris Christie (22%) and Vice President Kamala Harris (12%) as people of faith. Christie is a Catholic, a fact he brought up during a speech at the Faith & Freedom Coalition's Road to Majority conference earlier this year. Harris identified herself as well as Biden as "people of faith" during the 2020 vice presidential debate. 
However, self-declared Evangelical respondents were much more likely than other Republican participants to see Pence as a person of faith rather than Trump. Specifically, 65% of Evangelicals agreed that Pence is a person of faith compared to 37% who said the same for Trump.
Deseret News reported that "Catholic voters and non-Evangelical Protestants were also more likely to say Pence is a man of faith, showing the perception of Trump as a man of faith was more related to voters' political identity than their religious identity."
Not surprisingly, much smaller percentages of Democrats (14%) and Independents (19%) thought that Trump was a person of faith. While a majority of Democrats (66%) believed that Biden was a person of faith, a lot fewer Independents (33%) viewed that characterization as applicable to the president.
Nearly half of Democrats (45%) believed that Harris is a person of faith, while 38% of Democrats categorized Sen. Mitt Romney, R-Utah, a practicing Mormon, as a person of faith. Romney, the 2012 Republican presidential nominee and outspoken Trump critic, was also viewed as a person of faith by 42% of Independents and 35% of Republicans. 
As noted in the report about the survey results, "The Deseret News/HarrisX Poll also showed that many Americans aren't sure whether or not politicians are people of faith. Half of those polled said they weren't sure if Ramaswamy, Haley, Scott or Christie were people of faith. Almost that many said the same about Harris."