Gov. Youngkin pardons Loudoun County dad arrested at school board meeting after daughter's rape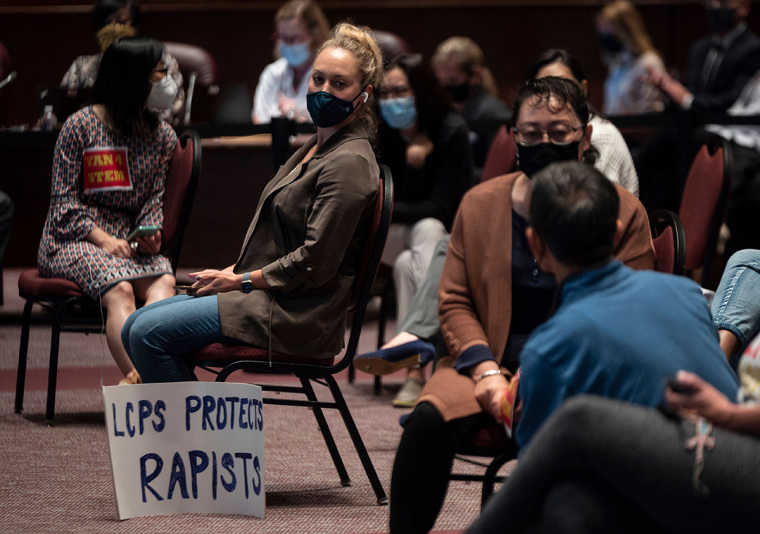 Virginia Gov. Glenn Youngkin granted an absolute pardon to Scott Smith, the Loudoun County father arrested at a school board meeting in 2021 after school district officials lied about his daughter's sexual assault by a boy who entered the girls' bathroom wearing a skirt. 
Smith's teenage daughter was sexually assaulted by a male student in May 2021, the first of two sexual assault incidents to occur within Loudoun County Public Schools as the district considered and later implemented a trans-inclusive bathroom policy. 
Youngkin released the pardon Sunday, with the document noting that Smith attended a school board meeting in June 2021, where a community member threatened to spread false and malicious information about Mr. Smith's business with the intent to damage his reputation. 
Following a verbal confrontation, Smith was charged with obstruction of justice and disorderly conduct. He was later convicted in August 2021 in Loudoun County court. An appeals court, however, disqualified the prosecutor in the original case due to various concerns, including the "integrity of the prosecutions."
The document also noted that although the father advocated for his daughter, a victim of assault, he was accused of "domestic terrorism" and "hate crimes." After reviewing the circumstances, Youngkin deemed it "appropriate" to grant an absolute pardon to Smith, stating that it reflects the father's "factual innocence" of disorderly conduct.
"Scott Smith is a dedicated parent who's faced unwarranted charges in his pursuit to protect his daughter. Scott's commitment to his child despite the immense obstacles is emblematic of the parental empowerment movement that started in Virginia," Youngkin said in a Sunday statement. "In Virginia, parents matter and my resolve to empower parents is unwavering."
"A parent's fundamental right to be involved in their child's education, upbringing, and care should never be undermined by bureaucracy, school divisions or the state. I am pleased to grant Scott Smith this pardon and help him and his family put this injustice behind them once and for all."
In response to a Monday inquiry from The Christian Post, a Loudoun County Public Schools spokesperson directed the outlet to the Loudoun County Sheriff's Office. The Loudoun County Sheriff's Office did not immediately respond to The Christian Post's request for comment. 
As CP previously reported, Smith's daughter was the victim of the first sexual assault incident, which took place on May 28, 2021, at Stone Bridge High School, and the assailant was transferred to another school. The same male student who assaulted Smith's daughter attacked another female student at Broad Run High School on Oct. 6, 2021. 
Parents expressed concerns during a June 2021 school board meeting about Policy 8040, a proposal that was later enacted that allows trans-identified students to use bathrooms that correspond with their preferred gender identity.
Ziegler informed parents, "We don't have any records of assaults occurring in our restrooms." 
Loudoun County Sheriff Michael Chapman asserted in a November 2022 letter to the superintendent that Ziegler knew about the first sexual assault, citing an email he sent to the school board in May 2021 about the incident.
After assuming office in 2022, Youngkin issued an executive order calling for an investigation into the sexual assault incidents at LCPS. 
Following a special grand jury report, LCPS fired Superintendent Ziegler. The grand jury indicted Ziegler after investigating whether the school official had lied to parents about the sexual assaults. In addition to Ziegler, the grand jury indicted the school system's public information officer, Wayde Byard, who was later acquitted in June. 
The school district's handling of the sexual assaults garnered national media attention, and Sen. Tom Cotton, R-Ark., referenced it during an October 2021 Senate Judiciary Committee. 
Cotton brought up Smith's arrest while questioning Attorney General Merrick Garland about a Department of Justice memo promising to increase enforcement against reportedly violent behavior at school board meetings. The senator asked Garland about the incident and whether he would apologize to Smith and his teenage daughter. And the attorney general responded that rape is a "horrific crime" and that the father is protected by the First Amendment.