Nikki Haley announces 2024 White House bid: 'Time for a new generation'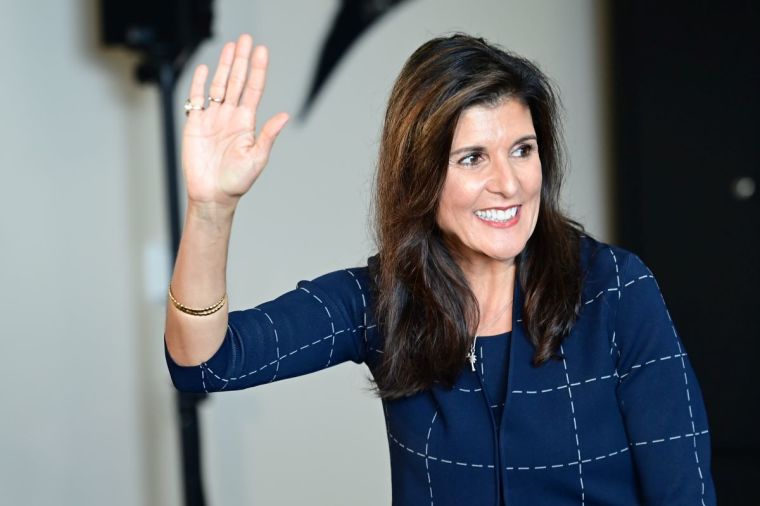 Former U.S. Ambassador to the United Nations Nikki Haley announced her intention to seek the Republican nomination for president of the United States Tuesday, becoming the first high-profile challenger to former President Donald Trump. 
Haley, who served as the governor of South Carolina from 2011 to 2017, announced her candidacy in the 2024 presidential election on Twitter.
In a campaign video spanning nearly four minutes, she highlighted her background as the daughter of Indian immigrants and pushed back on the assertions that "America's founding principles are bad," that "the promise of freedom is just made up," and that "our ideas are not just wrong but racist and evil."
Get excited! Time for a new generation.

Let's do this! ???? ???????? pic.twitter.com/BD5k4WY1CP

— Nikki Haley (@NikkiHaley) February 14, 2023
"Nothing could be further from the truth," Haley said. She highlighted the atrocities committed in other countries, including "genocide" in China, before stressing, "Even on our worst day, we are blessed to live in America."
Haley touted her record as governor, recalling how "people here threw out the old, tired political establishment and demanded accountability for their tax dollars." She also stressed that "industry reports called [South Carolina] the beast of the southeast" and "people came by the thousands for fresh starts" during her tenure. 
Haley's campaign announcement touched upon the 2015 mass shooting at a predominantly black church in Charleston, where nine were murdered during a Bible study. 
"We turned away from fear toward God and the values that still make our country the freest and greatest in the world," Haley said.
"We must turn in that direction again. Republicans have lost the popular vote in seven out of the last eight presidential elections. That has to change. Joe Biden's record is abysmal, but that shouldn't come as a surprise."
Haley condemned the "Washington establishment" for failing the country "over and over and over again." 
"It's time for a new generation of leadership to rediscover fiscal responsibility, secure our border and strengthen our country, our pride and our purpose," she said. 
"Some people look at America and see vulnerability. The socialist left sees an opportunity to rewrite history. China and Russia are on the march. They all think we can be bullied, kicked around," she added.
Haley declared, "I don't put up with bullies," adding, "When you kick back, it hurts them more if you're wearing heels."  
Haley is the first major candidate to officially jump into the race since former President Donald Trump announced his 2024 candidacy last November. Haley served under Trump for two years as ambassador to the United Nations before announcing her resignation in October 2018.
Several other high-profile contenders are considering presidential bids as well.
The RealClearPolitics average of polls measuring voter preferences in the 2024 Republican presidential primaries shows Haley in fourth place among a field of declared and potential candidates.
Trump receives the highest level of support at 47%, followed by Florida Gov. Ron DeSantis at 30%, former Vice President Mike Pence at 7.0% and Haley at 3.8%. 
Two unsuccessful 2016 presidential contenders, Sen. Marco Rubio, R-Fla., and Ted Cruz, R-Texas, receive 3% and 1.7% support, respectively, while former Secretary of State Mike Pompeo registers at 1%. 
Haley won her first gubernatorial election in 2010 by 4.5 points and was re-elected by a stronger margin of 14.6 points in 2014. She resigned from the governorship in 2017, two years before the end of her term, to join the Trump administration as U.N. ambassador. 
Haley's record as governor of South Carolina and U.S. ambassador earned her praise from the pro-life advocacy group Susan B. Anthony Pro-Life America.
"Nikki Haley's strong pro-life, pro-woman leadership stands in contrast to the false 'feminism' of abortion advocates," Susan B. Anthony Pro-Life America President Marjorie Dannenfelser asserted in a statement. The group did not endorse Haley. Instead, they welcomed "Nikki Haley and all presidential contenders outlining their pro-life vision and policy platform in the new Dobbs era as the primary election unfolds." 
"As governor of South Carolina, she signed legislation to stop late-term abortions when unborn children can feel pain and she has continued to advocate for our laws to catch up with the consensus of Americans and the civilized world," Dannenfelser stated. "As U.N. ambassador she stood unflinchingly for human rights, advancing America's prerogative of defending life against pro-abortion forces that would impose an international 'right' to abortion on demand."
At 51, Haley is significantly younger than the 80-year-old President Joe Biden and 76-year-old former President Donald Trump. If elected, she would become the first female, Indian-American and member of Generation X to become president of the United States.