Ignorant Secular Press Too Eager to Label Evangelicals Hypocrites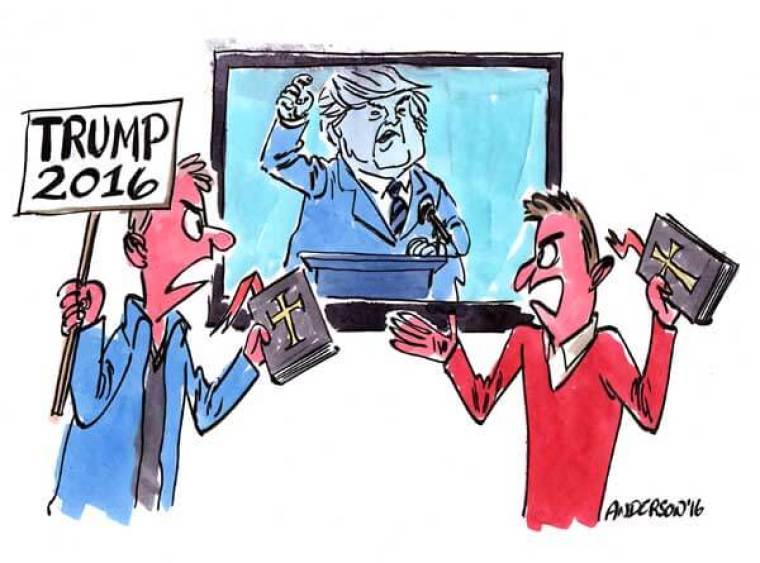 Many of America's main news sources failed to accurately describe the relationship of Evangelicals to Donald Trump this past weekend. For the sake of our shared profession and the country, we urge them to get this right.
Following the release of an 11-year-old videotape showing Trump bragging about sexually assaulting women, much (but not all) of the coverage oozed accusations of Evangelical hypocrisy.
"Evangelicals condemned Bill Clinton's sexual sins in the 1990s but now they are excusing Donald Trump's sexual sins," many story lines read.
Granted, a few Evangelical leaders provided ammunition for this narrative. We condemn those types of responses. What Trump said was abhorrent. Evangelicals excusing the remarks as "locker room talk," "bad boy talk," or trying to "look macho," is also disgraceful, and, as Julie Roys pointed out, harmful to the Church's witness.
However, most of the responses from Evangelical leaders were not like this. Most Evangelical leaders, even those who have endorsed Trump or have said they will vote for Trump without endorsing him, condemned Trump's behavior unequivocally, and so do we.
Our sisters in Christ should never feel our brothers in Christ aren't defending the honor and dignity of women. Many of the sisters are telling the brothers that their response to the Trump tape was inadequate. The brothers should listen.
We Evangelicals need growth in this significant issue. And there is still more going on among Evangelicals than much of the press would have us believe.
The coverage of this past week often led to the impression that there are only two types of Evangelicals, 1) #nevertrumpers and 2) enthusiastic Trump supporters, with most being in the latter camp. This is not true. In relation to this year's election, there are at least four types of Evangelicals. Besides the two already mentioned, there are 3) Hillary Clinton supporters and 4) reluctant Trump voters.
The vast majority of Evangelicals are in category #4, but much of the recent media coverage failed to convey this fact.
There is nothing hypocritical in saying that you feel compelled to make an excruciating choice between two deplorable candidates, as the reluctant Trump voters continue to convey. If you disagree, if you think that is hypocrisy, then at least be consistent and label reluctant Clinton voters hypocrites as well, as even more evidence of her immoral, criminal and incompetent behavior surfaces daily. (Side note: It would be refreshing to hear Evangelical Clinton voters convey the same degree of consternation regarding their choice that most Evangelical Trump voters convey about their choice.)
Could it be that the secular press is too eager to write "Evangelical hypocrite" stories?
During the Republican nominating contests, Evangelicals led the opposition to Trump. In our first ever editorial on a political candidate, we urged Evangelicals to back away from Trump. We warned that Trump is a misogynist, philanderer and scam artist who cannot be trusted. The newly released tape provides further confirmation we were correct.
After Trump won the Republican nomination, we wrote that Evangelicals should only consider two options in the election, protest vote or prayerfully consider begrudgingly voting for Trump. That means, of the four categories mentioned above, we understand 1) nevertrumpers, and 4) reluctant Trump voters. We followed with op-eds by Napp Nazworth and Richard Land defending each of those positions. We urged the Christians in categories 2), enthusiastic Trump supporters, and 3), Clinton supporters, to reconsider their flawed positions.
In the past week, two other American Evangelical publications, Christianity Today and World, have joined us in denouncing Trump. But even among the three of us, the positions aren't exactly the same, reflecting again the diversity of thought among Evangelicals that we wish the secular press would try to understand and convey to their readers.
So to our fellow journalists in the secular press, we can't speak to your motives, but we hope you will read this as a wake-up call to potential biases that could be coloring your coverage. Please, continue to point out when Evangelicals behave hypocritically (we do), but balance your coverage by noting the variety and nuance of views among Evangelicals.