Largest Christian university in US appeals $37M fine from Dept. of Education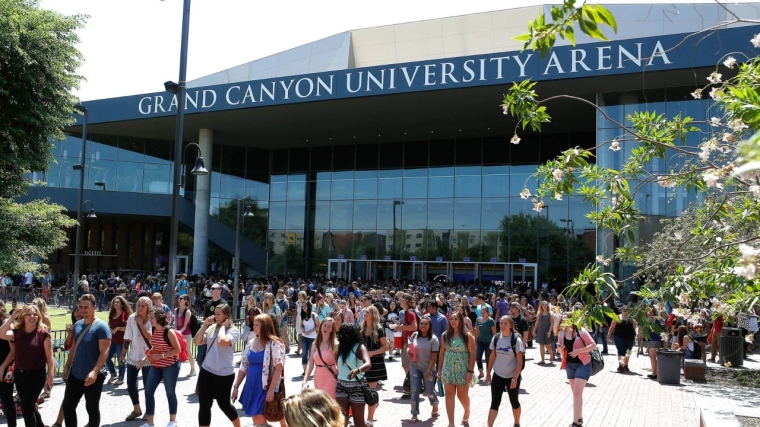 The largest Christian university in the United States formally notified the U.S. Department of Education on Thursday that the school will appeal the unprecedented $37.7 million fine levied for alleged deceptive practices regarding its doctoral program.
"We need to fight this tyranny from federal government agencies, not only to stand up for ourselves, but to ensure this type of ideological government overreach and weaponization of federal agencies does not happen to others," Grand Canyon University President Brian Mueller said in a statement provided to The Christian Post.
Mueller stated that "thousands of students, parents, employees, alumni and community stakeholders in Arizona" have echoed the same assertion to him personally.
The department slapped the Phoenix-based university with the hefty fine on Oct. 30 for allegedly misleading doctoral students about tuition costs. An investigation by the department's Office of Federal Student Aid found that "GCU lied about the cost of its doctoral programs to attract students to enroll" to more than 7,500 current and former students, according to a statement.
The Department of Education claims that GCU misrepresented the cost of its doctoral programs on its website by advertising that they cost $40,000 to $49,000 when less than 2% of graduates completed their course of study within that price range.
Required "continuation courses" often tacked an additional $10,000 to $12,000 onto the final cost, the department said.
Mueller held a 40-minute press conference Thursday, during which he called the federal government's allegations "ridiculous," saying that the school is transparent.
He also presented a preliminary internal GCU study examining disclosures of doctoral programs at 100 other universities and a 2022 report by the U.S. Government Accountability Office (GAO) examining broader financial disclosures in higher education.
The GAO report found that 91% of the colleges reviewed "do not include or understate the net price in their aid offers," 41% of which do not provide a net price in their offer to students.
"The point of sharing these studies is not to disparage other universities," Mueller said. "Rather, it highlights the selective enforcement from the department in singling out GCU. We maintain that not only is there nothing misleading about GCU's disclosures but that we provide higher levels of transparency than are observed in higher education. In short, we are taking a leadership role in this issue."
Mueller questioned whether the school was being targeted because of its religious affiliation.
"It's interesting, isn't it, that the two largest Christian universities in the country, this one and Liberty University, are both being fined almost the identical amount at almost the identical time?" he said. "Now, is there a cause and effect there? I don't know. But it's a fact."
Liberty University, the second-largest Christian university in the U.S., has been similarly threatened with a $37.5 million fine for alleged failure to report sexual assaults and other crimes on campus, a violation of the Clery Act.
Liberty University President Dondi Costin accused the Department of Education of leaking their confidential preliminary report to the press to "poison the well" of negotiations between the school and the department.
"American people are losing confidence in the federal government to be fair and objective in their operations, and there are clearly no checks and balances to prevent this type of behavior from the Department of Education, which is out of control and continues to broaden its authority and selective enforcement powers," Mueller said.
GCU, founded in 1949 as a nonprofit but became a for-profit institution in 2004 amid financial struggles, sought to revert to its nonprofit status in 2018, a move that the IRS, Higher Learning Commission, State of Arizona, Arizona Private Postsecondary Board and NCAA Athletics approved.
However, the Education Department rejected the nonprofit status, claiming GCU had not separated enough from its publicly traded former owner, Grand Canyon Education, which still provides services to GCU and where Mueller still serves as CEO, according to Forbes.
When GCU filed a lawsuit in 2021, Mueller claimed that multiple federal agencies inundated the university with "broad requests for voluminous amounts of information and records about our operations," according to Inside Higher Ed. He has raised questions regarding whether the department's recent fine is an extension of the legal battle over their nonprofit status.
A spokesperson for the Department of Education told The Christian Post that the agency received GCU's appeal request and will refer it to the Office of Hearings and Appeals (OHA), which will arrange for its assignment to a hearing official for an independent hearing.
"The outcome of that hearing process may be a decision by the OHA hearing official or the Secretary of Education if a party appeals the initial OHA decision," the spokesperson said. "The agency's final decision at the end of that hearing/appeals process may result in a fine in the initiated amount being imposed, a fine in a lower amount being imposed, or no fine being imposed."
In a statement to CP earlier this month, the department noted that the denial of GCU's nonprofit status occurred under the Trump administration.
"With this [fine], the Department is performing its oversight duties required by the Higher Education Act," a department spokesperson said. "The Department will not be deterred by false accusations or public relations campaigns from protecting students, taxpayers, and the Title IV program from the kind of misconduct identified here wherever it's found."
Mueller attributed the actions against his school to "the unelected career bureaucrats in the department who are making all these decisions" regardless of who is in the White House.
If GCU's appeal process fails, it is prepared to file a federal lawsuit against the Department of Education.