Less than half of US adults believe in God without a doubt, but majority still pray: study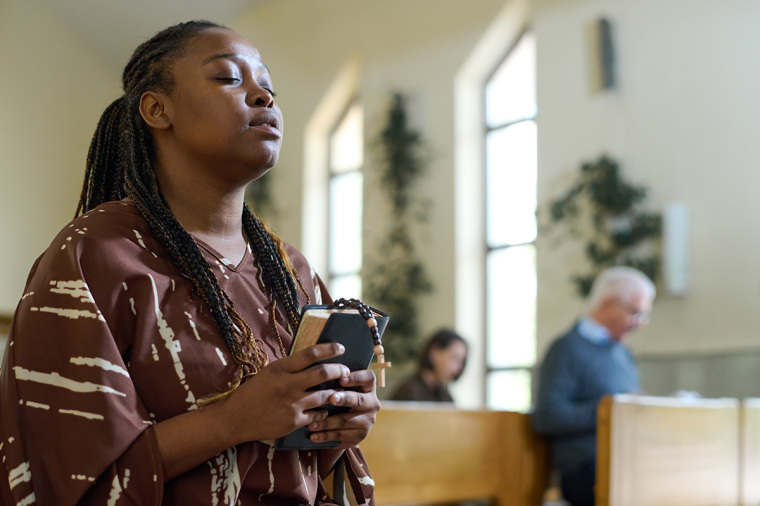 While less than half of adults in the U.S. believe in God without a doubt or attend religious services frequently, the majority, almost 80%, say they still pray, a new study from NORC at the University of Chicago shows.
The study is based on the 2022 cross-sectional data for the General Social Survey, a biennial, nationally representative survey that NORC has conducted since 1972 to track "societal change and study the growing complexity of American society," a release from the University of Chicago said.
"The past three years were a period of great trial and change for the United States. Understanding how these times affected Americans' thoughts, beliefs, and opinions is critical to understanding social change," René Bautista, director of the GSS and associate director of Methodology & Quantitative Social Sciences at NORC explained in the release. 
Of some 2,336 people in the survey who responded to a question asking them to describe what they believe about God, only 49.6% said they believe in God with "no doubts." Some 16.4% said they "believe in God with doubts," while another 5.4% said they "believe sometimes." A 14.4% share said they believe in a "higher power," while 7.5% said they "don't know [and] have no way to find out." The share of respondents who indicated they "don't believe" in God followed close behind with 6.8%.
A majority of American adults also reported that they never had a born-again experience, which is described in the study as "a turning point in your life when you committed yourself to Christ? Some 61.7% of the 3,451 people who responded to this question said "no," while just 38.3% said yes.
Responding to a question about whether they ever tried to encourage someone to believe in Jesus Christ or to accept Jesus Christ as his or her Savior, the results were almost equally matched with the results from the question about being born again. Some 61.6% of 3,495 respondents said "no," while 38.4% said "yes."
Despite the majority of U.S. adults being doubt-ridden or having no faith in God, just under 80% reported that they still pray from "several times a day" to "less than once a week."
When asked, "About how often do you pray?" 29.6% of some 3,501 respondents said, "several times a day." Another 19.5% said "once a day," and 11.8% said "several times a week." Some 5.4% said "once a week," 12.9% reported praying "less than once a week," while 20.9% said they "never" pray at all.
Earlier this year, a report from the Survey Center on American Life highlighted how the COVID-19 pandemic and lockdowns had accelerated existing trends in declining church attendance. In that study, some 33% of Americans reported that they never attend religious services, compared to about 25% who reported this before the pandemic, and the NORC findings are similar.
Of the 3,509 people who responded to the question about whether they attend religious services, 32.7% said they never attend. Another 11.9% reported attending, "less than once a year; 13.2% said "once or twice a year;" 9.9% said "several times a year," while 4.5% reported attending religious services "about once a month."
A small share of respondents worked hard at maintaining their connection with their religious centers. Some 4.2% reported attending services several times a week; 12.6% said they attended weekly; 5.3% said they attended "nearly every week" while 5.7% said they attended religious services "2-3 times a month."