Loudoun County church opens school for families looking to 'escape' public school agenda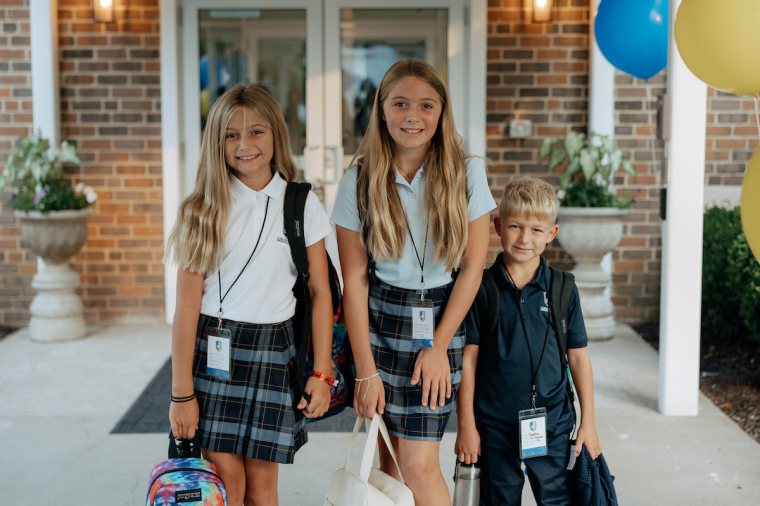 Cornerstone Chapel of Leesburg, Virginia, has opened a new private school in Loudoun County that will prohibit the teaching of critical race theory and LGBT ideologies as it serves as an alternative for Christian families upset with the direction of the local public school district that has made national headlines in recent years. 
Known as Cornerstone Christian Academy, the new institution opened for kindergarten to eighth-grade students on Aug. 22, just outside Middleburg, about an hour's drive from the nation's capital. 
Head of School Sam Botta told The Christian Post that he believes unbiblical ideas dominate public schools in Loudoun County and across the nation. The new institution aims to be a haven for parents looking to "escape" Loudoun public schools.
Botta, who previously served as principal at other Christian schools and head men's basketball coach at Regent University, said that CCA was founded primarily to help Christian parents trying to protect their children from LGBT ideology and other unbiblical doctrines.  
"It's the gender-related issues," Botta said. "It's incomprehensible that in any school, any adult could tell this little boy that he could choose to be a girl if he wanted to, or something else if he chose to when it's very clear how he was created."
"The Bible talks about in Psalm 139 that he or she — whether it's a boy or girl — they were 'fearfully and wonderfully made by God.' And that sex — what they now call 'gender' — was determined, then, by God in the womb and at birth. And no matter what somebody says, that doesn't change." 
Another critical factor that has led many parents to enroll their children in CCA, Botta said, is that many public school teachers and staff fail to communicate effectively with parents. 
"They've tried to hide information from parents, not share information about things that they're teaching their children in school. At CCA, we approach that very differently," Botta said.  
"We welcome parents in our school. We see them as partners, and we want to come alongside them; since God really made them, and they are the primary educators of their children. We just play a very important role, but we come alongside as they raise their children."
Botta said CCA's "academic curriculum is all faith-based."
"We have no secular curriculum in our school," he said, adding that the school stands on the "truth of God's Word."
"It's immersed into our curriculum and into our instruction. And as a result of that, that truth, just in and of itself, it combats and stands against the progressive agendas and the ideologies and the policies," Botta said. 
"We combat it by speaking the truth of God's Word into these students and not what you know, political or other agendas may say that a school is supposed to be. We stand on what God would want our school to be for the students and families." 
Botta said that CCA has a strict admissions policy to establish a school community of staff, students and parents that are all devout Christians. At least one parent of each enrolled child must accept the school's statement of faith and be a Christian for the student to be accepted.
"Because as much as we want to welcome students and families, we also feel like it's very, very important that that partnership is really dependent on us being in agreement," Botta said.  
Additionally, at least one parent must be willing to partner in collaboration with the school in their child's educational and discipleship process for their child to be accepted. 
Every family must interview with the school's admissions committee. Following that meeting, the committee will determine if an offer of enrollment will be presented. 
Students trying to enroll in the private school must have a pastoral reference to vouch for their faith in God prior to acceptance. 
CCA will require all students to use bathrooms and locker rooms that correspond with their biological sex at birth instead of a preferred gender identity. 
Botta doesn't expect any negative backlash from students or parents about the bathroom policy because he expects that the school's admissions process will prevent the school from having any students that want to break the regulations. 
"If a family wanted to send a student here that was declaring to be something else, that would be very difficult for us. In fact, it's nearly impossible for us to really partner because we're going to be teaching just the opposite of what these parents are teaching at home, and that would put that child in conflict," Botta said. 
"If there was a student that may be in the process, something happened, and something began to change, where they began to be misgendered or their parents were promoting that, we would not allow them to use another bathroom."
Botta told CP that CCA would "try to help and support that family" and also "share the truth of God's Word to that family and support them in any way."
"But, we would not allow that to continue in a way where we would affect our students, our school or where we would allow them to use bathrooms based on how they're identifying rather than what their actual sex is," he added.   
In its curriculum. CCA will discourage any teaching of critical race theory, a school of thought that portrays the United States as systemically racist and a country that must undergo radical change to combat the problem.
"We do not think that CRT belongs in any school curriculum. We believe that God created everyone wonderfully and uniquely, especially by Him, and that we don't need to identify any specific race in a way that one is different in God's eyes," Botta said. 
"They may look different. They may have different cultural differences, which we celebrate and are good. But critical race theory is not that. Critical race theory is something diametrically opposed to what God's designed." 
Botta told CP that while "we can't tell other schools what they can do" about CRT, he thinks that teaching it "is not only a disservice" but also "could be harmful to children."
Gary Hamrick, the pastor of Cornerstone Chapel who sits on CCA's board, announced his decision to open the school in a Feb. 7 Facebook video, praying over the students and staff.  
"We trust, Lord, that You've led us this far and You will continue to lead us. You will continue to provide for us," Hamrick prayed. "You will continue to supply the right curriculum and the right students and just everything, Lord, so that this future school can bring much glory and honor to You."
Cornerstone Chapel Executive Director for Communications Pam Pryor told CP that CCA has up to 545 students enrolled with 82 staff. 
"We are on 89 beautiful acres with views of the Blue Ridge. The initial response from students has been overwhelmingly positive," Pryor said. 
"Many of the parents were looking to escape Loudoun public schools, which have received a bad reputation for dismissing parental rights regarding their children's education. We aim to foster an environment where parents are included and welcomed to our school."
Nicole Alcindor is a reporter for The Christian Post.