Man shares testimony of how Jesus delivered him from OCD, pornography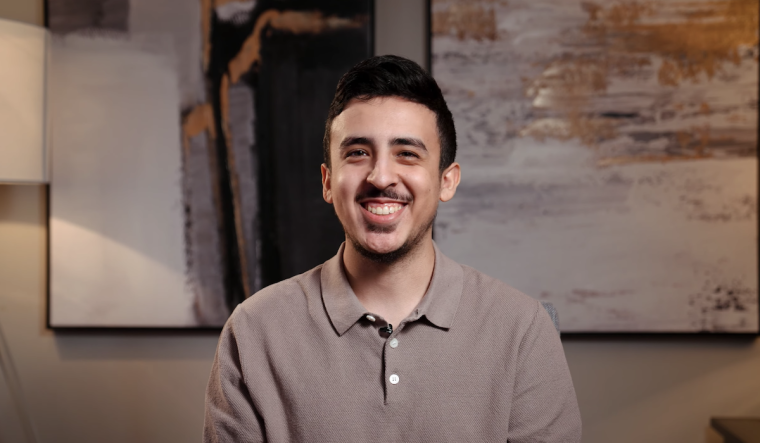 A Christian man who battled Obsessive Compulsive Disorder and a pornography addiction recently recounted how God delivered him from both problems. 
David Pauta shared in an episode of Delafé Testimonies posted on YouTube Tuesday how fully surrendering his life to God in prayer led to his freedom from porn addiction and OCD. 
Pauta said he was introduced to the Gospel at age 8, during church services he attended with his mother, who had converted to Christianity in 2009 and was fascinated with Jesus.
However, according to Pauta, when he turned 10, his life took a turn for the worse when he began to develop "obsessive thoughts and tormenting thoughts."
"With OCD, a lot of times, it's like patterns or numbers or just things that you obsess over, and then you're compelled to do," Pauta explained. 
"Mine had a lot to do with even numbers and like touching things. So, for example, if I picked up a remote, I had to pick it up twice. I always had to do stuff an even [number] of times," he continued. "If I closed the doorknob, I had to close it twice." 
"It wasn't ruining my day. It's just like an extra little task I had to do, and I didn't even know why I had to do it if I'm being honest. But I just knew if in the moment, if I didn't, I didn't feel right."
Pauta said that while his OCD started off as "more innocent stuff," the more he gave into the habits the more severe his condition became.   
"I'd have just these fears if I don't do this certain pattern or if I don't lock my door four times. Let's say I locked it five times, now I got to lock it six times, 'cause it's an even number or something bad was going to happen," Pauta shared. 
"I just had this worry of, if I didn't do the … rituals, that something bad was going to happen, like I would get sick. … It's just these lies that the devil whispers in your ear, that something really bad is going to happen." 
Pauta said that whenever he did not perform his OCD rituals, he would enter a "full-blown panic [attack]." 
According to Pauta, he first realized how severe his OCD was becoming when, as a child preparing for soccer practice, he struggled to put on his socks in the specific way his OCD required him to do it.  
"Something that took me, even with my OCD, probably two minutes, I was probably putting on my socks for 45 minutes to an hour and I was crying," Pauta recounted.  
"In that moment, I was like, 'I am a slave to this. … This is not normal.' I felt so weird. I knew this wasn't even a common thing. I didn't know it was called OCD. I just knew that I was crying over not putting my socks on the proper way. And I was having a panic attack."
Pauta struggled alone for many years because his parents were unaware of his OCD and he coped with the stress by watching porn, which he became addicted to at age 12. 
"The worst it ever got was this one night where I had to do a certain thing, OCD ritual, before I go to bed. OCD, a lot of times, will make you do stuff, in order to do other stuff. So, if I want to go out, I have to do this first. If I want to go to bed, I have to do this first. … Mine had a lot to do with numbers and tapping things," Pauta said.  
"I had to do this weird thing, where I tap the floor a certain amount of times before I go to bed, in a particular way, where it's like, each time you tap, it's more pressure with your hands. And as I was doing it, that one night, it was crazy. I had done it before and done it in a way where I was like, 'OK, I feel peace to go to bed.' But this night, I couldn't get it right. … And I was in complete agony." 
Pauta said he continued trying to complete the ritual properly until 4 a.m., and when he couldn't get it right he began to have a panic attack.
"I was crying. It reminded me so much of when I was putting on the socks. I just wanted to sleep. I remember saying, 'I just want to go to bed,'" Pauta recalled. 
"It was so tormenting. And, basically, while I was doing it, my mom, she sorta saw me. She didn't know what was going on. She didn't see me doing so much the OCD thing. She just saw that I was in complete panic, hyperventilating, crying." 
Pauta said his mother insisted that he tell her what was going on with him, with him believing that God wanted her to be there at that moment so he would be willing to talk to her. 
"I pretty much just opened up about everything that I had been going through for the last three years and she was very compassionate," Pauta said. 
"I just told her, 'Mom, I have these obsessive thoughts. I have these patterns that I can't go to bed unless I do this. I can't go to soccer unless I do this. And I didn't know what it was, but, all I know in that moment is that we prayed." 
The next morning, Pauta said he woke up and everything felt different. 
"It wasn't so much that every single thought you ever had goes away. It's more the compulsion goes away of like, 'Oh, I don't need to do that. I'm not going to die if I don't do that,'" Pauta said. 
"All of a sudden, I just knew I was free. And the best way I can explain it is that I knew that Jesus was the one who had freed me."
After finding healing, Pauta said he still continued to battle with porn addiction for a few years, until he cried out to God in prayer one day and he also received deliverance from this addiction. 
"It was Sept. 27, 2020. That was the last time I ever watched porn. I've been walking with the Lord ever since. But that was the moment where I had seen Jesus do the impossible," Pauta said.
"As I started to really pray, I started to realize God was just freeing me from not just that addiction, but the things that come with it, which is a lot of hurt, brokenness, depression."
Nicole Alcindor is a reporter for The Christian Post.