Skeptics demand proof after megachurch pastor claims prayer regrew woman's amputated toes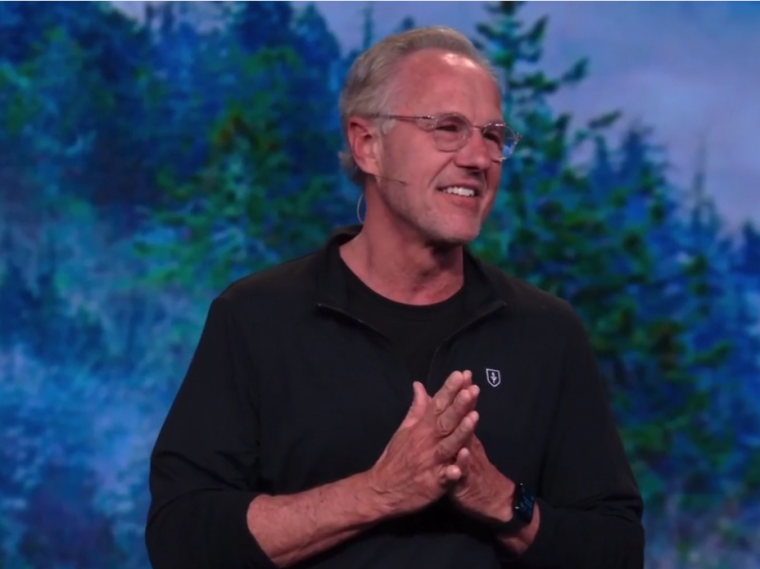 A Missouri megachurch is facing criticism and demands for evidence after reporting an alleged miracle in which a woman's amputated toes were said to have regrown after a prayer session.
John Lindell, the pastor at James River Church in the Springfield area, claimed during a livestream last Wednesday that a "creative miracle" occurred the previous day at the Joplin campus of James River Church, where Kristina Dines saw her amputated toes grow back.
The church organized a "Week of Power." The alleged healing occurred as guest Pastors Bill Johnson and Randy Clark led services. Johnson is a well-known charismatic pastor at Bethel Church in Redding, California, which runs a School of Supernatural Ministry.
Lindell said Dines, a mother of four, had to undergo the amputation of three toes after her ex-husband shot her three times in 2015. She was reportedly in a coma for two months.
Her best friend, Carissa Gerard, was shot to death in the attack. Dines' ex-husband, Stephen Thompson, was found guilty last December of first-degree murder, two counts of armed criminal action and first-degree domestic assault, according to local news outlet KOAM. 
"Her injuries included the need to have three toes amputated. ... Kelly, who serves on the prayer team, told her that the Lord wanted to grow her toes back tonight. So, Kelly had her take off her shoe and anointed where each of the toes would be and began to pray," Lindell said. "The skin began to change color. Pretty soon, there was a pulse in the foot that she could feel. All of a sudden, Krissy said, 'Are you kidding me?' And they saw the toes begin to grow."
As the crowd erupted with applause and rose to their feet for an ovation, Lindell said that as others began to pray with Kelly, "bone began to form where there was none before." 
"As the ladies prayed for Krissy over the next 30 minutes, all three toes grew, and by that point, were longer than her pinky toe. Within an hour, nails began to grow on all the toes," he said.
Johnson repeated the claims at Bethel's service on Sunday, saying that James River Church saw "hundreds and hundreds of miracles over three nights" as they prayed for "creative miracles." He discussed Dines' story, which took place at another James River campus, as it was told to him. 
"It took about 30 minutes, but they saw the bone come, wrapped in flesh," Johnson told his congregation. "And by morning, the toenails, everything had formed; she got three brand new toes."
Johnson stated that Jesus heals the "inside as well as the outside," adding that the Lord once "recreated a kidney" for a friend who was missing a kidney, which he claims was verified by x-rays. 
"I have friends who have seen an amputated or loss foot grow back," he continued. 
Johnson asserted that a woman among those praying for Dines is married to a doctor, who allegedly examined Dines and confirmed the growth of three new toes. Dines, who has said she doesn't have a "before" photo of her feet, hasn't allowed public examination.
Johnson commented: "I guess the person with the three new toes would know. But it's also nice to have a doctor come and check things out and say, 'Guess what? This is for real.'"
In a video, Dines discussed the healing session, saying someone beside her inquired if she wanted her toes. A group of women then prayed for her foot, prompting her to remove her shoe to check for any progress.
"And when I did, I had to grab the person next to me and say, 'Do you see what I see?' And I saw three toes that were forming, and now there's length to them tonight," she says. "I can stand on my tippy toes. Listen, do you understand? I can stand on tippy toes. … I couldn't do that because I didn't have toes to tippy on!"
As Dines has not provided any photographic evidence to support the claim, a Springfield man, who identifies as a Christian, launched a website, ShowMeTheToes.com, asking anyone with evidence to share it. Publishing videos of the claim, the website says, "If there is proof SHOW IT!"
"I am 100% against faith healers. ... If it happened, they should be able to present proof," the man, who remained anonymous, told The Daily Beast. "They exploited her."
On his Friendly Atheist blog, Hermant Mehta wrote, "Don't bother looking for video of the forming toes. No one decided to break out their phones to document this medical miracle. We're just supposed to take her word for it."
He added: "For a church that clearly has a state-of-the-art video production team, it's baffling that no one seems to have captured any of this on film. Nor are there any doctors who can attest to what her toes looked like last week versus this week. (For many reasons, I'm not about to believe the unnamed doctor who apparently examined those toes)."
In a later sermon, Lindell said he was not interested in responding to the skeptics and is more worried about protecting Dines, who has had a lot of trauma in her life. 
"People are saying if it's genuine, then why aren't you doing anything with it to publicize it?" Lindell said. "There are a couple of reasons. ... I am less interested in proving to people what I know God did than I am in protecting sheep who are vulnerable. I am going to protect sheep. That is my first concern is for her. If that bothers you, then I am sorry. But if you are in trouble, then my concern is for you too. I think we have to have that heart. We have to discern what is going to be right and what's going to be appropriate."