Mike Stone gets surprising endorsement for his SBC presidential bid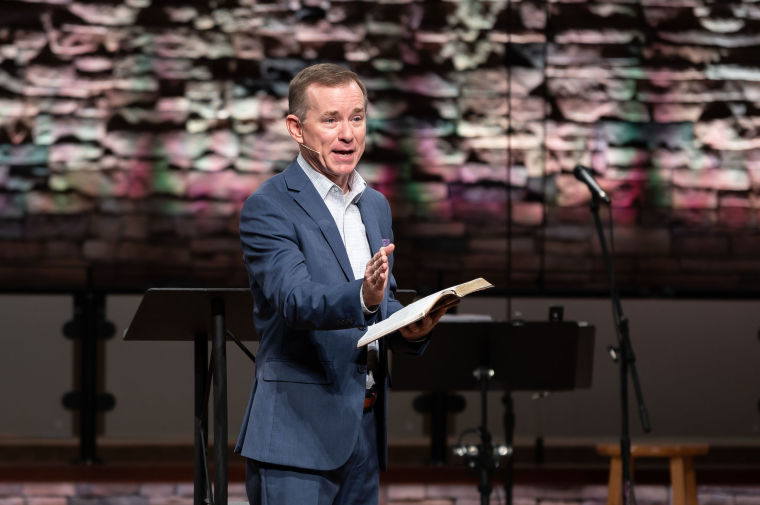 Prominent Southern Baptist Convention Pastor Mike Stone received a surprising endorsement for his bid to become president of the largest Protestant denomination in the United States on Monday.
Florida Pastor Willy Rice, who has been critical of the Conservative Baptist Network, to which Stone serves on the steering council, and supported Ed Litton for SBC president over Stone in 2021, has endorsed Stone.
Rice posted a statement to the website of Calvary Church in Clearwater, Florida, where he serves as senior pastor. He stated that he will nominate Stone at the SBC Annual Meeting in New Orleans, Louisiana, next week.
Stone is the pastor of Emmanuel Baptist Church of Blackshear, Georgia, and former president of the SBC Executive Committee who ran unsuccessfully for SBC president in 2021. 
"In the last months I have come to know Mike Stone on a personal level. I have found him to be a man of courageous conviction, a pastor with a shepherd's heart, and somebody who understands the SBC and the issues of this hour that we face," wrote Rice.
"He is an independent thinker and, more than most, he is his own man. He is also willing to run for SBC President again, and this time I will support him and hope he is elected."
Rice explained that when Stone ran for president in 2021, he "disagreed with him on several issues and especially felt concern over the Conservative Baptist Network" because he found "some of their voices to be overly divisive and unnecessarily caustic."
The Conservative Baptist Network was founded in 2020 as a grassroots effort to maintain the proclamation of the Gospel at the center of SBC life amid concerns that others within the denomination are drifting from biblical orthodoxy. 
"I am not a part of the CBN. I do not endorse everything they have said or written, but neither do I think every concern they have expressed can be ignored and summarily dismissed," Rice said. "Mike and I have spoken at length about this. Mike does not represent the CBN and if elected, Mike will not be a CBN President; he will be the SBC President and he will serve us all."
While Rice was supportive of the reform effort with SBC to tackle issues of sexual abuse, he claims that the direction the convention now seems to be heading is not what he "signed up for." 
"I didn't sign up for left wing, feminist critical theory, cancel culture, politics," he wrote. "I didn't sign up for leaked emails, taped conversations, endless lawsuits, and character assassination."
Rice sought to run for SBC president in 2022 before dropping out of contention after it was revealed that a Calvary Church deacon committed "sexual sin that could also be described as abusive." That deacon was since removed as an SBC resolution passed in 2021 encouraged churches to disqualify individuals who have committed sexual abuse from holding church leadership roles.
Rice stated that his change of opinion on Stone came because he believes that the SBC "is facing an existential crisis that could irreparably damage our cooperative work."
"A movement that should have united Southern Baptists to attack a problem has instead divided us into attacking one another," Rice wrote. "Godly believers have been maligned and attacked as somehow supportive of sexual abuse and of sexual abusers simply because they advocate a different approach to dealing with this critical issue."
Rice believes Stone is "one of the few people who understands what has gone wrong and knows how to right the direction."
"Mike is a sexual abuse survivor. He knows firsthand the horror of such a violation," Rice wrote. "He also knows what it feels like to be unfairly attacked. He is one of the few guys I know who possess the strength to stand in this current moment and the wisdom to know what to do."
In late April, Stone announced his intention to run again for SBC president, challenging incumbent Bart Barber, elected at last year's annual meeting. It's uncommon for SBC presidents to face an opponent as they seek a second year in office.
As the former president of the SBC Executive Committee, Stone believes the convention is headed in a financially unstable direction, declaring that "unsustainable should be unacceptable."
"We can deal rightly with the abuse issue while staying on mission for Christ," Stone said in his April announcement. "There's more that can and will be said over the next few weeks, but the bottom line today is the largest Evangelical network of churches in America is on an unsustainable trajectory."
In October 2021, Stone sued Russell Moore, former head of the SBC Ethics & Religious Liberty Commission, after letters written by Moore were leaked to the press after he departed from the ERLC and the convention. 
The letters claimed that SBC leaders mishandled a "crisis of sexual abuse" and that Moore and his family had experienced unfair treatment from SBC leaders. In his lawsuit, Stone argued that the letters negatively impacted his 2021 campaign for SBC president.
Stone withdrew the lawsuit in December 2021, saying in a statement emailed to The Christian Post at the time that he believes he should "leave the matter in the hands of our Lord."