NFL draft pick Bryce Young credits 'blessings from God' for athletic success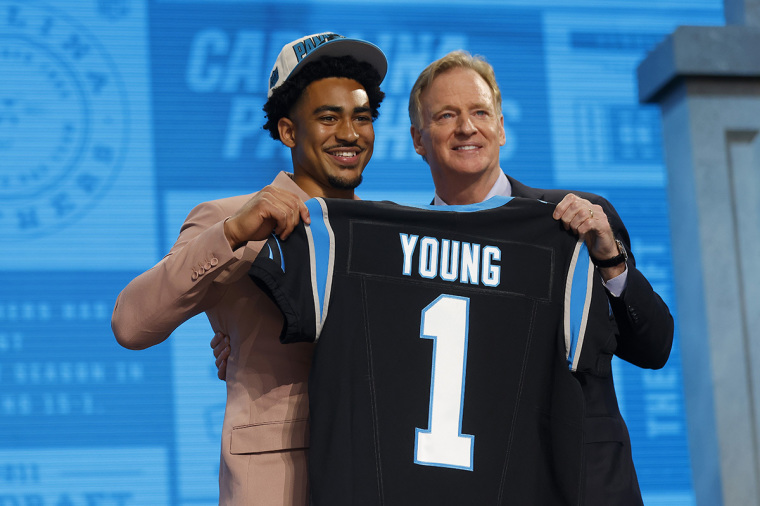 A newly drafted NFL football player is crediting "blessings from God" for allowing him to secure a spot in professional football, marking the latest example of the quarterback giving thanks to God for his athletic accomplishments. 
The Carolina Panthers announced Thursday that they had landed Bryce Young, a football player for the University of Alabama, as the No. 1 overall selection in the 2023 National Football League Draft. Young reacted to the news that he would be joining the Panthers in an interview with NFL Network during the NFL Draft in Kansas City, Missouri. 
Panthers QB Bryce Young post draft interview via @nflnetworkpic.twitter.com/xeaEE6daQk

— Southern Media Space (@SMediaSpace) April 28, 2023
"I'm super grateful for the blessings from God for allowing me to be here," he said. "I'm grateful for all the people that allowed me to do it."
Speaking to the media after the Carolina Panthers announced the quarterback as their draft pick, Young recalled how he felt when he first found out that the NFL football team had selected him as their No. 1 pick: "I knew when I saw that Charlotte area code on my phone after the commissioner had announced that the Panthers were on the clock. I always knew that God would guide me to the right place and wherever I ended up was where I was supposed to be. I didn't know where it was going to be."
"I didn't have any confirmation. I didn't honestly look too deep into it. I'm super grateful that things played out the way that they did."
Young's remarks during the NFL Draft are not the first time the rookie NFL player has publicly acknowledged the central role faith plays in his life as well as his athletic career. During an acceptance speech after winning the Heisman Trophy in 2021, Young proclaimed, "First and foremost, I'd like to thank my Lord and Savior, Jesus Christ."
"Without Him, I couldn't be here. And through Him, all things are possible," he added. "Thanks to the people around me and through the grace of God, I've been able to make it here, and I'm truly grateful for that."
Young's Twitter account identifies the football player as a "follower of Christ." After winning the Heisman Trophy, the athlete used his social media platform to express gratitude to God.  A tweet posted on the day he won the Heisman Trophy reads, "God is great! Truly grateful for everyone who made this possible and for all the support I've received. All glory to God!" 
God is great! Truly grateful for everyone who made this possible and for all the support I've received. All glory to God! pic.twitter.com/nsFozsuXwI

— Bryce Young (@_bryce_young) December 12, 2021
Young's father, Craig, had previously elaborated on the importance of faith in his son's upbringing in an interview with ESPN. "He's very grounded in faith, puts God first, and he has this amazing ability to compartmentalize things," the elder Young insisted.
"He's motivated to be the best by himself, not to prove anybody wrong but to be the best that he can be, and in doing that, glorifying God. And also just striving to get better and better. I just could not be prouder." 
As noted by the Carolina Panthers, "Young set Alabama single-season marks for passing yards and touchdowns in 2021 and finished his career second in those categories in school history despite starting for just two seasons. His 79 touchdown passes were the most in a two-year span in [Southeastern Conference] history."