Nick Vujicic talks attempted suicide, God's sovereignty in (not) healing
'I Am Second' video: 'If God has a plan for a blind man, God's got a plan for me'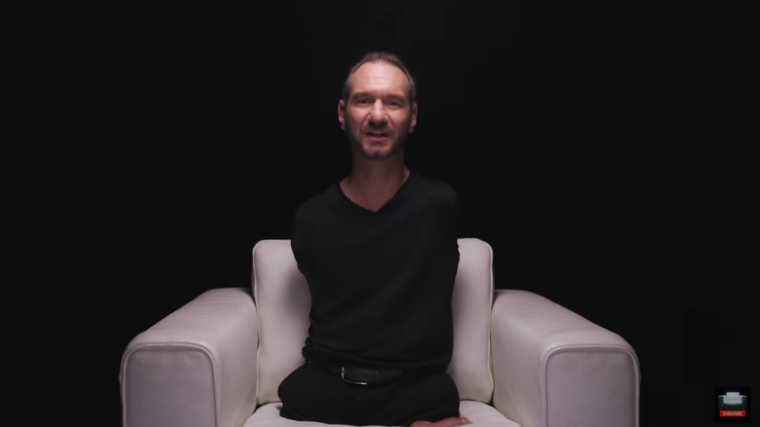 "I have a pair of shoes in my closet in case God gives me arms and legs."
If there's anything that Nick Vujicic wants the world to know, it's that he believes in a very, very, very big God.
The author, public speaker and founder of Nick V. Ministries has been around the world telling his compelling life story of being born without limbs and yet, as he shares in a new I Am Second video, Vujicic knows even if healing does not come, Jesus is still faithful.
"I realized two things," the 40-year-old Australian native said. "Number one, the greatest miracle of all that I'll ever receive in my life is my soul being saved; me being filled with the Holy Spirit, having a relationship with Jesus while I abide in Him and He abides in me. Him being my comfort, my strength, gives me guidance and wisdom throughout my life. 
"But the second thing I realized, miraculously, He delights in using the foolish things of this world to confound the wise."
Vujicic, who was born with Tetra-amelia syndrome, a condition characterized by the absence of all four limbs, said he never thought his condition "was a big deal until the world told me that I was an alien."
In the nearly nine-minute video, Vujicic recalled the heartbreaking first time the doctors saw him. 
"They apologized to my parents that they did not pick it up in the ultrasounds and give them the option to abort me," he said. "They were absolutely convinced that I'd never have a quality of life."
At the age of 8, Vujicic said he began to lose hope of ever having a functional and thriving life — the start of a cycle that led to severe depression and attempted suicide. 
He candidly shared how unanswered prayer left him, like so many others, in a state of despair and a gnawing sense that God was not only absent, but that He was never there to begin with.
"I went into a very dark place, a depression that lasted five years, and that depression peaked during an attempted suicide of me trying to swallow water and then inhale water to drown myself in the bathtub of my own home," Vujicic recalled. 
"I convinced myself there was no hope. I convinced myself that there was no God. But if there was a God, he was simply unfair. I prayed for a miracle.
"And a miracle did not come."
It wasn't until he was 13 years old that Vujicic had an epiphany of sorts, one, ironically enough, rooted in another physical setback: he hurt his little foot, which allows him to walk.
That setback, he said, taught him what has become a lifelong lesson.
"All of a sudden, I'm a limbless man who used to walk, who now can't," he said. "And I realize, I've gotta be thankful for what I have instead of being angry."
Vujicic recalled reading about Jesus healing the blind man in John 9 and how many in the crowd wanted to know why the man was born blind in the first place.
"Jesus said it was done so that the works of God would be revealed through him," he said. "And I realized, if God has a plan for a blind man, God's got a plan for me."
Since that pivotal moment, Vujicic has delivered more than 3,500 speeches across 78 countries, a journey in which he has shared with nearly 10 million people in person and another 2.8 billion on TV. 
In recent months, he's used his platform to help Christians use AI to further spread the Gospel with dubbing and translation tools that enable churches and content creators to reach audiences globally without language barriers. The software translates videos into more than 36 languages, adds and edits subtitles and natural-sounding voiceovers and streams them over the internet.
Vujicic has also delivered pointed criticism of American Christianity, with a warning in July aimed at what he called an "increasingly delusional" Church fixated more on acquiring property than placing foster children into adoptive families. 
"We have 100,000 churches in $498 billion in debt for buildings that are half empty," he said. "Half a million kids are waiting for an adoptive mom and dad. Where are we?'