Pro-life activists assaulted outside Maryland abortion clinic, suspect remains at large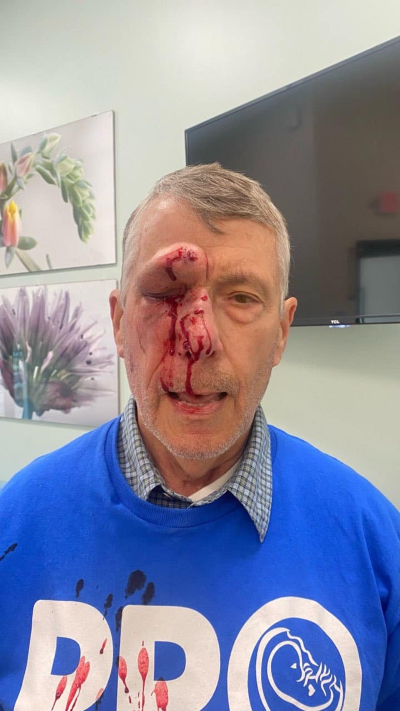 A fundraiser set up on behalf of a pro-life activist beaten outside a Maryland abortion clinic has raised tens of thousands of dollars as the attacker remains at large. 
Jay Walton, president of the Baltimore County Right to Life, announced in a Facebook post on Saturday that Mark Crosby was "viciously attacked" last Friday while praying in front of a Planned Parenthood clinic in Baltimore.
Walton included images in the post, which show the area above Crosby's right eye severely swollen and his eye closed as blood streams down the right side of his face. His right eye was also injured and has been bleeding. His T-shirt was also stained with blood from the attack.  
"He and another prolifer were attacked from behind and the thug ran away," Walton explained. "Mark is currently in the hospital being treated for the serious injuries he sustained." 
Walton urged the pro-life community to "pray that Mark makes a full recovery and that the thug that did this to him is found and dealt with swiftly."
He set up a fundraiser on Crosby's behalf on GoFundMe to help cover the medical expenses. As of Thursday morning, it has raised nearly $41,800, well above the $10,000 goal. 
Walton posted an update on Monday, explaining that Crosby was "back in the ER" and was "bleeding from somewhere behind his right eye."
Pro-life activist Jody Ward shared a detailed account on Facebook Monday of the incident, writing that an "angry man" approached Crosby and another pro-life activist named Dick Schaefer and attacked them.
"Then, as Dick's back was turned, he lifted Dick off the ground and threw him into the plate glass window. Dick fell, knocking over a large planter and striking his head, losing conscience temporarily," Ward wrote. 
"Mark came to Dick's aid. As he approached, the attacker then turned on Mark, punching him in the face. Mark fell to the ground. The assailant then kicked Mark in the head."
NBC affiliate WBAL-TV interviewed Schaefer who described the altercation: "I leaned down. I was hit by a truck. I don't know what happened but instantly, I was looking up at the sky."
The report highlighted that Schaefer, who suffered hand, shoulder and back injuries, credits Crosby for saving his life. A witness and Schaefer maintained that the assailant "repeatedly punched Crosby in the face and stomped on him before leaving the scene."
Planned Parenthood of Maryland CEO Karen Nelson insisted in a statement to WBAL-TV that "Planned Parenthood does not condone any violence and I think it's unfortunate that there was an incident that occurred outside of our health center."
The Baltimore Police Department put together a profile of the suspect, describing him as a white male in his 20s, with brown hair, a full beard and wearing a gray T-shirt and blue jeans. He remains at large. 
The violence directed at Crosby and Schaefer is the latest example of attacks on pro-life advocates following the United States Supreme Court's Dobbs v. Jackson Women's Health Organizationdecision, in which the high court ruled 6-3 that the U.S. Constitution does not contain a right to abortion. 
Similar attacks on pro-life advocates have occurred in other areas of the country. 
Last year, a pro-life teenager was assaulted as she canvassed on behalf of an ultimately unsuccessful Kansas ballot initiative that would have clarified that the state constitution also does not contain a right to abortion.
Similarly, last September, an 83-year-old pro-life activist campaigning against a successful Michigan ballot initiative establishing a right to abortion in the state constitution was shot in the shoulder.