Sadie Robertson responds to Christian critics of her Disney World vacation, cites Mark 2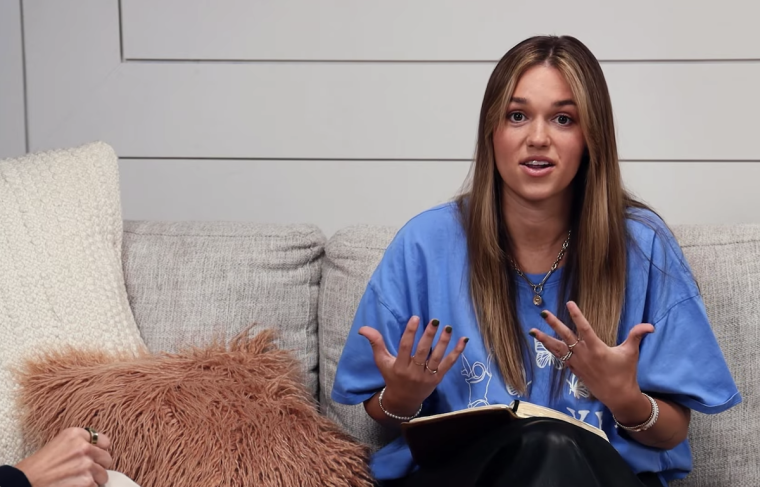 Sadie Robertson Huff of "Duck Dynasty" fame recently addressed the criticism she received for going on a family trip to Disney World, saying she doesn't agree with everything Disney stands for. 
The 26-year-old reality television star and her mother, Korie Robertson, spoke about the social media backlash on an episode of her "Whoa That's Good" podcast posted on Monday.
Robertson Huff urged Christians to stop engaging in "cancel culture," warning that it's often far too "extreme." She said a lot of people unfollowed her on social media, claiming she is "woke" and "no longer a Christian" because "I chose to bring my family to Disney World."
Robertson Huff said that Disney "is corrupt" and does stand for things she disagrees with but said that Christians are called to be "in this world and not of the world." 
She pointed to Mark 2:13-16, warning followers of Christ not to pass harmful judgment on others based on where they are, as Jesus ate with tax collectors and sinners but was still sinless. 
"We're not saying 'this is an excuse to go sin,' because Jesus didn't sin when he sat at the table with sinners. Jesus did not become less holy when He sat at a table with sinners. He was always holy. But, He was still in the presence [of] sinners," Robertson Huff said. 
"He's sitting with such unholy people in an unholy place, and they're like, 'You can't be holy if you're there. How could you be with them? How could you recline at the table with them and say that you're God?' But, the thing that Jesus preached and lived is He is holy, and He is always holy, no matter where He is." 
Robertson Huff said she "can't obtain holiness without the holiness of God being in my heart."
"I am not holy because of where I am. I am holy because of who Christ is in me," she added. 
She contends that she is not "less holy because I'm in a place like Disney World."
"Did Jesus do everything that the sinners did at the table? No. Does He agree with the way they live? No," she added. "He was reclining with them, but He wasn't living like them. He didn't agree with them."
"As a Christian, having that as my model, if I go to a place that might have sinners around, that doesn't mean I all of a sudden become a sinner." 
The public speaker and author noted that the primary reason for the trip is because her daughter Honey loves Disney princesses. 
"I'm doing this for my family. I'm doing this for the right reasons. I'm not doing this because I agree with everything. I'm not teaching Honey what the back ends of Disney are and saying that we support that. No. We're going because we're going to meet Rapunzel," she said. 
Robertson Huff said that while it is healthy to have conversations about how Disney has changed, she isn't opposed to all of what Disney is putting out there, citing films like "Frozen," "Tangled" and "Moana."
"We're actually getting spiritual things out of them and able to share with Honey just things that we see God in," she said. 
"Maybe if we keep going down this road and they start to change and movies are putting out completely false messages that I do not want Honey to see, we're not going to let her watch that."
Robertson Huff acknowledged that Disney has created some projects she believes are "too far," and she will not let her daughter watch or be a part of that content. 
"If they put out movies that I have heard have false messaging or messaging that's against the Gospel, of course, I do not support that," she said.  
"I do not pay money to the theater to see that. I do not watch that in my house. We're not supporting all things that Disney put out because we went to Disney World."
"For some reason, with social media, it's like if you do one thing, you're supporting a whole movement, or you're a part of this whole thing. And it's almost like we've lost the gift of just being able to be our individual selves, which is so crazy."
In recent years, Disney has received pushback from some Christian parents and consumers for programming they deem inappropriate. Some pastors and advocacy groups have accused Disney of being "demonic" and "sexualizing children," as well as bowing to the LGBT movement.  
Last month, Robertson Huff posted a photo of her and her family outside the Disney World castle to her Instagram. While the post got over 256,000 likes, it also received numerous critical comments, some of which received hundreds of likes. 
"[T]he Disney of today is not the same Disney of 25/30 years ago," wrote one critic, whose comment received over 430 likes as of Wednesday
"Even if you personally have the most wholesome family day and even pray over all of your in park meals ... you are still contributing financially to a business that has a very dark side to it."
Nicole Alcindor is a reporter for The Christian Post.