Sen. Kennedy reads aloud sexually graphic books found in school libraries that Dems don't want to ban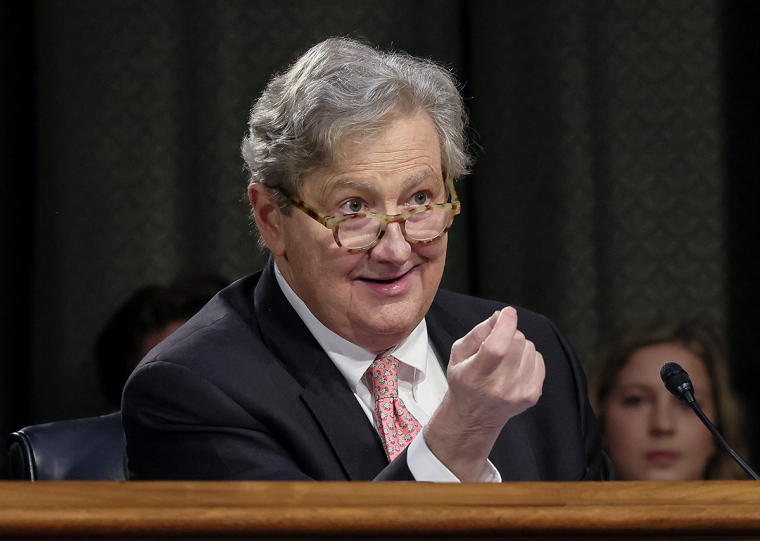 Editor's note: This article contains sexually graphic language contained in books found in public school libraries that were discussed as part of a Senate Judiciary Committee hearing on Sept. 12. 
A U.S. senator has invoked strong reactions after reading aloud content from sexually explicit books found in public school libraries across the nation during a Senate hearing last week. 
The U.S. Senate Judiciary Committee held a hearing Tuesday titled "Book Bans: Examining How Censorship Limits Liberty and Literature." The hearing title reflects concerns from Democrats that restrictions on the availability of sexually explicit books in schools amount to "book bans."
Sen. John Kennedy, R-La., used his time at the hearing to read excerpts from two books available in many public school libraries that have come under scrutiny for their sexually explicit content: All Boys Aren't Blue and Gender Queer. The excerpt of All Boys Aren't Blue, read aloud by Kennedy, provided graphic details of same-sex sexual activity. 
"I put some lube on and got him on his knees and I began to slide into him from behind. I pulled out of him and kissed him while he masturbated. He asked me to turn over while he slipped a condom on himself. This was my a-- and I was struggling to imagine someone inside me. He got on top and slowly inserted himself into me. It was the worst pain I think I have ever felt in my life. Eventually, I felt a mix of pleasure with pain," the excerpt read. 
Kennedy also read aloud a quote from Gender Queer, which has similar graphic language: "I got a new strap-on harness today. I can't wait to put it on you. It will fit my favorite dildo perfectly. You're going to look so hot. I can't wait to have your c--- in my mouth. I'm going to give you the b--- j-- of your life then I want you inside of me." 
Among those who testified before the Senate Judiciary Committee was Illinois Secretary of State Alexi Giannoulias, who focused on Illinois' new anti-book ban law. He answered with a "no" when Kennedy asked if "only librarians should decide whether the two books that I just referenced should be available to kids." He told Kennedy, "the words you spoke are disturbing, especially coming out of your mouth." 
"We're not advocating for kids to read porn," he claimed. However, he also insisted that parents should not have "the ability under the guise of keeping kids safe to try and challenge the worldview of every single manner on these issues."
Giannoulias warned of a "slippery slope" if parents had the ability to raise objections to certain books available in school libraries: "When individual parents are allowed to make a decision of where that line is in To Kill a Mockingbird, which involves a rape scene, should that book be pulled from our libraries?" 
Kennedy also criticized the implication from Democrats that librarians should have the sole say as to what books are in their libraries and that parents should have "nothing to do with it." He asked those gathered to speak against regulating sexually explicit books in public schools that promote grooming and pedophilia, "If that's your response, what planet did you just parachute in from, or what country, more appropriately?"
"This is not China," Kennedy asserted. Kennedy's comments reflect a concern that advocates of allowing sexually explicit books in schools want the government to have an outsized role in raising and shaping the values of children, as is the case in China. 
Kennedy's reading aloud of sexually explicit books at a Senate Judiciary Committee hearing sparked intense reactions from social commentators on both sides of the political aisle. Conservative political commentator Ben Shapiro of The Daily Wire addressed Kennedy's reading aloud of All Boys Aren't Blue and Gender Queer and the media's reaction to it on "The Ben Shapiro Show" Wednesday. 
Shapiro played a clip of the relevant portion of what he described as a "very weird hearing," summarizing Kennedy's point as "I'm going to read into the Congressional Record one of these books that you suggest must be in a school library and let's see if you get uncomfortable."
"If you're uncomfortable, then maybe it shouldn't be in a school library where seventh graders can read it," Shapiro asserted as he continued to outline the point of view espoused by Kennedy and other critics of sexually explicit books in schools. After the clip concluded, Shapiro stated that "the entire media was like 'what a weirdo'" and asked, "Why would John Kennedy read that out loud?"
Shapiro then asked a question of the corporate press, "If you think that's weird that an adult is reading that, why do you want a sixth or seventh grader to read that?"
He added, "I notice that it is you who are promoting this material, and when John Kennedy says the thing out loud, then you get all uptight. What are you, some sort of prude?"
Shapiro also reacted to the assurance from Sen. Dick Durbin, D-Ill., that "no one is advocating for sexually explicit content to be available in an elementary school library or a children's section of a library" by asking, "Why should that even be available in a school library for high schoolers" and "Why should taxpayers be funding that sort of crap?" He characterized the analysis from supporters of sexually explicit books in school libraries as "No, we're not doing it, but it's good that we are." 
"If a local school district decides they don't want that there, what business is it of Dick Durbin to decide that it must be there? What is … the reason why that must be there? Is that a piece of great literature that is required for you to pass your English comp class?" 
Meanwhile, the hosts of the far-left program "The Young Turks" reacted to Kennedy's book reading by commenting on the awkwardness of a senator reading aloud sexually explicit material. "When I first started watching, I was like, 'is this a confession,'" stated co-host Cenk Uygur. 
"Like all senators, he's 98 years old, but if he ever runs for re-election, that might get used in an ad," Uygur predicted. Co-host Ana Kasparian quipped that Kennedy could "have a little bit of a side hustle as a phone sex operator." 
Uygur also contended that the senator's attempt to have the book removed from school libraries backfired when he read it aloud because "kids are now infinitely more likely to have heard it because of John Kennedy, let alone more likely to read the book" due to the Senate Judiciary Committee's hearing drawing interest on the internet.
Kasparian also viewed Kennedy's efforts as counterproductive, claiming, "I doubt that any student even knew that either All Boys Aren't Blue or Gender Queer were available in their libraries."