Sisters of Perpetual Indulgence offers apology after ex-member arrested for indecent exposure
Texas church invites SPI troupe to 'drag Sunday' event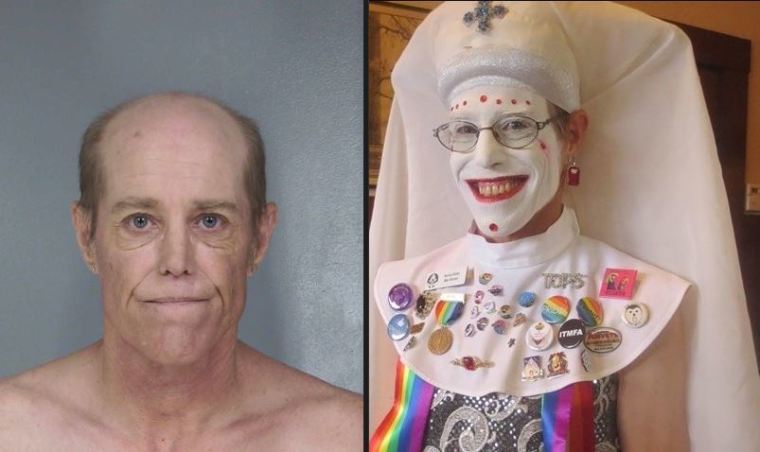 A national anti-Catholic drag troupe says it "unreservedly condemns" the actions leading to the arrest of a former member who police say masturbated in public for over an hour.
The statement shared with The Christian Post from the Eureka House of The Sisters of Perpetual Indulgence (SPI) was the organization's first public comment since the arrest of Clinton Monroe Ellis-Gilmore, 53, of Eureka.
Gilmore was arrested Aug. 12 in Humboldt County for allegedly exposing himself in the driver's seat of a car parked where authorities say he was "reported by multiple witnesses to have been sitting in his truck with the door open, masturbating for approximately one hour."
In response to Gilmore's arrest, SPI said Gilmore was not yet an official member but was "in a probationary process to become a full member at one time," a process which the group says ended in October 2020.
The statement — which touted SPI as a "ministry" dating back to "the early days of the AIDS crisis in San Francisco" — apologized and added that the group uses a "long and complex process for admitting new members" in order to ensure they "will not bring dishonor to our order."
"We offer our most profound apologies to the community for what happened and specifically to any individuals impacted by this inexcusable behavior," the statement said. "It is not representative of our Order, our values, or the hundreds of individuals who serve as Sisters."
Since its start in 1979, SPI has hosted and/or participated in a number of blasphemous public events, including referring to Jesus Christ as the "Condom Savior," hosting an annual "Hunky Jesus" contest on Easter Sundays and reportedly carrying a 20-foot replica of a penis. 
SPI is also known for mocking the crucifixion of Christ as a stripper-style pole dance.
Following Gilmore's arrest, it's unclear how or whether that will impact future SPI events, but at least one church in North Texas has invited the group and others to take part in a "drag Sunday" event this weekend.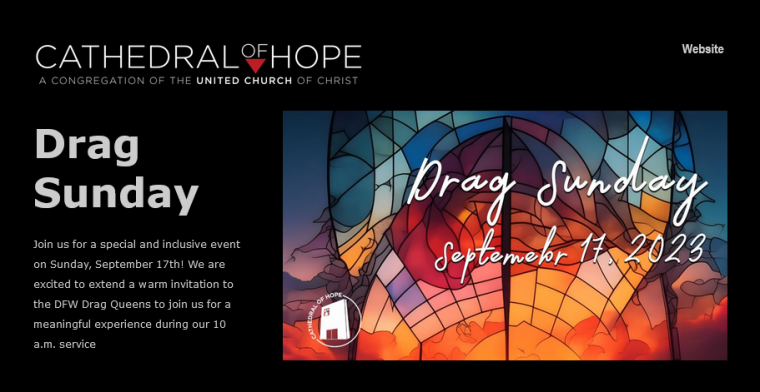 The Cathedral of Hope United Church of Christ in Dallas says it will include in its Sept. 17 Sunday service a moment to "offer our blessings to the drag queens who have contributed to our community in such inspiring ways."
As part of that service, the Cathedral of Hope invited SPI along with the local LGBT groups Dallas Bears and the Royal Court to "be part of this remarkable blessing."
The church-hosted drag event is said to be a response to the enactment of Senate Bill 12, a new state law that prohibits children and youth younger than 18 from attending "sexually oriented performances."
As part of the performance, Cathedral of Hope is asking supporters to contribute to the Drag Defense Fund, which goes toward financing ACLU legal fights against what it calls anti-LGBT legislation.
The Cathedral of Hope is also collecting donations for the Drag Defense Fund, which finances the ACLU's legal challenges against "anti-[LGBT] legislation."
In their statement, SPI said it was "particularly frustrating for us to have to address this accusation of inexcusable behavior [by Gilmore] at a time when we know many are seeking any way to marginalize and minimize us."
The group — which includes members with vulgar names like "Sister GladAss of the Joyous Reserectum," "Sister Lourdes Mae Shepherd," and "Sister Oletta B. Demonic" — also urged its critics to "consider whether all the current and former members of their own organizations are without sin before hurling stones at our entire organization based on the alleged behavior of a former member."
In July, Google distanced itself from a scheduled company pride event featuring a member of SPI who called himself "Mistress of the Most Holy Mass" after Christian employees accused the internet search giant of religious discrimination.
And despite allegations to the contrary from the Catholic League and other conservative religious groups, SPI denied holding any ill will toward Catholics, but rather professed their support for "equity and inclusion."
"We should also clarify that we do not profess hatred toward the Catholic church, or any other organization, as many have claimed," the statement read. "... We are simply the latest in a long line of marginalized communities who have fought and sacrificed to ensure their dignity and rights as humans.
"We stand on the shoulders of giants and will continue to fight for our goal of a truly just, inclusive, and equitable society where a person's worth is not measured according to another person's faith."