Southwestern Baptist Theological Seminary Cuts All Ties With Paige Patterson, Terminates Emeritus Status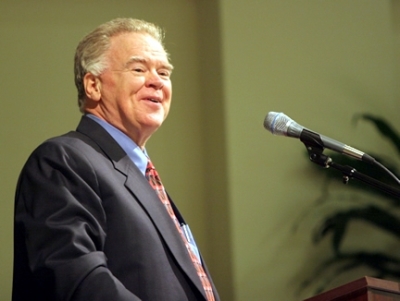 The board of trustees of the Southwestern Baptist Theological Seminary in Ft. Worth, Texas, announced Wednesday that effective immediately they have cut all ties with the school's former president, Paige Patterson, after new details emerged about his handling of a sexual abuse allegation while he was president at another institution.
The announcement comes a week after Patterson resigned from his position as president of Southwestern Baptist Theological Seminary after public uproar over comments he made in 2000 about how the Bible sees women and why spousal abuse isn't grounds for divorce.
While the seminary did not reveal specific details about the new information shared with their board of trustees on Wednesday, officials said it was "inconsistent with SWBTS' biblically informed core values." The revelation also required swift action to cut all ties with Patterson who served as the 52nd president of the Southern Baptist Convention prior to becoming president of the seminary in June 2003.
"Deeming the information demanded immediate action and could not be deferred to a regular meeting of the board, based on the details presented, the Executive Committee unanimously resolved to terminate Paige Patterson, effective immediately, removing all the benefits, rights and privileges provided by the May 22–23 board meeting, including the title of President Emeritus, the invitation to reside at the Baptist Heritage Center as theologian-in-residence and ongoing compensation," the seminary said in their statement.
Seminary officials also noted that Interim President Jeffrey Bingham strongly denounced behavior that leaves victims of abuse vulnerable.
"The seminary stands against all forms of abuse and grieves for individuals wounded by abuse. Today, Bingham made it clear that SWBTS denounces all abusive behavior, any behavior that enables abuse, any failure to protect the abused and any failure to safeguard those who are vulnerable to abuse. Additionally, Bingham called for the SWBTS community to join the Body of Christ in praying for healing for all individuals affected by abuse," the statement ended.
On Tuesday, the Association of Certified Biblical Counselors announced they were no longer going to hold their annual gathering in October at the Southwestern Baptist Theological Seminary due to the controversies surrounding Patterson, and had found a new host location for their event. 
In his now controversial comments made in 2000, he said he never counseled couples to get a divorce even in abusive situations, but noted that there were cases in which he advised a temporary separation due to the danger of abuse. He also reportedly encouraged a female student in 2003 not to report a rape.
A woman said she had been raped on campus and that Patterson, then the president of Southeastern Baptist Theological Seminary in North Carolina, urged her not to report it to the police but that she should forgive her alleged assailant.
On Monday, Megan Lively revealed on Twitter that she was the woman who reported her rape to school officials in 2003.
"I am the woman you read about, #SEBTS 2003, not afraid, ashamed, or fearful. I am proud to be #SBC, bc of how many have responded with compassion & love. Our history isn't our future. Ephesians 4:30-32, Romans 8.Please join us in praying tomorrow. #PaigePatterson #sbc18 #matthew5," she tweeted with what appears to be a photo of her family.