Ex-porn star, evangelist-husband offer advice on how to move past spouse's sexual history
'You are a new creation in Christ,' Richard De La Mora of Love Always Ministries says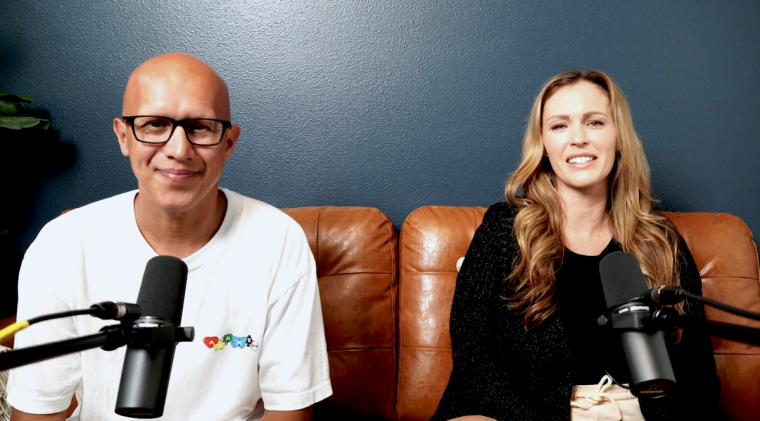 Ex-porn star Brittni De La Mora and her husband, Richard De La Mora of Love Always Ministries, answered listeners' questions about getting past a spouse's sexual history. 
Richard shared in a Sept. 1 episode of the couple's "Let's Talk Purity" podcast on the Edifi Podcast Network how, in his marriage, he's had to learn to look past his wife's sexual history and the knowledge that she spent nearly a decade of her life leading a sexually promiscuous lifestyle. 
"I was in the porn industry for seven years. This is something that my amazing, wonderful, loving, graceful, competent, strong husband has had to overlook — the amount of people that I've been with and the amount of footage that still, unfortunately, is on the internet," Brittni said. 
If it wasn't for Jesus and the grace of God, Richard said he would not have been able to avoid harshly judging his wife over her sexual history. 
"One of the ways that I overlooked your past is to understand that you are a new creation in Christ. I think it isn't fair, at times, if we judge a person's past and we think that they're the same person who they were a few years ago," Richard stressed, referencing 2 Corinthians 5: 17-21.
"You made broken decisions, and your broken decisions did create somewhat of an interesting past because of the videos you went into. But that was your past. That's not who you are now. … That's relevant in my book because that's not who you are today. You're a new creation."
Richard said he'll never forget the day he first met his wife. On that day, he had no idea she had been in the adult film industry. 
"A lot of these bloggers or people who write comments always say, 'Wow, look at this. This pastor went after a porn star.' … I didn't even know you were in the adult film industry. I just love people, and I love Jesus and … I would happen to see you in church," he recounted. 
When the De La Moras first discussed their sexual history with one another it wasn't an easy conversation. 
"I had to learn, first off, to remind myself that you're a 'new creation in Christ.' But the second thing I had to do, I had to accept it. And whenever you accept something, you die to it. I had to die with the fact that you were an ex-porn star. I had to die with knowing that you have hundreds of movies out there that people can go watch and see," Richard De La Mora said. 
"Whenever you die in that area, it doesn't affect you. Because you can't affect a dead person. When you accept that your partner has a past, your partner has made a mistake, you end up dying to yourself. And when you die to yourself, you can live again." 
Empathizing with people struggling with accepting their spouse's sexual past, he added: "I think the first thing that we need to do is we need to learn to accept it. As you learn to accept it, it helps you to move forward and move on. And the moment that you don't accept it is the moment that those insecurities are going to be present in and through your life, and you're not going to be able to walk in freedom," he said. 
Brittni noted that anyone who is trying to move past their spouse's sexual history should try "to see the fruit of the person's life."   
"Maybe that is their past, but what does their life look like now? Because, for me, yes, porn was my past. Sleeping around, hookup culture, that was my past. But Jesus has made me a new creation where, you know what, I couldn't even operate that way anymore. Not even if I try," the former porn star said. 
"I can't even wear a bikini nowadays. Why? Because I don't want people looking at me like that because Jesus Christ has set me free. I'm a new creation. I look at myself differently. I value myself differently because of my relationship with the Lord." 
Brittni said her husband decided to pursue her and eventually marry her because he saw her for how Christ had transformed her life. 
She said that often, someone might need to evaluate who they are dating if that person is claiming to be a "new creation in Christ," but their words and deeds show otherwise. 
"I think that when you see the fruit of somebody's life, it can make it easier, she added, offering examples of dating someone who claims to be transformed by Christ but continue to cuss and post provocative photos of themselves.    
"Then, maybe … it's making you insecure because you know that person could have the temptation to go backward because they haven't fully allowed Christ to transform their life." 
Married people must be careful, Richard cautioned, because the enemy will try to pollute one's mind with judgmental thoughts about their partner's sexual pasts. 
"When the enemy tries to throw those things at me' [I reply], 'No, my wife is not a product of her past. She's a product of grace. Yeah, she might have done those movies in her past, but it's in her past.' … It doesn't matter. Right. Because she's a new creation," Richard reiterated.
"The enemy is going to try to throw those at you to create insecurities. And why is he going to do that? The main goal is to not allow you and your relationship and your marriage to flourish. … The enemy will do whatever it takes to bring disunity," he continued.  
Brittni added, "Whether it's with somebody that has a sexual history or doesn't have a sexual history, the enemy's main goal is to disunify [and] to destroy while [breaking] apart every piece of your life." 
"If you're married to somebody with a sexual history, he's going to attack you in that way. If you are married to somebody that doesn't have a sexual history, he's going to attack you in other ways," she said.  
One way to combat a sinful and judgmental mindset in this area is with the Word of God, Brittni said: "If you're battling with all of this and thoughts of your partner's sexual past and you're not spending time in the Word of God, you need the Word of God to renew your mind. It's only His truth that sets you free."
"Why are you thinking so much about their sexual history? Because in you there's a fear and an insecurity. 'What if they do that to me? What if she cheats on me the way she cheated on her ex? What if he divorces me the way he divorced his last wife?' And you start to think of all these things," she elaborated. "But when you're planted and rooted in the Word of God, you're planted and rooted in His Spirit, you start to discern the thoughts of God versus the thoughts of the enemy. … You can start to rebuke those thoughts and then start to focus on things that are noble, praiseworthy and true." 
Nicole Alcindor is a reporter for The Christian Post.