Travel: Postcard from Durham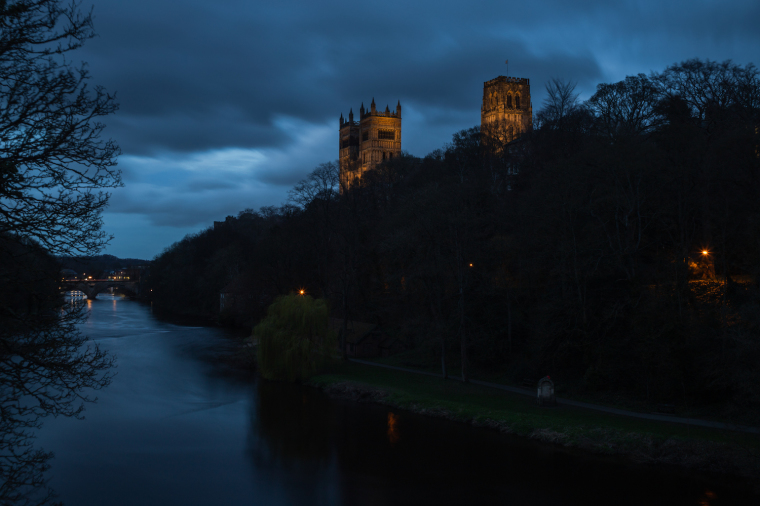 This historic city in the northeast of England seems overshadowed by Canterbury and York with their archiepiscopal sees or Edinburgh farther to the north in Scotland.
The American tourists who do come often visit as part of an afternoon stop on a multi-leg bus tour. That's unfair as Durham, the seat of surrounding County Durham, is a destination in its own right.
The big draw for readers of this column is the spectacular Durham Cathedral.
Formally called the Cathedral Church of Christ, Blessed Mary the Virgin and St. Cuthbert of Durham, it dominates the cityscape from a once-strategic location above a bend in the River Wear.
Dating to 1093 (as in 930 years ago) the cathedral has a remarkable amount of original Norman or Romanesque architecture. Think of the bold rounded-arch decorated in zigzag patterns that within a hundred or so years was replaced by the pointed-arch of Gothic that in time would become synonymous with church architecture. Inside are relics of Cuthbert and Bede, two important Anglo-Saxon saints from England's early Christian period.
Everything you see is a result of the Durham bishopric's unique history.
While today a mere diocese within the Church of England — the Anglican state church — the Roman Catholic and later Anglican bishops were from 1076 until 1836 prince-bishops. Basically, they acted as feudal lords with authority and power well beyond ecclesiastical affairs. Their golden age was before the 1603 union of the English and Scottish crowns under King James I of King James Bible fame, when the lands of the diocesan territory served as a buffer state between two countries with a history of wars and border incursions.
A short drive from Durham is Bishop Auckland, a town built around the castle that was once an official residence of the prince-bishops. Here the much-anticipated Faith Museum — the latest endeavor of the nonprofit Auckland Project under its patron Jonathan Ruffer — will finally open Oct. 7.
If you go
Unlike better-known English cathedrals, Durham Cathedral doesn't charge visitors an admission fee. However, a donation of £5 ($6.29 at the time of writing) is encouraged.
Across Palace Green from the cathedral is Durham Castle, the original castle of the prince-bishops. Today it's part of Durham University. Guided tours need to be booked ahead of time.
Stay at the boutique Hotel Indigo, which is housed within the former Victorian-era county hall.
The closest airport is Newcastle International Airport, which can be reached from major U.S. airports with a single connection in London on British Airways, Dublin on Aer Lingus, and Amsterdam on KLM.
Dennis Lennox writes a travel column for The Christian Post.
Dennis Lennox writes about travel, politics and religious affairs. He has been published in the Financial Times, Independent, The Detroit News, Toronto Sun and other publications. Follow @dennislennox on Twitter.