Azerbaijan allows single aid truck through blockade in order to deceive the West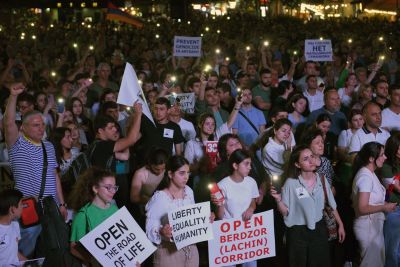 On September 9th, news broke that Azerbaijan and Artsakh finally reached a deal to end the 9-month-long blockade. Azerbaijan agreed to lift the blockade on the Lachin corridor in the South, and in return, Artsakh would allow the Azeris to establish a corridor through Aghdam in the north for Russian aid to be delivered. Historically, Armenians have been skeptical of allowing Azerbaijan to create a new corridor through Aghdam, as it creates a host of security issues.   
For close observers, the news was cause for both relief and skepticism. Why would an Azeri regime that uses genocidal rhetoric against Armenians suddenly lift the blockade? Had American and Russian pressure finally cracked Baku, or was something more sinister at play? 
Within 24 hours, conflicting information began to surface. The 400 tons of aid stuck at the Lachin corridor had not moved and Azerbaijan denied that a deal had been reached. Russian aid coming into Armenia through the Aghdam also appeared to be stalled despite the fact that Artsakh had not backed out from the deal. 
On September 12th, Azerbaijan allowed for the passage of a single aid truck through the Aghdam corridor. Western media outlets scrambled to announce that the blockade was over and that aid had finally reached the starving Armenians. 
But there was one glaring problem. The single truck was never going to have any type of meaningful impact on a population of 120,000 starving people. To add insult to injury, most of the aid wasn't even food. It included things like pillows, blankets, and toiletries. This was just two weeks after the former Chief Prosecutor of the International Criminal Court announced that the Christians of Artsakh were on the brink of mass starvation.

So, then, what was Azerbaijan's aim? 
By allowing a single truck through the blockade, Azerbaijan was able to change Western headlines overnight. Just as the Western press began to condemn Baku's actions, the narrative shifted to a blockade being lifted and aid being delivered. Announcing a deal, backing out, and then distributing videos of a single aid truck passing through Aghdam enabled Azerbaijan to create confusion and alter public perception of the situation.  
This tactic is nothing new. The Ethiopian federal government employed the same tactic in its civil war with the region of Tigray. Prime Minister Abiy Ahmed declared a ceasefire and the continuation of humanitarian flights to Tigray, while aid agencies on the ground accused him of being disingenuous. When the Ethiopian Government eventually allowed for the entry of aid, it still restricted it to certain regions of Tigray.  
Azerbaijan's ultimate design for the region is to rid Artsakh of its Armenian Christians and to replace them with Azeri Muslims. It will not let go of this goal easily. Any meaningful change is going to require strong pressure from a global superpower, either Russia or the U.S. in this case. The U.S. can sit idly by and watch 120,000 people starve to death while Russia's influence in the Caucasus grows, or it can bolster its bona fides in the region and stand against an autocratic regime that compares Armenian Christians to "dogs." 
It is also incumbent on the Western press not to feed into Azerbaijan's strategy of deception. It will take thorough, investigative journalism to weed through the smoke and mirrors being set up by Baku. 
Dan Harre is the Leadership Network Associate at The Philos Project where he works on a host of issues including the persecution of Armenian Christians. He is a graduate of Regent University's Robertson School of Government where he earned an M.A. in National Security Studies with an emphasis in Middle East Politics. Dan is passionate about foreign policy, the MENA region, and international religious freedom.