Protesting isn't free: Civil disobedience versus entitlement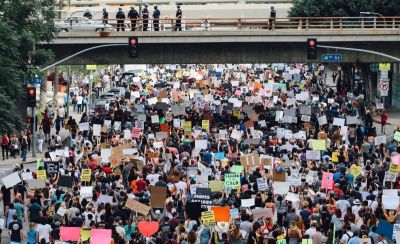 Throughout history, civil disobedience has been used as a means of peacefully expressing disagreement with the laws of those who rule or govern, or with those of differing views and values. Everyone has a right to protest, but throughout history, civil disobedience often brings consequences. 
One of the biggest issues I've seen in recent protests, especially those that receive favorable coverage from mainstream media, is a sense of entitlement, with activists thinking they can protest without any consequences. However, to engage in any form of civil disobedience means there will be repercussions. You and your peaceful protest are not entitled to receive a peaceful reception from those who disagree with you.
Expect consequences
From Gandhi's Salt Marches to the Montgomery Bus Boycott, history is filled with examples of civil disobedience having a powerful and transformative impact. Our world has become fairer and freer thanks to the courage of men and women who took a stand, no matter the cost.
Still, the last few years have seen an increase in the prevalence of demonstrations. Driven by different triggers and motivations, what often hurts the credibility of today's protesters and distracts from their cause is when they seem to care more about their entitlement than the cause itself.
Recently in Nevada, environmental activists used a trailer and protest signs to block the road that leads to Black Rock City where the annual "Burning Man" event was getting underway. Their objective was to disrupt the traffic flow and place a spotlight on "capitalism's inability to address climate and ecological breakdown."
As intended, the activists clogged traffic, causing many people to get out of their cars or try to find a way around the roadblock. Some protesters locked themselves to the trailer, prompting law enforcement to remind them it's a state route and they'd be arrested if they didn't disperse and get off the road. The protest ultimately ended with a member of the Pyramid Lake Ranger Station using his official vehicle to blast through the barricade — obviously a giant shock to the entitled activists, one of whom could be heard yelling that "we're not violent."
I wonder what this nonviolent, yet intentionally disruptive group expected to happen? Surely, they weren't caught off guard — after all, they chose to set up camp in the middle of a major highway, a move that would obviously require law enforcement to step in. The bottom line is, if you're committed to the cause, you also must be committed to the consequences that will come from taking a stand. If you're not prepared to deal with the results, whether they seem fair or not, then you have no business being out there at all.  Further, you lose credibility when you don't take the consequences for your cause.
Protesting isn't free
Nonviolent demonstrations can be a legitimate way for people to express their views and bring about social change. People have a right to protest peacefully, and states have a duty to respect and protect this right. However, to ensure their personal safety and the effectiveness of their message, it's equally important for protesters to be mindful of the potential consequences of their actions — particularly if their actions pose a legitimate threat to the safety and rights of others, or could provoke a hostile reaction from those who deeply disagree.
Personally, like many people, I have deep convictions and opinions about many things, but I never want to live in a society where one side can protest (whether it's the side I agree with or don't) and the other side cannot. All Americans should have the right to stand up to our government when we see that there is injustice or immorality that they're putting forth, and we should certainly demand accountability where it's lacking. That said, when we choose to stand up for something we believe in, we must remember it could yield consequences, backlash, persecution or other undesired outcomes. Exercise your right to protest when you feel led to do so, but be prepared to deal with the consequences, be they just or unjust.
Peter Demos is the president and CEO of Demos' Brands and Demos Family Kitchen. A Christian business leader from Tennessee, Demos uses his biblical perspective and insight gained from his own struggles to lead others to truth and authenticity in a broken world. Demos is the author of On the Duty of Christian Civil Disobedience and Afraid to Trust. To learn more, visit peterdemos.org.