3 benefits of being part of a small church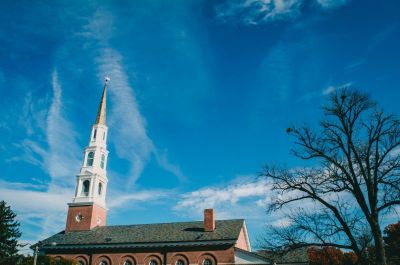 In today's consumer-driven world, mega-churches often garner attention for their big buildings, flashy amenities, and massive congregations. However, there are unique blessings that come with being part of a small church community. And the Bible makes this very clear: There is nothing to be ashamed of in being smaller, or should we just say normal, local church.
Let's consider the blessings of a small church, what it means for the role of the pastor, the congregation, and how it can more easily foster a deep and committed Christian community.
1. The role of the pastor in a small church
In a small church, the pastor has the opportunity to personally shepherd and care for each member of the congregation. Just as Jesus referred to Himself as the Good Shepherd who knows His sheep by name (John 10:14), a small church pastor can intimately know the needs, struggles, and joys of each individual in the flock. This hands-on approach to pastoral care fosters a deep sense of trust and connection within the congregation.
A smaller church also allows the pastor to be more accountable to the congregation. The Apostle Peter advises the leaders in 1 Peter 5:2-3:
"Be shepherds of God's flock that is under your care, watching over them — not because you must, but because you are willing, as God wants you to be … not lording it over those entrusted to you, but being examples to the flock."
How can any pastor be a shepherd to people he doesn't know? Or never even sees? In a smaller community, the pastor is more accessible and can more easily lead with humility, setting an example for others to follow.
Charles Bridges, a pastor who wrote extensively on the role and responsibilities of being a pastor, saw the Christian ministry as simultaneously fraught with the possibility of profound discouragements and full of meaningful work and opportunities for great, even eternal, joys and rewards. He writes that "the difficulties of this work to the considerate conscientious mind must exclude any expectation of temporal ease and comfort. Many other tracks in life offer a large promise of ease and enjoyment."
Being a pastor, if understood rightly, is going to be demanding and often thankless work — perhaps even more so in a smaller congregation. But that doesn't mean the work is any less worthy of a pastor's time and service.
2. The role of the congregation in a small church
In the life of a local church that meets together, all together, in one main service each Sunday, members can more actively and significantly participate in ministry and serve each other. As the Apostle Paul writes in 1 Corinthians 12:4-7:
"There are different kinds of gifts, but the same Spirit distributes them. There are different kinds of service, but the same Lord. There are different kinds of working, but in all of them and in everyone, it is the same God at work."
A smaller congregation size allows everyone to contribute and play a vital role in fulfilling the church's mission: from leading small groups or Bible studies to taking meals to families with newborns and visiting the elderly or those who are providentially hindered from regular attendance (through illness, etc.) to acting as a greeter on Sunday mornings to repainting the walls in the fellowship hall.
When you are part of a smaller church, it's "all hands on deck." So, if that's you, look for opportunities to serve and take action.
Hebrews 10:24-25 also reminds us of the importance of gathering together:
"And let us consider how we may spur one another on toward love and good deeds, not giving up meeting together, as some are in the habit of doing, but encouraging one another — and all the more as you see the Day approaching."
In a smaller church, members can more easily form meaningful relationships and provide support to one another, both in times of joy and trials, fostering a strong sense of unity and love.
3. The role of the community in a small church
In Acts 2:42-47 we get a picture of what early church fellowship looked like:
"And they devoted themselves to the apostles' teaching and the fellowship, to the breaking of bread and the prayers … And all who believed were together and had all things in common … And day by day, attending the temple together and breaking bread in their homes, they received their food with glad and generous hearts."
In a smaller church, it becomes easier for members to devote themselves to fellowship and togetherness. They can share life, break bread together, and support each other more intimately. The sense of community and unity, seen in the early church, is more attainable when you can look around a room and recognize your fellow church members — versus looking across a 10,000-person auditorium.
It can be overwhelming to walk into a room with thousands of people. But if you walk into a room with 100 people, you can more easily pick out targets, so to speak, and find others to grow with together.
Conclusion
Small churches, which provide opportunities for greater emphasis on personal shepherding, active congregation involvement, and meaningful community, offer unique blessings that can be harder to find in megachurches. Through deep connections, meaningful service, and authentic love, small church communities can provide a nurturing environment for spiritual growth and meaningful discipleship.
That doesn't mean it won't be hard — a church is still full of sinners. Repenting sinners, yes, but sinners all the same.
Still, God loves every faithful church, whether you are in a congregation of 5, 50, 500, or 5,000. The goal isn't to be the biggest church, the goal is to be a faithful church. If you are part of a smaller congregation, praise God that He has provided you with a Gospel-preaching church and seek to serve where you can, loving the people in front of you with Christ's love — the love that leaves the 99 to find the one.
---
Originally published at the Standing for Freedom Center. 
William Wolfe is a visiting fellow with the Center for Renewing America. He served as a senior official in the Trump administration, both as a deputy assistant secretary of defense at the Pentagon and a director of legislative affairs at the State Department. Prior to his service in the administration, Wolfe worked for Heritage Action for America, and as a congressional staffer for three different members of Congress, including the former Rep. Dave Brat. He has a B.A. in history from Covenant College, and is finishing his Masters of Divinity at The Southern Baptist Theological Seminary.
Follow William on Twitter at @William_E_Wolfe