A small town pastor's push to bring people back to church through the metaverse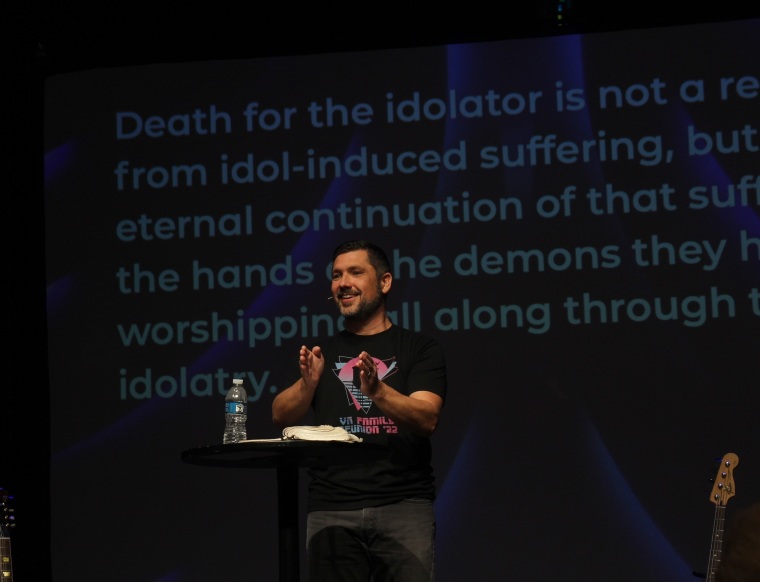 YUBA CITY, Calif. — It was almost midnight on a cold Thursday in October when I began the drive from the Sacramento International Airport toward my hotel. Google Maps estimated the trip would be about 39 minutes. In a few hours, I would meet with members of the metaverse campus of Cornerstone Church of Yuba City for the first time in the flesh.
As I rolled through the quiet blackness of what seemed like endless miles of unlit farmland along Highway 99, I imagined what it would be like at the church as I sped toward the lights of the small town where feral chickens roam free.
The church, led by Pastor Jason Poling, had planned a weekend of activities that would include fellowship at the church on Friday, a road trip to the Santa Cruz Beach Boardwalk on Saturday, plus a physical worship service and potluck on Sunday when we'd get to meet with the full church family.
For the last six months, I had been attending Cornerstone Church of Yuba City on Sundays from New York City through Alt Space VR as part of ongoing research on the metaverse church. I also participated in the church's life meetings on Thursdays, run by Angel VanEllison, a young software engineer who directs the church's Altspace VR campus from Georgia.
The metaverse campus of Cornerstone Church of Yuba City had quickly revealed itself to be a digital space where conversations about the Bible with people from across the country, and other parts of the world, were often probing, insightful, intimate and open. The prayers always earnest and the connections made felt real.
We had come to know each other slowly through our voices and avatars in virtual reality, and now the church had inspired some of us to do a physical meet-up. It was almost like we were judges on NBC's "The Voice," deciding to work with a contestant in the singing competition after multiple blind auditions.
Some members of the metaverse church campus like VanEllison and Poling had an idea of what to expect from the in-person reunion. In 2021, they were a part of the church's first "VR Family Reunion." The pictures on the church's website of smiling ministry members from the 2021 event looked like they had fun.
Families from the physical church that has about 250 members offered to host the metaverse campus participants for the weekend. The church also offered transportation to and from the airport for metaverse participants.
While some experts on innovative leadership, like Chestly Lunday, believe that church fellowship in physical buildings has largely been made irrelevant by digital technology, Poling is experimenting with using the metaverse to make disciples and bringing them back to in-person congregations.
"We have a hybrid model of church," Poling would explain hours later. "That's one of the reasons why we do this. It's to get people in the physical space together. Obviously, there is much potential in the digital landscape for reaching people for Christ. We do church there … but at the same time, the goal is, I really want to see people matriculate back into the physical church because there are special blessings that come in the physical realm that can't right now, ever probably, be had in the digital space."
The problem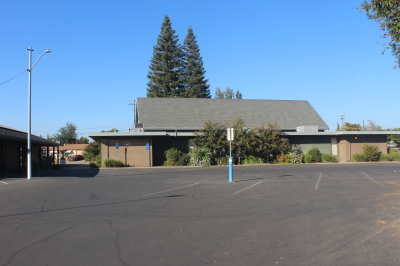 Earlier this year, The Christian Post reported on how growing secularization, the expansion of digital technologies and the increasing religious plurality of American society remained significant drivers of the ongoing cultural shift away from physical church membership.
Some experts, like Lunday, predicted digital engagement would continue to displace physical churches that refuse to join the digital revolution. This displacement became more apparent during the COVID-19 pandemic as more churches unable to sustain their membership continued to shutter.
"Church of the future is a network. And it's going to be digitally based. It's not going to be geographically based. It's going to be built on relationships and purpose," Lunday told CP.
For Lunday, too many church leaders have been stuck on applying a 1,700-year-old model of church designed for a world that no longer exists.
 "What digital technology did, especially during Web 2.0 when we created social media platforms, the building blocks of that wasn't the media side, it was actually the connection side," Lunday said. "We've completely decentralized relationships."
Longtime digital church advocate Jeff Reed, who formed the Digital Church Network, said the rise of digital technologies has helped the church evolve away from a one size fits all expression and congregations now need to tailor their message to speak to different audiences. While large brick-and-mortar churches would continue to serve their purpose, he contends digital churches are reaching a whole new audience.
Poling, however, is driven to reach as many people as he can with the Gospel by leveraging a culturally competent voice in both the real world and VR and connecting them through events like the "VR Family Reunion." And he is working feverishly.
Along with various weekday events, Poling's niche approach to ministry encompasses four services on Sundays, two in-person and two in the metaverse.
"I think that's what really the future is probably going to be, is that the healthiest Christian is going to be authentic in all of the cultures in which he or she inhabits because everyone already inhabits a digital culture that's completely removed from their physical culture," Poling said. "We're not the Little House on the Prairie anymore where it's just one culture."
The gathering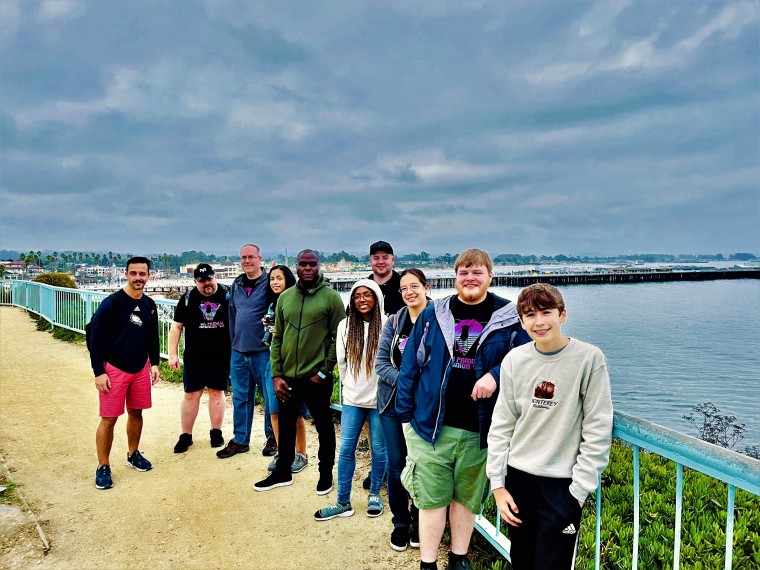 I had seen no signs of Yuba City's feral chickens when I arrived at my hotel just after midnight on Friday. A few hours later though, sharp crowing from what sounded like multiple roosters outside the hotel told me it was time to wake up.
Nicole White, the church's director of operations, texted me the address of the church and we met soon after. The atmosphere of the city was relaxed and friendly under the sunlight. When I got to the church's parking lot, the ranch-style architecture of the physical church buildings was similar to the layout of the church's first virtual world in the metaverse I experienced (they have a new one now). It felt familiar.
White was just outside the church office having a chat with Allan Palma, the church's co-director of Cornerstone Youth when I arrived. Palma was getting ready to go to City Hall with the church's new food truck, Potato Patoto. The metaverse group would get lunch there later that day.
I introduced myself and we went to the church office where I met up with a few other metaverse church participants. Sitting around a rectangular wooden table were: Jason Gardner, from Sacramento, California, Caleb Webb, from Cedar Rapids, Iowa, and Stewart Freeman, from North Carolina, who also directs the church's VR Chat campus. We would later be joined by Paul James, a VR church member from Wales, along with VanEllison and Poling.
The initial in-person gathering did feel more like a reunion instead of an introduction, particularly for the people I was already familiar with in the metaverse, like VanEllison and Poling. There also seemed to be a general understanding, a sort of knowing, that we were continuing a conversation we had already started.
I eventually asked Poling a question I'd been meaning to ask for a while: Why did the church offer to host the reunion participants in their homes instead of booking hotels which seemed like the safer thing to do?
"We're here for fellowship and so putting them in a hotel is not going to bring fellowship," Poling said.
I then asked, "What if you get a lot more people attending (over time)? More people than your church can house."
"One of the things we want to keep stressing is hospitality," he explained. "It's a critical feature of the Christian life that is almost all but lost in our society in the West. So there's a lot of trust that goes into this hospitality. And part of the act of being a Christian is trusting the Lord and not being full of fear."
He did admit, however, that "there is a [need to have] wisdom."
"The more people come for the reunion in the future, we should have enough places to stay," he maintained. "If it got huge it may be that we have different locations or regional gatherings instead of everyone coming out here."
The call to the metaverse
Cornerstone Church of Yuba City is a part of the Evangelical Free Church of America, a Protestant denomination that grew out of the merger of the Swedish Evangelical Free Church and the Norwegian-Danish Evangelical Free Church Association in 1950. Much of the congregation's membership is concentrated in the Midwest, but California once reported the largest number of congregations.
Like most churches nationally, Cornerstone Church of Yuba City was not immune to the negative impact of the COVID-19 pandemic and continuous lockdown orders. When Poling began looking into ministry in the metaverse in 2020, he was concerned that the Church, in general, had been doing more "swapping of sheep" than reaching new people with the Gospel, and he was driven to do better.
"I think looking at the landscape of the current church culture, and Evangelicalism, we've become a little bit of a ghetto. And really what happens is often swapping of sheep," he said.
"We do see people come to Christ here thank God. It [would be] so discouraging if we didn't … but I don't see it as often as I would expect," he explained. "There just didn't seem like there was this robust experience of new believers just coming to Christ all the time, and so I was like, well, we're still trying to get out there into the community but somehow people aren't coming to the brick and mortar church."
Poling, who has three children — two sons and a daughter — with his wife, Gwen, found his calling to VR while spending time with his sons on PlayStation online.
"Going on an app like Rec Room to talk to people, you realize how quickly people would open up about their soul and their struggles, and it was just, I had so many more opportunities to share my faith than I'd ever had in 15 years of physical ministry," he said.
"When I got in there (VR) and realized how many times I could share my faith and seeing people come to Christ, it's kind of like a no-brainer. OK, God must be doing something here. This must be a harvest field. We should probably be here."
He said when he told his church about the opportunities to evangelize in the metaverse they gave him their blessing to establish a ministry in the space. And when he would introduce the fruits of his labor in the metaverse the following Sunday, the congregation would applaud.
"Once I told them, they were so excited. I don't know why it's not happening in other churches. I don't know if it's a fear of … pastors are focused on church growth … the organizational systems of the church, the finances and keeping people in the pews, there's a lot of organizational church business stuff that is soul-sucking. I think pastors are just trying to keep that going and it diverts your attention [away] from people out there who aren't going to sit in the pews," Poling said.
"In VR at this point, most of them are either not Christians or young Christians and understanding tithing is probably not there yet. And so it's not like [there's] a lot of money coming in. And so, I think it's probably hard for churches to go, 'Does this seem organizationally wise? Fiscally wise? Resource use wise?' I would just push back and say … that's what we should be doing. Not worried about trying to keep the system going," he continued.
"There are so many people that won't come into the physical brick-and-mortar church for various reasons, and that's just going to increase because now you've got multiple generations, at least two generations now, [who are unchurched].
"We typically talk to people, their parents don't go to church. In some cases, I've seen three generations where their grandparents didn't go to church. So you've got people that are completely pagan."
Discovering VR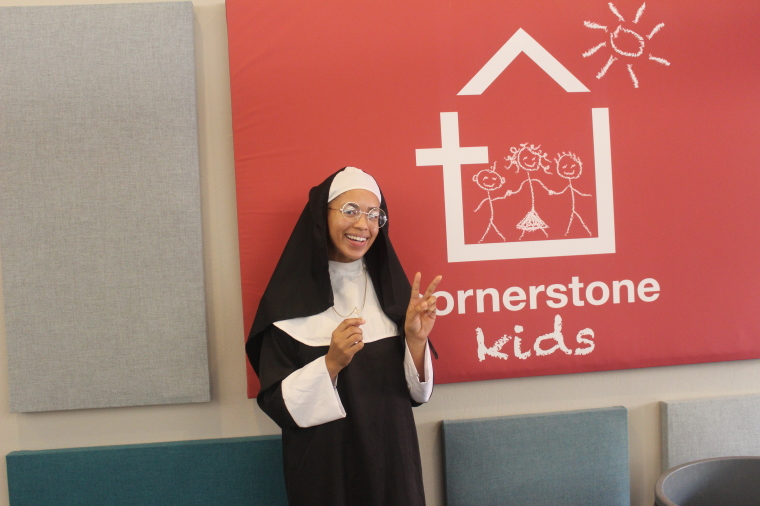 When Paul James' church in Wales shut down during the lockdowns he had nowhere to go for fellowship and was just "stuck in the house." When he found Cornerstone Church of Yuba City in the metaverse 18 months ago after going online to play games, he "thought it was just a joke."
"I was hopping around and I hopped into churches. Really, I thought it was just a joke," he recalled. "I hopped in and Jason (Poling) was speaking and he was preaching exegetically, which is what I like in my church. You just go to a chapter of the Bible and preach on whatever's next."
While it was his first time meeting in person with the metaverse campus members, James said he previously chatted with VanEllison by phone and video conference. His experience so far, he said, has been life-changing.
"Because of the pandemic it was difficult to get involved with anything in my local church and the jobs [opportunities to minister] were full. I thought there was this base where I could help build that mission in the VR space where my local church was reticent to do it because they see it as a game or cartoon. They don't see the people behind the avatars," he said. "I found it useful for myself and I think it can add value supporting a mission into that world."
While his local church is now open again, James has maintained his fellowship with Cornerstone Church of Yuba City.
"I had to move out of the city, my own church is now quite a long way so I can only get there every two weeks. So I fill them in (on what he's doing with Cornerstone)," he said. "They are suspicious of it so I try to provide them as much information as possible to try to bring them on board."
Like Poling, James believes the physical church is necessary despite his presence in the metaverse.
"I hope (VR church) it's a means to evangelize and release people back into their local churches. I don't think we are there yet by any stretch of the imagination, but I think that would be the ideal. It's just another mode of evangelism because I think there is a lot to be said for a physical presence in a physical building."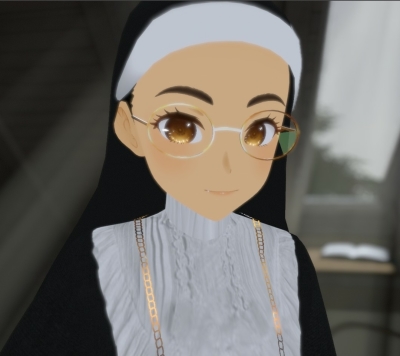 For 23-year-old Tezzy, who flew more than 2,500 miles from her home in New York to join the reunion, she had to convince her mother that her metaverse church is real. Tezzy, who connected with the group in early 2021, said her mother fretted that she could get lured into a human trafficking trap.
"My mom was like, 'Is this a real church?'" said Tezzy, who arrived at the church on Friday evening dressed as a nun, her VR Chat avatar. "She thought it was a human trafficking scheme."
Her mother was also wary of the idea of her spending time in the home of people she didn't know.
"She said, 'Why are you staying at some random people's houses instead of a hotel?'" she recalled.
Her grandparents would later check in with her in-person while the group spent time at the Santa Cruz Beach Boardwalk a day later to learn for themselves that the group is real.
Tezzy explained that she joined VR Chat in 2019 initially just to meet up with friends but started actively looking for a church on the platform in 2021. A friend introduced her to Cornerstone Church of Yuba City and she has been connecting there ever since after a period of church hopping.
"It's great. I mean you get so many different types of people in VR Chat. And VR Chat is weird because everyone has different avatars. The amount of different categories of people you would see in VR chat congregated in a religious setting is odd, but it's exciting because it's reaching out to people who wouldn't necessarily be in a traditional church but they still feel comfortable enough to stay," she said. "The church is very welcoming. They still hang out with you no matter who you are but they won't necessarily affirm what you believe in if it goes against the Bible which I think is a great nuanced stance."
The fellowship she experienced at Cornerstone Church of Yuba City in the metaverse has been helpful. She says she has now found a local church, which she struggled to find before.
"I've been church hopping a few years. I never really liked physical church myself but recently I joined a Baptist church," she said. Tezzy now invites people to come with her to church online and witnesses to others about her faith in the metaverse.
The group would later end the day with dinner in downtown Yuba City at Sutter Buttes Brewing where we met with other members of the church's leadership team, including James Smith, the church's elder board, and chairman.
The potential of the hybrid church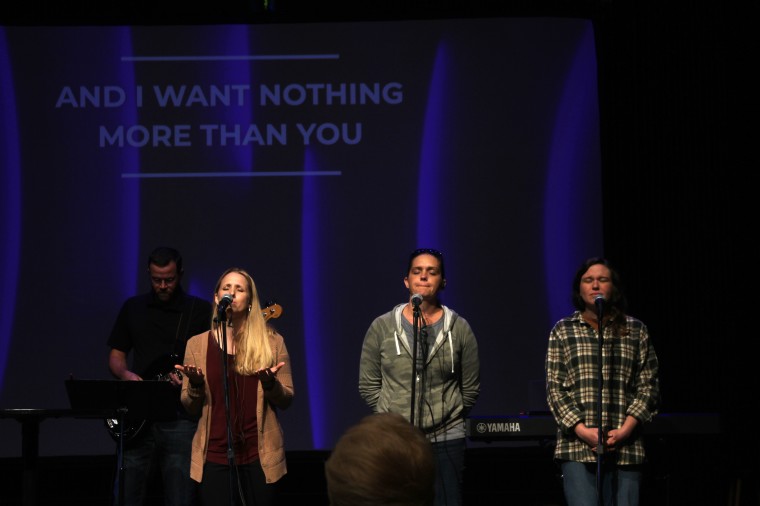 Early the next morning after the roosters crowed, a group of us gathered at the church again and piled into two minivans and set off on a more than three-hour drive to the Santa Cruz Beach Boardwalk.
We would meet up with other members of the metaverse family including Smith who traveled with his young daughters directly from his home; Daniel Wilson who built the church's first VR world; and Shanique Gibson, a tech professional who is also a member of Limitless Church in Burlingame, California.
White drove one of the minivans, while Poling drove the other. I traveled with Poling, Tezzy, Gardner and Poling's 15-year-old son, Ezra. We discussed life as Christians and many other things along the way in a spirit that was candid and edifying. We got to Santa Cruz safely and did not run out of conversation.
When we joined the rest of the metaverse group on the boardwalk we had lunch and then tried our hands at Laser Tag and miniature golf. A few people, including Poling, sampled servings of rich funnel cakes.
Michael Uzdavines, who Poling hired to oversee the work of the metaverse campus, was also with the group. He believes that ministry in the metaverse has been helping people make deeper and more meaningful connections than what is sometime afforded in large physical churches.
"The way that the physical church works generally, at least in the West, is it tends toward growth, and that's OK, that's good. When you have that kind of growth you start to talk about economy of scale and it becomes a very meta process. You're not focused on the individual, you're focused on the group as a whole," he explained on the boardwalk. "The metaverse is not like that because of the limitations of the technology. You can't fit more than X number of people in a room. The way that it is right now it's very focused on the individual and I love that."
While the technology may eventually change to allow connections with larger groups of people, Uzdavines is inspired by the deeper connections he's making with smaller groups of people through ministry in the metaverse.
"Coming from pastoral ministry in a big church, a thousand plus people, I saw the benefit that we could do there with just a few of us. [We] were able to reach lots and lots of people with the Gospel. This is a different way of reaching people with the Gospel in a very micro way, in a very deep way, and I love it," he said.
"Even the physical church is starting to see some of this where we're seeing a lot more house churches or house church style of church. Even the megachurches are embracing that idea where they are saying, you know what? Not everyone wants to come to a building with a couple thousand people in it every Sunday. ... So why don't we lean into that, too, and make different offerings if you will, where we support that idea. I think it's beautiful."
He agrees with Poling and other digital ministry experts that the church is no longer a "one size fits all" operation.
"That's not something that the metaverse pioneered, the Acts Church pioneered that," he said.
"What I think we're seeing is that the people are longing for that type of expression where, and again that's not to knock the big megachurch, I've seen the benefit of economy of scale, I've also seen that something raw and less produced, really authentic and tailored to our specific need is the better way for us to be a part of a church community without the pull away from the church," he explained.
"I think what we see some people say is, I don't want to go to a megachurch and there's no real church out there for me, so it's just going to be me and Jesus. That is nowhere in the Bible. In fact, it's unbiblical to say that. We are supposed to be in community with each other. Jesus called us to that. And so, to have all of these new offerings, I think, it's great," he added.
Uzdavines also believes the Church's work in the metaverse could lead to even more creative ways of doing ministry and it certainly felt that way during my time with Cornerstone Church of Yuba City.
I imagined all the different ways adventurous Christians interested in experiencing different expressions of ministry could safely connect with responsible churches like Cornerstone Church of Yuba City across the country and the world.
"I think that with that micro idea, I really see a few areas where what we are doing and other churches in the metaverse [are doing], can be a testing ground for some of the ideas of what may or may not work in the physical space," he said.
"It's hard for churches to be super innovative and so here, we're like, the idea that you have, we proved it up," he said. "It's not theory anymore, we've done it. It's awesome, you guys should do it in your context too."
The endgame
Earlier this year, Che'von Lewis, a representative of social media giant Facebook, whose parent company Meta Platforms Inc. is investing heavily in the development of the metaverse, told CP that much of the full potential of VR won't be fully realized until the next 10 to 15 years as more companies and people invest in the future of the internet.
When asked what Cornerstone Church of Yuba City sees as the endgame for the in-person metaverse church reunions, Uzdavines said their vision was open-ended to allow room for the evolution of the technology.
"We have a few thoughts but we hold them all very open-ended because there is a duality to what we're doing where in one sense as we look around at what Pastor Jason has built up and what I'm coming alongside to support it's really the tip of the spear," he said.
"What the Lord has done through Cornerstone in both a physical church and a VR church, it's certainly not the only VR church, but as far as I know, we are the most developed, robust and oldest church with a VR campus with all the complexities that come along with a physical campus," he added.
"As a pastor, my endgame is to shepherd the flock. It feels like the pre-game. Right now, we are just R&Ding this and something is going to happen where another twist is going to come and upend all of it. Apple is not even in the space yet. How can we say that we know what it's going to be until they're in it?"