Bishop Vashti Murphy McKenzie challenges National Prayer Breakfast attendees to love as Jesus did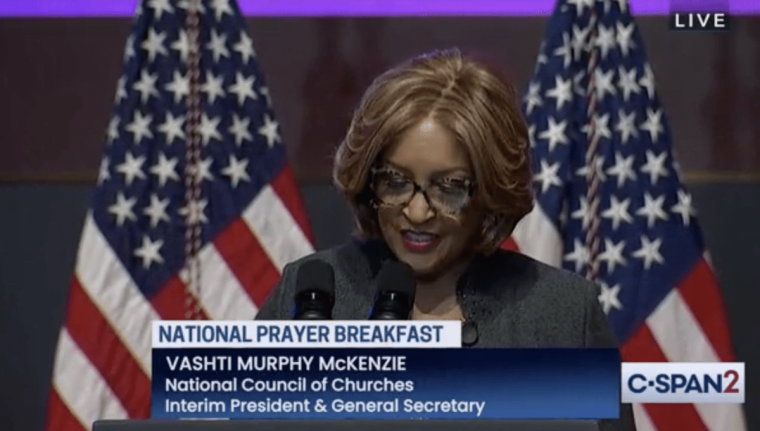 Bishop Vashti Murphy McKenzie reflected on what the Bible says about being a "neighbor" and challenged National Prayer Breakfast attendees to operate out of the kind of love, mercy and compassion Jesus demonstrates throughout Scripture. 
Speaking at the event in Washington, D.C., on Thursday morning, McKenzie, the interim president and general secretary of the National Council of Churches of Christ in the USA, focused her message on Luke 10, the story of the Good Samaritan. 
In it, Jesus tells the parable of a traveler who is beaten and left for dead on the side of the road. A Jewish priest and then a Levite come by, but both avoid the man. A Samaritan, however, stops and helps the man. 
"Could it be that he saw the man's humanity? When he saw the man's humanity, he saw his own. Maybe we need to see our own humanity and see the humanity of others," McKenzie, the first woman bishop in the African Methodist Episcopal Church, said.
"Maybe the one sitting next to you right now. Could it be that Jesus knew it would be hard to demonstrate this kind of love until we identified ourselves as neighbor? It helps us to go from passive listening to active engagement."
At the end of the parable Jesus challenges His listeners to "Go and do likewise."
McKenzie challenged listeners to imagine what life would be like if humanity truly loved one another as their neighbor. She defined "love" as Paul describes it in 1 Corinthians 13.
"This doesn't mean that we ignore safeguarding life, liberty and human dignity. It means that we are willing to do the heavy lifting to demonstrate love in the public square," she declared. 
"What would happen in this 21st century of ours if we did just that, go and do likewise. What if we would step over cultural guardrails to be an example of public love to people traumatized beside the road? What would happen if we would undertake the tough task to demonstrate restorative love and real tangible ways in our classrooms?"
McKenzie told listeners that all have sinned and fallen short of the glory of God — and one person is no more valuable than another. She stressed the importance of both unity and personal responsibility when it comes to bringing about positive change. 
"One can do much alone, but we can do more alone when we are united in vision and voice," she said. 
McKenzie emphasized the power that comes with being loving "in the public square," showing mercy and being resilient.
"We don't have to be perfect, but we must show up," she said. "There is enough power in this room to make it happen. What a powerful message it would be to the world if we walked together with compassion over callousness, cooperation over competition, and at the end of it, go and do likewise."
But "doing likewise," she said, is impossible without the power of God. 
"Here's your invitation to come into the throne of God when you pray, grace and mercy are waiting for you," she declared. "Nothing else will help you stand in the face of traumatic situations. … Draw near. Nothing else will help you. God is waiting for you. God wants you to experience God in different ways than how you've experienced God before. God wants more and more for you than you can imagine."
"Love makes a difference in how we see ourselves; created an image of God. God's love makes a difference in how we deal with suffering," she added. "God's love makes a difference in how we handle the impossible. Nothing is impossible with God."
An annual tradition that goes back to 1953, the breakfast is held every first Thursday in February. The event was first held under President Dwight Eisenhower, with the encouragement of the Rev. Billy Graham.
The event often features speeches by special guests and the president of the United States. 
Ahead of McKenzie's remarks, President Joe Biden delivered a message and the Brooklyn Tabernacle Choir performed. 
McKenzie is also the first woman to serve as president of the African Methodist Episcopal Church's Council of Bishops. She previously spoke to The Christian Post about the challenges of empowering women in the church.
The pastor said she tells women that issues of "power and authority" are a larger challenge than the question of "gender."
"I share with women that the majority of the time, the issues and the challenges that you face has nothing to do with your gender, but has everything to do with power and authority," she said.
"Most of the time it has nothing to do with gender, but everything to do with power and control. Who is the conductor that gets to select the instruments that play? Who is the director of the choir who determines which voices get to sing and who gets to sing the solo?"