Harry's Razors faces backlash for ad showing trans-identified girl's mutilated breasts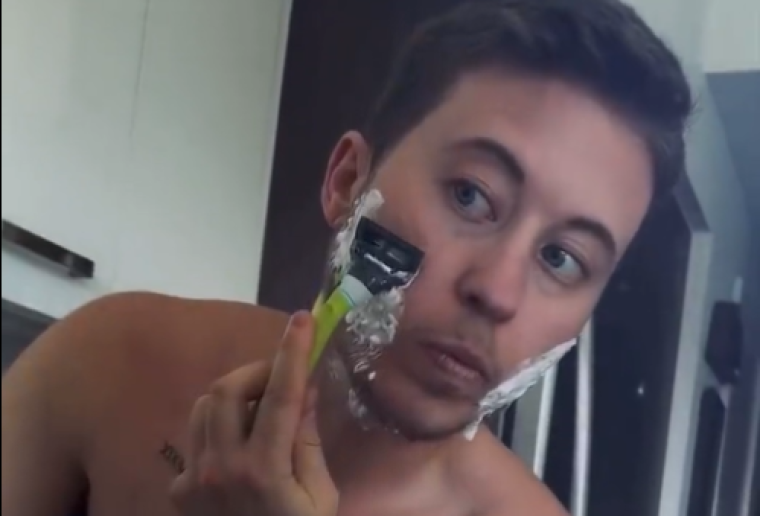 A razor company is facing renewed criticism and calls for a boycott over a recently resurfaced ad featuring a trans-identified young woman shaving her face and exposing her topless chest to show her double mastectomy scars after having her breasts cut off.
The Twitter account End Wokeness shared a video clip Saturday of a trans-identified woman who goes by the name Luke Pearson promoting the Flamingo set produced by the company Harry's Razors. End Wokeness explained that "Harry's Razors partnered with a 'trans man' (a biological woman) to promote their razor set," adding, "100% of the profits from this set go to the Trevor Project, which promotes gender surgeries for minors."
Warning: The video below shows the bare chest of a young woman who underwent a double mastectomy to look more masculine and identify as male. 
Harry's Razors partnered with a "trans man" (female) to promote their razor set

100% of the profits from this set go to the Trevor Project, which promotes gender surgeries for minors pic.twitter.com/Sb6ZbBT0GA

— End Wokeness (@EndWokeness) August 6, 2023
The video in question, originally posted to Instagram on June 28, 2022, features a shirtless Pearson displaying her double mastectomy scars as she expresses gratitude about "celebrating my first Pride with facial hair!" An on-screen caption notes that "The Harry's Face & Body Shave Set was designed in partnership with an LGBTQ+ artist and includes a Harry's razor for your face and a Flamingo razor for your body."
"Growing up, I was always envious of boys going through puberty, getting facial hair, and learning how to shave," Pearson added. "I love growing a beard and maintaining it," Pearson declared as she shaved on screen. "Having facial hair and a grooming routine is the most gender affirming thing to me." The caption accompanying the Instagram post identified Pearson as a "#HarrysPartner."
On Sunday, End Wokeness shared a clip of the Harry's Razors CEO referring to mothers as "birthing parents" and fathers as "non-birthing parents" while discussing the company's parental leave policy in addition to describing his company as "socially-minded."
While the video of Pearson is more than a year old, its resurfacing over the weekend has prompted fierce criticism and calls for a boycott from conservative activists. Jeremy Boreing, the CEO of The Daily Wire who started a competing business known as Jeremy's Razors in response to Harry's severing its ties with his media outlet over its declaration that "boys are boys and girls are girls," reacted to the resurfaced Harry's Razors ad in a post on X, formerly known as Twitter, Sunday.
It's like they want to make me rich…

(That's the most charitable read) https://t.co/sKyIpvtgj4

— Jeremy Boreing (@JeremyDBoreing) August 6, 2023
Suggesting that the razor company's embrace of LGBT ideology would lead to backlash from consumers, Boeing declared, "It's like they want to make me rich."
Ben Shapiro, editor emeritus of The Daily Wire, used the controversy surrounding Harry's to plug Boeing's product: "There's a reason we started ihateharrys.com. Because you shouldn't give your money to companies that glorify mutilation and sterilization. #GoWokeGoBroke."
Daily Wire podcast and radio host Matt Walsh sent out a post on X lamenting that "Harry's glamorizes self-mutilation in an effort to sell razors." According to Walsh, "If you still buy products from this company this is what you are directly supporting. We've taken down Bud Light. Now it's Harry's turn."
Walsh's assertion that "we've taken down Bud Light" refers to the backlash the company received for collaborating with trans-identified influencer Dylan Mulvaney who documented his decision to identify as a girl in a TikTok series called "Days of Girlhood."
The company, which named Mulvaney a brand spokesperson to "authentically connect with audiences," found itself subject to a boycott effort after the social media personality showed his following pictures of customized Bud Light cans with his face on them sent to him as a present for the first anniversary of him identifying as a girl.
Country singer Travis Tritt pulled all products made by Anheuser-Busch, Bud Light's parent company, from his tour's hospitality rider after news of the brand's collaboration with Mulvaney first broke. Singer Kid Rock shared a video of himself firing an assault rifle at a stack of Bud Light cans.
In the weeks following the outcry over Bud Light's partnership with Mulvaney, Bud Light saw a 21% drop in sales. Concerns about Bud Light's embrace of LGBT ideology led to the creation of Ultra Right Beer, which characterizes itself as "100% woke-free beer" that enables consumers to "stop giving money to woke corporations that hate our values."