Iowa bans sexual orientation, gender identity instruction in elementary schools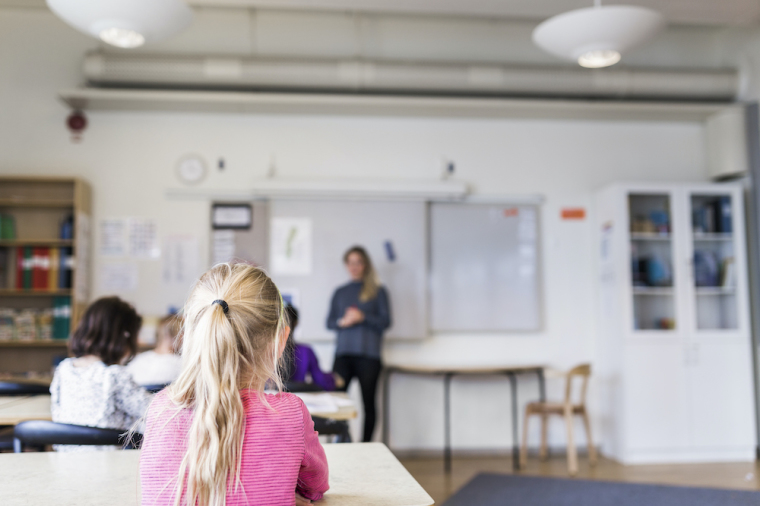 Iowa's Republican Gov. Kim Reynolds has signed into law a measure banning school officials from discussing sexual orientation and gender identity with young children as part of a push to put "parents in the driver's seat" regarding their children's education. 
Reynolds approved Senate File 496 Friday, one of several education-related bills that came to her desk. The measure declares that "a school district shall not provide any program, curriculum, test, survey, questionnaire, promotion, or instruction relating to gender identity or sexual orientation to students in kindergarten through grade six."
The legislation also establishes additional requirements for library programs operated by public school districts, specifically that the collection contains "only age-appropriate materials."
The first violation of the new procedure will result in a written warning to a school district's board of directors or the employee responsible for placing the material in the collection.
Subsequent violations may result in the employee in question or the school district superintendent facing a hearing conducted by the state board of educational examiners, which "may result in disciplinary action." The legislation stresses that "any material with descriptions or visual depictions of a sex act" does not meet the definition of "age-appropriate material." 
The bill also orders school districts to publish a list of books available to students in libraries throughout the school district and implement policies enabling parents to review material in teachers' individual classroom libraries and other instructional materials. Concerns about sexually explicit material in libraries and school curricula nationwide have led outraged parents and community members to confront school boards at contentious meetings in recent years. 
The Iowa legislation also prohibits school districts from giving "false or misleading information to the parent or guardian of a student regarding the student's gender identity or intention to transition to a gender that is different than the sex listed on a student's official birth certificate" or an equivalent document.
Under the new law, schools are required to inform parents if their child requests to go by a name or pronoun that does not align with their given name and biological sex.
Failure to keep parents informed about their children's gender identity can result in a written warning on the first violation and hearings that could result in disciplinary actions for violators in subsequent cases.
School districts in other states have faced lawsuits for referring to a child by a name and pronouns that do not align with their biological sex at school while referring to the pupil by their given name and pronouns with parents, thereby keeping them in the dark about their child's "social transition." 
In a statement, Reynolds praised Senate File 496 as part of a newly enacted package of "transformational education reform that puts parents in the driver's seat, eliminates burdensome regulations on public schools, provides flexibility to raise teacher salaries, and empowers teachers to prepare our kids for the future."
The Republican-controlled Iowa Senate approved Senate File 496 in a 34-16 vote in April, and the Republican-controlled Iowa House of Representatives voted 57-38 to send it to Reynolds' desk shortly thereafter. 
While the Iowa Senate vote fell exactly along party lines, with all Republicans supporting the bill and all Democrats opposing it, four Republicans joined Democrats to oppose the bill in the House. 
Reynolds' approval of Senate File 496 comes slightly more than a year after Florida enacted a similar measure banning discussions about sexual orientation and gender identity for students in kindergarten through third grade, which critics derided as the "Don't Say Gay Bill."
Earlier this year, the Florida Board of Education voted to expand the prohibition on discussions of sexual orientation and gender identity through 12th grade unless the material is specifically part of a "reproductive health course or health lesson" that a student can opt out of. 
Parental rights in education has emerged as a key battleground in American politics in recent years.
Virginia Democratic gubernatorial candidate Terry McAuliffe addressed the topic at a debate with his Republican opponent Glenn Youngkin in 2021, asserting, "I don't think parents should be telling schools what they should teach." The backlash to McAuliffe's comment is seen as one factor that contributed to his narrow loss to Youngkin in the election. 
The 1776 Project PAC, a grassroots organization working to elect school board candidates committed to reforming public education "by promoting patriotism and pride in American history" while opposing the implementation of LGBT ideology and critical race theory into school curriculum, has achieved varying degrees of success in electing its preferred candidates. 
The group performed very well in elections that took place in Florida and Texas ahead of last year's midterm elections while securing success rates of slightly less than 50% in the midterms and in races that took place in the Midwest earlier this year.