House Republicans to launch impeachment inquiry into corruption allegations against Biden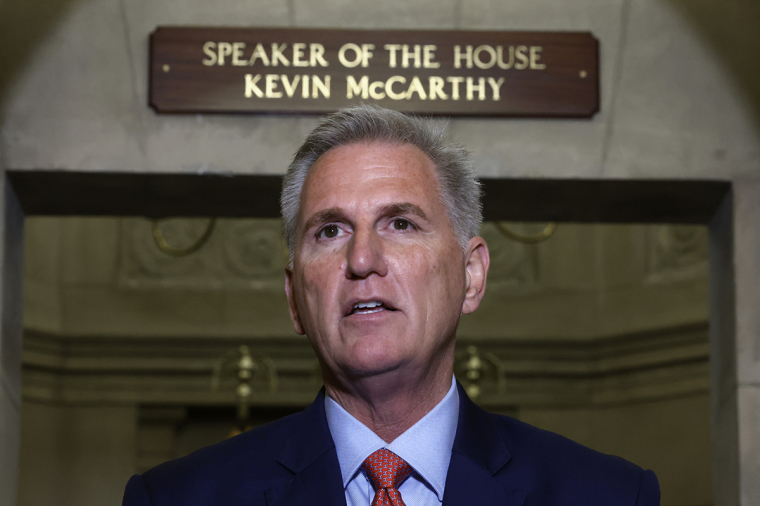 House Republicans are launching an impeachment inquiry into President Joe Biden over allegations of corruption involving the Biden family's business dealings.
Speaker Kevin McCarthy, R-Calif., announced Tuesday he is directing the House Oversight Committee to open a formal impeachment inquiry linked to what McCarthy described as a "culture of corruption" stemming from the time prior to Biden's election in 2020, according to The Associated Press.
"These are allegations of abuse of power, obstruction and corruption, and they warrant further investigation by the House of Representatives," McCarthy announced in a press conference Tuesday at the Capitol.
In his remarks, McCarthy said House Republicans have recently "uncovered serious and credible allegations into President Biden's conduct," including "about knowledge of his family's foreign business dealings."
"Eyewitnesses have testified that the president joined multiple phone calls and had multiple interactions, dinners, resulting in cars and millions of dollars to his son and his son's business partners," he said. 
"Bank records show that nearly $20 million in payments were directed to Biden family members and associates through various shell companies. The Treasury Department alone has more than 150 transactions involving the Biden family and other business associates that were flagged as 'suspicious activity' by U.S. banks."
McCarthy added that a "trusted FBI informant" has also provided information regarding an alleged bribe to the Biden family.
The inquiry will be led by Oversight Committee Chairman James Comer, R-Ky., Ways and Means Chairman Jason Smith, R-Mo., and Chairman Jim Jordan, R-Ohio, of the Judiciary Committee, who is closely aligned with former President Donald Trump.
The White House did not issue any statement on McCarthy's announcement as of Tuesday afternoon.
As recently as last week, at least two Republican leaders have suggested any impeachment effort might not have their support.
"I haven't seen any evidence at this stage to suggest he's met the constitutional test for impeachment," Sen. Mitt Romney, R-Utah, was quoted as telling HuffPost on Wednesday.
"Don't we have enough on our plate?" Sen. Lisa Murkowski, R-Alaska, said.
Since Republicans took control of the House earlier this year, they have pursued oversight.
Much of their investigations have focused on the actions Biden and his family took — both during and after his vice presidency in the Obama administration, which lasted from 2009-2017.
In June, Sen. Chuck Grassley, R-Iowa, gave a speech on the U.S. Senate floor to discuss the contents of an FBI 1023 document from June 30, 2020, detailing an "alleged bribery scheme between then-Vice President Biden, Hunter Biden and a foreign national."
Grassley and Comer demanded the FBI let lawmakers review the document and threatened to hold FBI Director Christopher Wray in contempt of Congress.
Grassley, former chair of the Senate Judiciary Committee, explained in a speech last week that "an FBI 1023 Document is used to collect information from what the FBI calls a confidential human source." He defined a confidential human source as someone used "to advance investigative activity." 
According to the confidential human source, whom Grassley described as a "long-serving" individual who has "received numerous validations from the FBI" and has been "paid at least $200,000 by the FBI since the source was opened and operational," the foreign national paid $5 million to the Bidens in exchange for a favorable policy decision.