Bill Maher pushes back after former Rep. Adam Kinzinger likens Mike Johnson to Taliban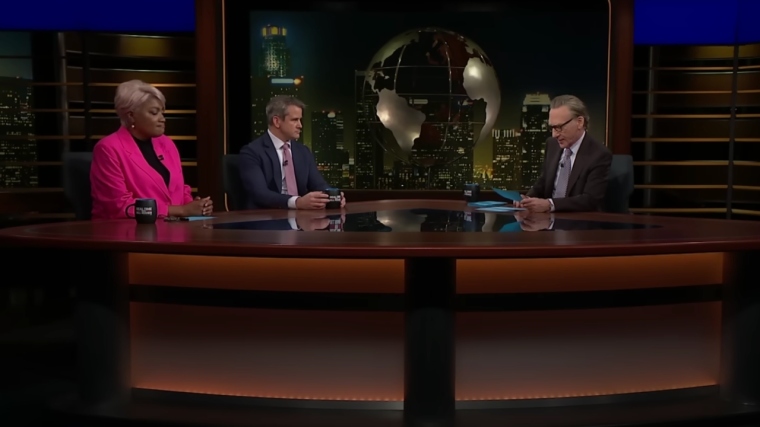 HBO host Bill Maher pushed back against an assertion by former Rep. Adam Kinzinger, R-Ill., on Friday when he likened the worldview of House Speaker Mike Johnson, R-La., to that of the Afghanistan Islamic extremist group the Taliban.
"There is no difference between Christian nationalism — which is what [Johnson's] representing — than the Taliban," Kinzinger, a noted Republican critic of former President Donald Trump, said during a panel discussion on "Real Time" with Maher and longtime Democrat political operative Donna Brazile.
"Now, maybe the end is different, maybe the means are different, but there's no difference in saying this is a government run on religion."
Adam Kinzinger tries to make the false equivalency between Christian nationalism and the Taliban.

Bill Maher shuts him down and points out that the Taliban and other Islamic extremists kill gays and throw them off of buildings, making it a false equivalency pic.twitter.com/W0iBSmVd38

— Eric Abbenante (@EricAbbenante) November 20, 2023
Maher, who has openly mocked Johnson for his faith and compared him to the Maine shooter, seemingly agreed with the crux of Kinzinger's argument. But he noted that, unlike the Taliban, conservatives in the U.S. who do not affirm homosexual behavior are not killing homosexuals.
"Here's something for the young people to chew on a little bit," Maher said. "Yes, the reason why Mike Johnson said depraved America deserves God's wrath? Homosexuality. They don't like it. But in our country, we don't actually kill them, even the crazy far-rights don't throw them off of roofs. If you can't understand that, you can't understand anything."
Earlier in their conversation, Maher suggested that by proclaiming that "depraved America deserves God's wrath," Johnson "exactly sounds like [Osama] Bin Laden."
Kinzinger followed up by contending that Johnson and the Taliban are alike because they want to take a faith-based belief system and "religiously implement this into our government." According to Kinzinger, the Taliban seeks a government based on sharia law, while Johnson wants to use government to advance Christianity.
HBO's @BillMaher: @SpeakerJohnson "exactly sounds like bin Laden. Now the Republican guy sounds like bin Laden and Trump sounds like Hitler." @AdamKinzinger: "No difference" between Johnson and the Taliban. #RealTimepic.twitter.com/Sw9tmWJPho

— Brent Baker ???????? ???????? (@BrentHBaker) November 18, 2023
Kinzinger's comparison of Johnson, a Southern Baptist, to the Taliban drew the ire of Andrew T. Walker, an ethics and public theology professor at Southern Baptist Theological Seminary and former senior fellow in Christian ethics at the Southern Baptist Convention's Ethics & Religious Liberty Commission. 
"This is what inevitably happens when you become a useful idiot for the Left," Walker wrote in a tweet about Kinzinger, who garnered national attention as he served as one of two Republicans on the Democrat-led House Jan. 6 Committee in the previous Congress.
The panel discussion came in response to comments Johnson made during an Oct. 3 call with Pastor Jim Garlow on the "World Prayer Network" broadcast, which were recently unearthed by Rolling Stone. While Johnson never explicitly stated that the U.S. deserved "God's wrath," he did raise concerns about the religious decline in the country. 
During the call, Johnson shared his belief that the U.S. is facing a "civilizational moment" and questioned if God is "going to allow our nation to enter a time of judgment for our collective sins" or if He is "going to give us one more chance to restore the foundations and return to Him."
Citing cratering church attendance as well as the surge of homosexuality and gender confusion among young Americans, Johnson expressed fear that American culture has grown "so dark and depraved that it almost seems irredeemable."
Since House Republicans unanimously elected him to the gavel on Oct. 25, Johnson has come under repeated fire for his outspoken Christian beliefs and behavior. 
Following backlash to public prayer he has conducted with other members of Congress in the House chamber, Johnson told CNBC's "Squawk Box" last week that the idea faith must be separated from public service is fundamentally misguided.
"The separation of church and state is a misnomer," Johnson said. "People misunderstand it. Of course, it comes from a phrase that was in a letter that [Thomas] Jefferson wrote. It's not in the Constitution."
Lots of misleading headlines. Take a look at what I actually said here: pic.twitter.com/Vw3AHzoRvT

— Speaker Mike Johnson (@SpeakerJohnson) November 15, 2023
Johnson quoted George Washington and John Adams, both of whom emphasized the importance of religion and morality to maintaining the American form of government.
Johnson told Fox News co-host Kayleigh McEnany on Oct. 31 that the attacks likening him to mass shooters or radical Islamists are "disgusting" and "absurd."
After Rolling Stone accused him of being "creepy" for having utilized a porn accountability app with his teenage son, a spokesperson for Johnson's office told The Christian Post earlier this month that such a line of attack is just the latest "in a campaign by D.C. insiders on Speaker Johnson's faith."