Most Americans oppose schools counseling kids on gender identity without parental consent: poll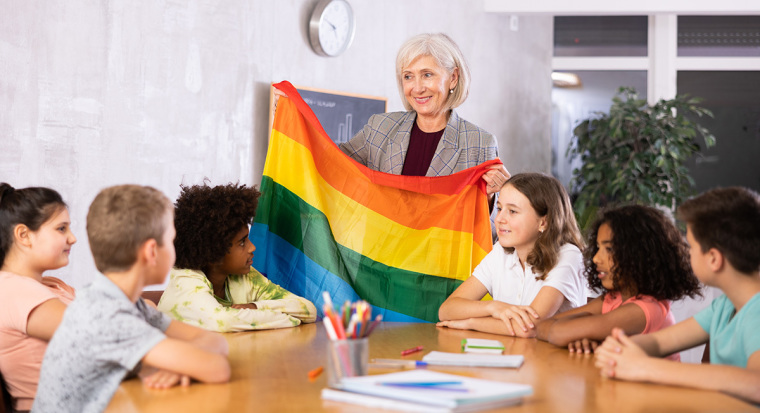 A new poll reveals that a majority of Americans oppose schools counseling students on their gender identity without parental consent as efforts to push back against aspects of LGBT ideology continue to pass at the state level.
A poll conducted by Rasmussen Reports from May 24-25 asked 1,116 U.S. adults for their views on various aspects of LGBT ideology. The survey, released Thursday, had a margin of error of +/-3 percentage points. Overall, 26% of Americans surveyed said school officials should have the ability to counsel students on their sexual orientation and sexual identity without receiving consent from the child's parents to do so, while 60% disagreed, and the remaining 14% did not have an opinion on the matter.
Broken down by political party, majorities of Republicans (75%) and those not affiliated with either major political party (64%) expressed opposition to schools counseling children about their sexual orientation and gender identity without the knowledge of parents, as did a sizable percentage of Democrats (44%). A higher share of women (65%) reacted with disapproval to the idea of schools advising students about their sexual orientation and gender identity without parental consent than men (55%).
The survey question about schools counseling students on their sexual orientation and gender identity comes as school districts in the U.S. have faced lawsuits for referring to students by a new, chosen name and pronoun that does not align with their sex while the student is at school, but then referring to the child by their legal birth name and actual pronouns consistent with their sex in communication with parents, thereby keeping parents in the dark about their child's "social transition."  
Some states, including Florida and Iowa, have passed laws requiring schools to keep parents informed about changes to their child's mental health, including any request by the pupil to go by a different name and pronouns or if they express confusion about their gender identity and ask to identify as the opposite sex.
Other questions asked of respondents mirror those featured in previous Rasmussen surveys yielding similar findings. Thursday's poll revealed that a majority of Americans (62%) approved of state laws banning body mutilating surgeries, such as mastectomies for girls and castration for boys, while nearly half strongly approved (46%). On the other hand, 30% of those surveyed disapproved of bans on sex change operations for trans-identified youth, including 18% who strongly disapproved.
Majorities of Republicans (73%), politically unaffiliated respondents (59%) and Democrats (56%) approved of legislation banning minors from receiving life-altering gender transition surgeries. When it comes to laws banning the prescription of hormone replacement therapy, also known as cross-sex hormones, to trans-identified youth, 59% of those surveyed approved of such measures compared to 31% who disapproved.
Currently, 19 states have enacted laws that ban some or all gender transition procedures for minors: Alabama, Arizona, Arkansas, Florida, Georgia, Idaho, Indiana, Iowa, Kentucky, Mississippi, Missouri, Montana, Nebraska, North Dakota, Oklahoma, South Dakota, Tennessee, Utah and West Virginia. These laws come in response to concerns about the long-term effects of gender transition procedures.
The American College of Pediatricians has identified potential side effects of cross-sex hormones as "an increased risk of heart attacks, strokes, diabetes, blood clots and cancers."
The office of Florida's Republican Gov. Ron DeSantis recently shared images documenting the irreversible harms caused by so-called sex-change surgeries, including the deformities and scars left behind following the removal of forearm tissue to create fake, flaccid penises for girls who want to look male, as well as the removal of healthy breasts from biological females who want to present themselves as males.
Chloe Cole, a detransitioner who formerly sought to transition to the opposite sex but has since seen her gender dysphoria subside, outlined additional side effects she experienced after receiving puberty blockers, cross-sex hormones and a double mastectomy as a minor in a lawsuit filed against the medical professionals who treated her gender dysphoria earlier this year.
A previously filed notice of intent to sue described how Cole was "advised that the distress she experienced because of her gender dysphoria would resolve as she transitioned," only to discover that it "always came back worse" following "initial relief" after "each phase of transition."
The Rasmussen survey also asked Americans if they agreed with a statement asserting that "there are only two genders, male and female." Seventy-one percent expressed agreement with the aforementioned declaration, including 57% who strongly agreed with it. Meanwhile, 23% of respondents disagreed that there are only two genders, and 10% strongly disagreed.
While the majority who agreed that there are only two genders extended across party lines, higher shares of Republicans (72%) and the politically unaffiliated (54%) strongly agreed that there are only two genders than Democrats (47%). Additionally, majorities of blacks (64%), other minorities (57%) and whites (55%) conceded that there are only two genders.