Pro-life Democrat running for president to serve as a 'thorn in the side of the Democratic Party'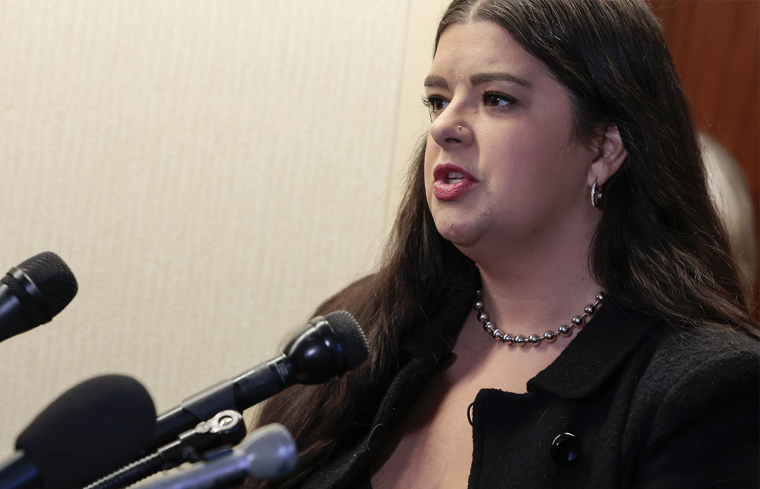 A pro-life Democrat is running for president to serve as a "thorn in the side of the Democratic Party" and draw attention to what she describes as the "genocide" of pre-born babies. 
Terrisa Bukovinac, a pro-life progressive atheist who founded the anti-abortion group Progressive Anti-Abortion Uprising two years ago, launched her campaign as a Democratic candidate for president on Thursday.
In an interview with The Christian Post, Bukovinac recalled how she went to "every single Democratic debate" in 2019 and 2020, seeking to provide representation for pro-life Democrats. According to her campaign website, one-fourth of Democrats oppose abortion.
"I thought … I just can't go into another election cycle doing the same thing, demanding representation if I'm not willing to get out and do it. So, I decided this year, I'm going to step into the ring and be that representation," she said. 
Another factor that spurred Bukovinac to run for president was the horrific discovery of the remains of 115 aborted babies in a container marked for disposal picked up by a medical waste truck outside the Washington Surgi-Clinic abortion facility. 
The contents included the remains of five full-term babies who Bukovinac believes could have either been killed in partial-birth abortions, a violation of federal law, or possibly could have survived the abortions if abortionist Cesare Santangelo and his staff had rendered urgent medical care to save the babies' lives. 
Read: 12 lesser-known candidates running for president in 2024 
Bukovinac and other pro-life activists have launched a "Justice for the Five" campaign that's calling for an investigation into the deaths of the five full-term babies and the revocation of Santangelo's medical license.
Reflecting on seeing the babies' remains, Bukovinac told CP she "had never seen abortion up close and seen such animosity toward our own humankind in such a personal and intimate way, and it changed my life forever. I just feel called to be a voice for these children, and I'm going to show these victims to the American people." 
The candidate plans to run campaign ads highlighting the discovery of the late-term aborted babies. She's currently raising money to cover the cost of the ads in the states where her name will appear on the ballot. "I'm planning to hopefully get on the ballot in between five and 10 states," she said, including New Jersey, New Hampshire, Oklahoma, Michigan (her home state), South Carolina, Iowa and Washington, D.C.
"This is not a campaign to win," Bukovinac clarified to CP. Rather, she sees the purpose of her campaign as "being a voice for these babies" and "refusing to give up and allowing our society to bury these victims." "It's about refusing to give up and allowing our society to bury these victims, and I'm going to use every opportunity I can to be a voice for them and to represent pro-life Democrats in the political sphere."
Addressing the progress toward achieving her goal of running ads in states where she'll appear on the ballot, Bukovinac says she's received "quite a few individual donations." Even though she doesn't expect to win the Democratic nomination for president, Bukovinac sees herself competing in the primaries "until the very end" because she wants to "run as many ads" as she possibly can and "work as long and hard" as possible to "be a voice for these babies in this election."
Read: Who are the declared candidates running for president in 2024
"There's absolutely no way this campaign is going to go anywhere … in terms of winning or catching on enough to get major funding. But what this campaign is going to be is a protest; it's a thorn in the side of the Democratic Party," she asserted. "I'm here to reform the Democratic Party and to force it to change and to reject this toxic relationship they have with the abortion industry so that we can stop a genocide." 
Bukovinac also hopes her campaign will motivate other pro-life Democrats to run in down-ballot races: "I'm very much hoping that it will inspire other pro-life Democrats like [Louisiana Gov.] John Bel Edwards and [Louisiana state Sen.] Katrina Jackson to seek federal office. And I'm hoping that it will absolutely draw out pro-life Democrats all across the country and maybe even moderate Democrats who want to see abortion more restricted."
"I think what I want to see is more nuance in the Democratic Party on this issue so that we can begin to roll back this extremism and stop allowing the abortion industrial complex to run the show," she declared. "Most leftists actually don't agree that abortion should be allowed for elective reasons into the late second and third trimester or past the point where a baby can survive outside of the womb." She also believes many Democrats aren't even aware that "that's what the party platform stands for." 
In an earlier interview with CP, Bukovinac suggested that many pro-life Democrats reluctantly voted for President Joe Biden in 2020 because of their opposition to former President Donald Trump. She's now warning the Democratic Party that they "cannot rely on those votes going forward because of the dynamic of Trump in the last election." Many pro-life Democrats, she says, could opt to stay home and not vote rather than vote for Biden if Trump isn't the Republican nominee in 2024.
However, Bukovinac lamented that "it's very likely we're going to see 2020 all over again," referring to the possibility of a rematch between Biden and Trump and expressed disappointment with the trajectory of the race.
"We have the two least trusted people in the world who are the frontrunners to lead our nation. I think everyone is very frustrated by the thought of another Trump versus Biden election," she added.
Bukovinac hopes her candidacy will offer an alternative and advance the cause of "collectively building a better world through progressive policy and by ending abortion." She's also seeking to "create a space for pro-life Democrats to demand an end to the type of extremism that we're seeing in the Democratic Party."