Docs show churches paid up to $100K to be part of Hillsong Family, an alleged honorarium scheme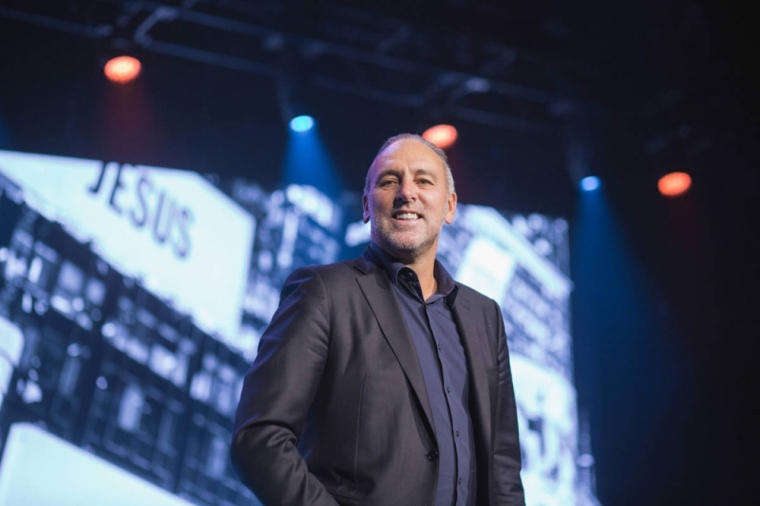 Nearly 40 churches around the world paid up to $100,000, or 3% of their tithes and offerings, to Hillsong Church annually to be a part of the Hillsong Family network, which a whistleblower has alleged offers access to a global honorarium scheme meant to funnel additional income into the pockets of celebrity pastors through sophisticated means.
The list of churches currently paying or have paid to be a part of Hillsong Family was highlighted in a trove of documentsfirst made public on March 9 by Andrew Wilkie, an independent member of the Australian Parliament, thanks to the work of the whistleblower.
Among the churches stateside that have paid or are currently paying since 2014 to be a part of the Hillsong Family are: The Judah Smith-led Churchome in Washington state; City of Life Church in Kissimmee, Florida; Grace City Church in Lakeland, Florida; The Cause Community in Kansas City; Chicago City Church in Illinois; Calvary Church in Miami, Florida; City of Grace in Arizona; Capital City Church in Washington, D.C.; El Lugar De Su Presencia in Arizona; Citizen Heights in Washington, D.C., Christian Faith Center in Seattle, Washington; Colonial Church in St. Augustine, Florida; and Motor City Church in Detroit, Michigan.
Several other churches in Europe, Africa, Indonesia and South America complete the list.
When contacted about their relationship with Hillsong Family by The Christian Post on Thursday, officials at Chicago City Church and Calvary Church in Miami confirmed they no longer had any ties with Hillsong Church.
Pastor Kent Munsey of Chicago City confirmed with CP that his church's last payment to Hillsong Church was $24,363 in 2020, and they cut ties with the megachurch in spring 2022. He explained he was just learning of the alleged honorarium scheme but was not yet ready to speak on the record.
At least one congregation, Capital City Church in Washington, D.C., is permanently closed. Their last payment of $19,563 to Hillsong Church was made in 2021. Colonial Church still boasts the Hillsong Family brand on its website, but officials from that congregation were not immediately available for comment.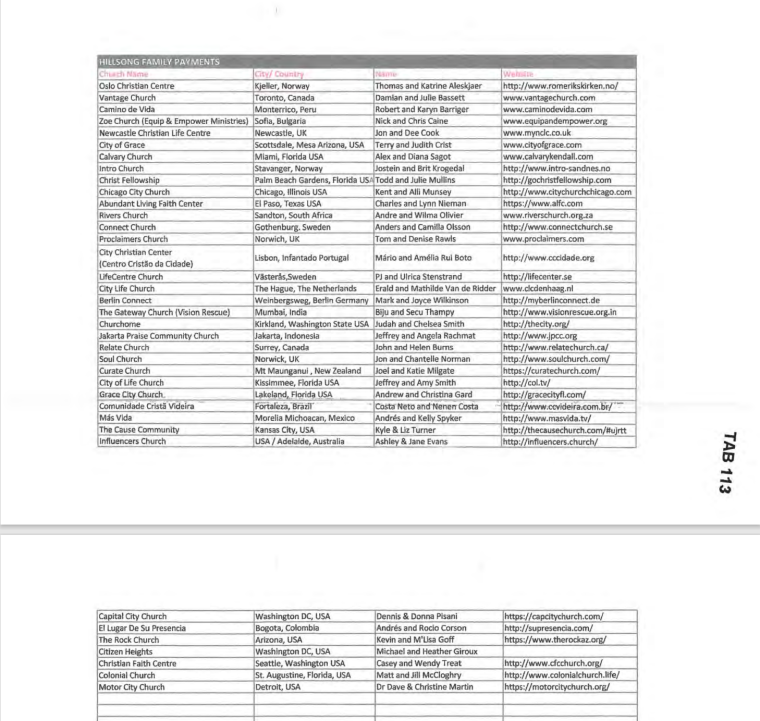 In an earlier report, The Christian Post highlighted how Hillsong Church's alleged honorarium scheme netted as much as $1 million in additional and sometimes tax-free income annually for celebrity preachers worldwide, including founders Brian Houston, his wife, Bobbie, and famous author and evangelist Christine Caine. These honorariums appear to be primarily paid through non-profits controlled by the pastors.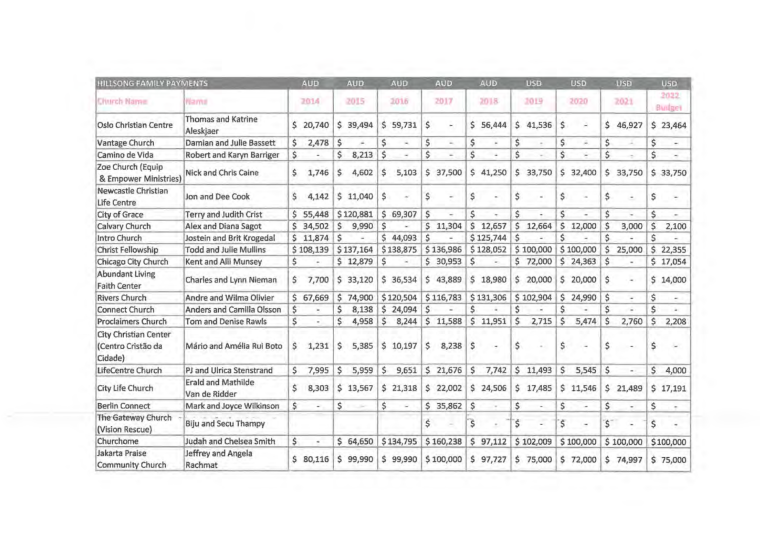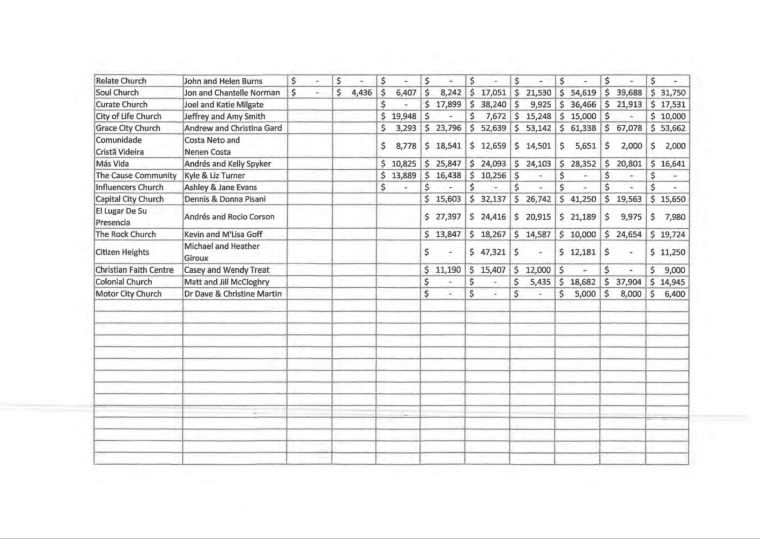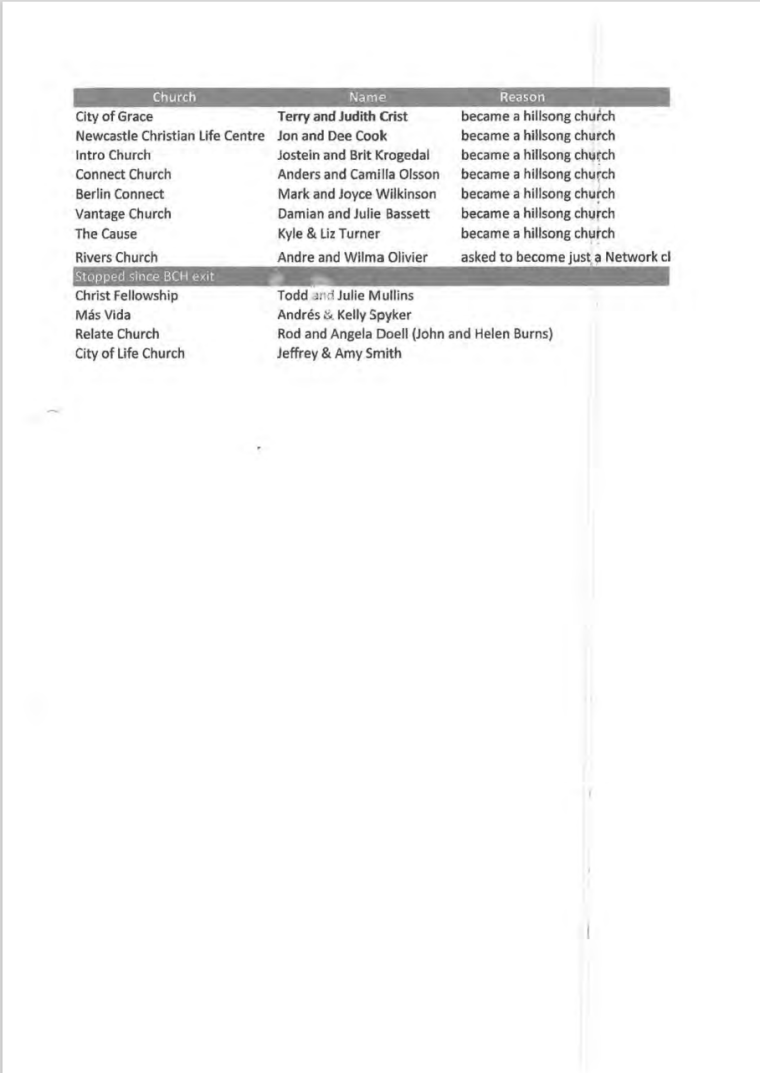 Although Churchome recently informed CP that they are no longer a part of the Hillsong Family since Brian Houston resigned in March 2022, the documents show Churchome, which reported more than $17 million in revenue from tithes and offerings in 2017, paying the maximum Hillsong Family charge in multiple years.
On paper, according to the Hillsong Family relationship agreement reviewed by CP, these churches are paying for "spiritual oversight" and, if necessary, a possibility of assistance with high-level church conflict.
"Hillsong will provide spiritual oversight and should a high-level difficult situation arise, for example between your board and the Senior Pastor, Hillsong Church would be a possible option for support and arbitration in these circumstances, should we be invited to do so," notes George Aghajanian, Hillsong Church's general manager, in a form letter sent to prospective Hillsong Family members.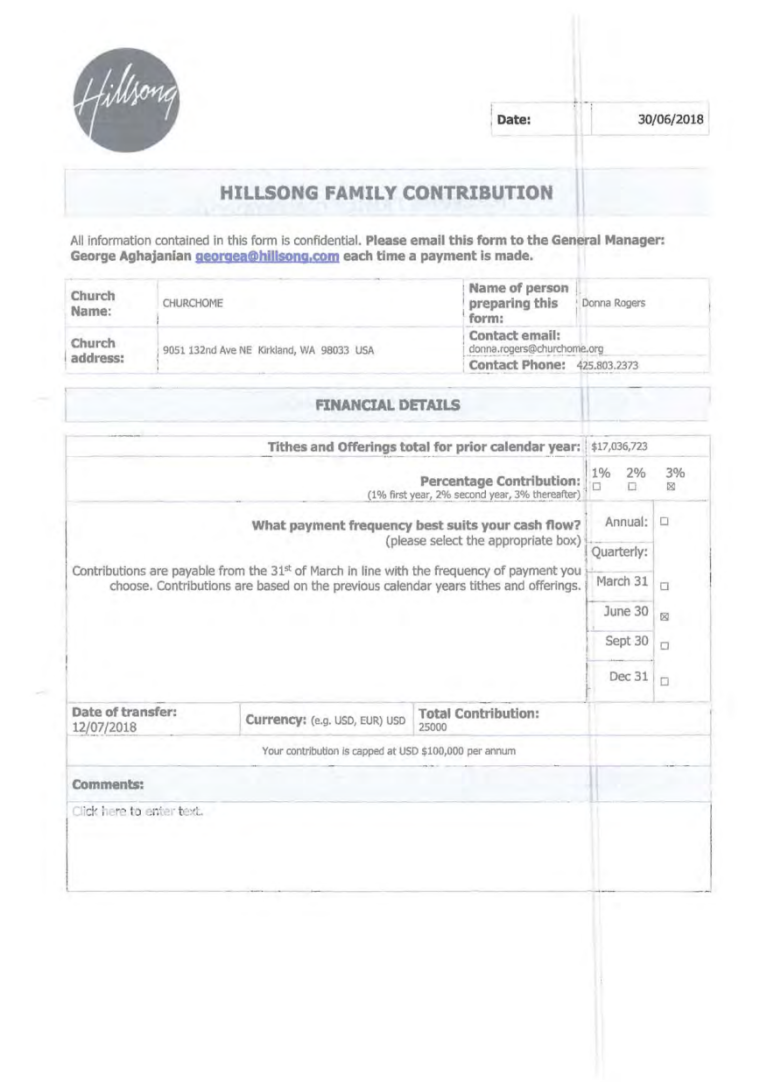 For this oversight, Hillsong Church asked Hillsong Family members to ensure they pay their membership fee by March 31 annually.
"To be a part of Hillsong Family, there will be a contribution of 3% of your Tithes and Offerings capped at USD $100,000 per annum (January – December). This amount is due by 31st of March of the following year," Aghajanian explains.
Churches that join Hillsong Family are also asked to present Hillsong Church with a copy of their annual audited financial statements or equivalent within 30 days after they receive them.
According to an addendum to Aghajanian's letter, Hillsong Family is a "relationship-based arrangement to be a blessing to both parties as we focus on working towards the greater cause of Jesus Christ and building His Church."
It notes, however, that "nothing in this agreement implies a legal partnership or association and at all times your church will maintain its own name, autonomy, identity and governance."
The controversial megachurch also agreed to withdraw from the relationship with any church "immediately in the event of any situation that may threaten or harm its reputation" but says nothing about what would happen in the event Hillsong's reputation harms that of churches in Hillsong Family.
Under normal circumstances, parties in the relationship can terminate the agreement with three months' notice.
Wilkie also contends that the whistleblower further alleged that Hillsong leaders engaged in money laundering, tax evasion and shopping sprees that would "embarrass a Kardashian."
A spokesperson for Hillsong said in a statement shared with media in response to Wilkie's claims that the church has been "open and transparent with our congregation about past governance failures" and that Wilkie's claims are "out of context and relate to untested allegations made by an employee in an ongoing legal case."
Earlier this month, Hillsong Church Global Board Chair Stephen Crouch said that the disclosures made by Wilkie stem from a lawsuit filed in Australia in August 2022 on behalf of Hillsong employee Natalie Moses as part of a Fair Work Act case against the church.
The lawsuit alleged that the Australian Charities and Not-for-Profits Commission has been investigating the church since March 2022 to verify if the organization had been complying with Australian regulations. Moses, who works in the church's financial department, was tasked with preparing internal responses for the ACNC investigation. The filing contends that internal audits conducted by Moses uncovered questionable financial records that were unlikely to comply with Australian legislation.
"In Australia, employees have the right to test certain claims about employment matters in the federal courts. We believe those claims are incorrect, and the church has a right to defend those claims. In our legal defense, we have explained to the court that this employee privately downloaded thousands and thousands of documents from Hillsong without consent," Crouch said.
"The documents, if published, may violate privacy principles in Australia. And we're taking advice to see how we will now have to act to meet all of our privacy obligations. The board wasn't satisfied in August last year just to respond to the employment claim. It immediately commenced the process of engaging a forensic accounting firm, Grant Thornton, to investigate the claims made by the employee. We ensured that the scope of the work that they completed was broad enough so they could have unlimited access to all transactions covered by the allegations."